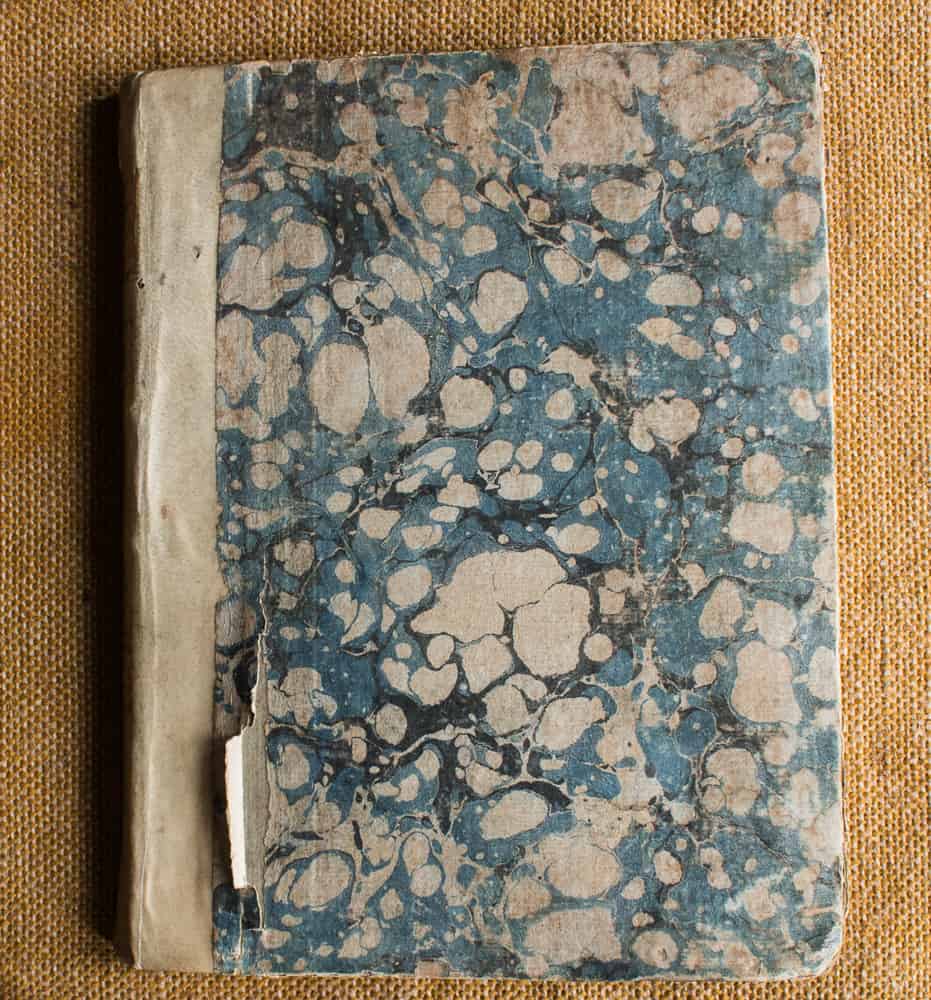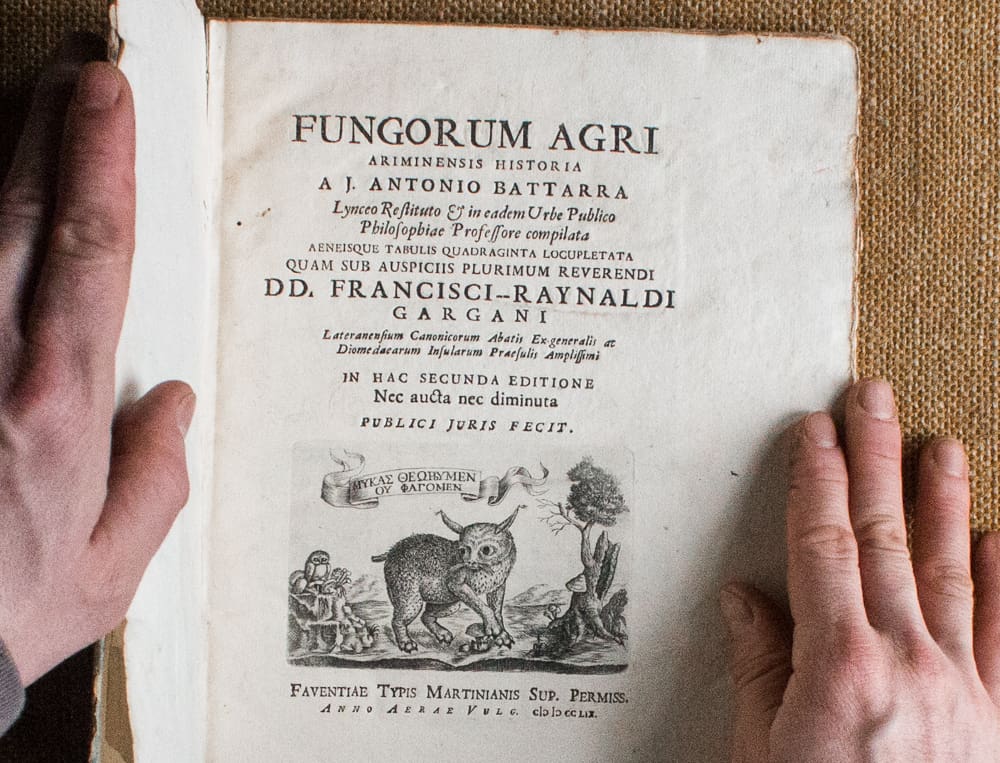 All my life I've been a collector of artifacts and old things. When I was a child, I collected rocks, fossils, and arrowheads that would be dredged up on our farm. As an adolescent I loved Medieval themed things like goblets, swords, ceramics and stuff made out of wood. As you can imagine, when I discovered what a thrift store was in my twenties I quickly filled my apartment full of useless crap. What I hoard, er, collect throughout the years has evolves, but one thing has been constant: books.
Out of the thousand or so books I've owned (I try to keep it to a couple hundred now) there's one that I treasure over all the others, not surprisingly it's a book about mushrooms. If mushroom cooking is wizardry, then it's my most precious spellbook, a portal to ancient theories and secrets.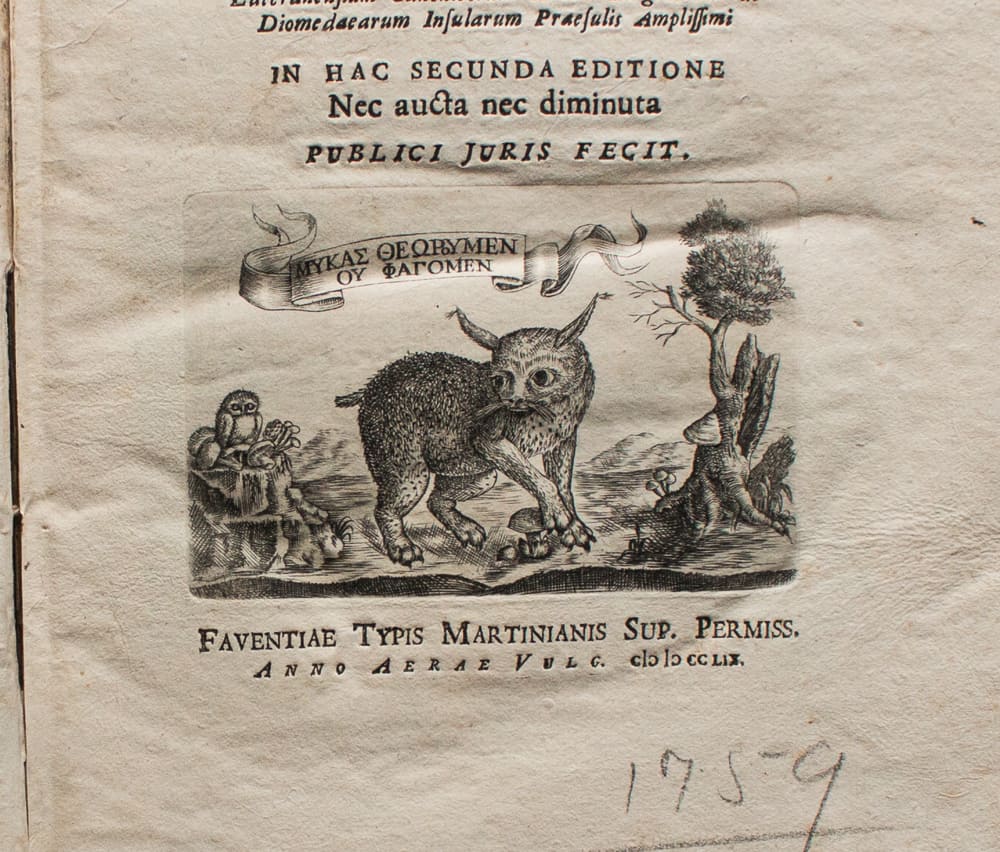 Story goes that my aunt's family has lived in New England for generations, and in the attic of a house owned by a family member they discovered a few books, one being a 250 year old relic written in Latin, a second edition of Fungorum Agri Ariminensis Historia, by Antonio Giovanni Battara. The book traveled through her family for a number of years, and eventually, found it's way to me as one of the most thoughtful gifts I've ever received.
Battara, from the accounts I can find was a renaissance man, naturalist, physician, student of the arts of philosphy and geometry, as well as an ordained priest, and mycologist. He lived in what is now Italy's Emilia Romagna region, famous for other things I love to enjoy like parmigiano, bolognese sauce, prosciutto and mortadella.
Most of all though, Battara was a mushroom hunter like me, but interestingly enough he wasn't a mycophagist, or mushroom eater. My favorite page of the book is in the beginning, there's a picture of a lynx and a banner surrounding a fungal research motto in greek that reads:
"We study mushrooms, we do not eat them"
Battara was a student of nature, where I want to find mushrooms I can eat, which can obscure other species. He wanted to catalog, to understand, to document, especially the individual anatomical features of individual fungi. Following that, the most fantastic part of the book is all about the fungal features, shown in engravings that Battara carved himself into copper that was pressed into ink for printing.
Let me just repeat that to let it sink in: 250 years ago this mycologist/priest/professor guy hand-carved over 250 different species of mushrooms into copper plates for the sake of research, and he did it in a time when mushrooms were feared, unclean characters of death and devilry.
During Battara's time, it was generally held that mushrooms spontaneously generated, but he came up with a theory that differed. He proposed that mushrooms didn't spontaneously generate, but were spread by the putrified juice that mushrooms exude as they decompose, not far from the truth when you consider that spores can fall into water and be travel to a substrate to spread.
In the end, his work seems to have been well received, as a number of species names are dedicated to him, and a number of editions of the book were published. There's a few online for sale I've seen, ranging from 2500-7500$ depending on the edition and condition.
Thankfully, some genius(es) in our technological age have found ways to use digitization for more than hunting pokemon, spam marketing and brownie/cake recipes. I stumbled on an online version, so now if you'd like you can have a copy of my favorite book too, albeit a digital one, the engravings (pictures) start on page 81.