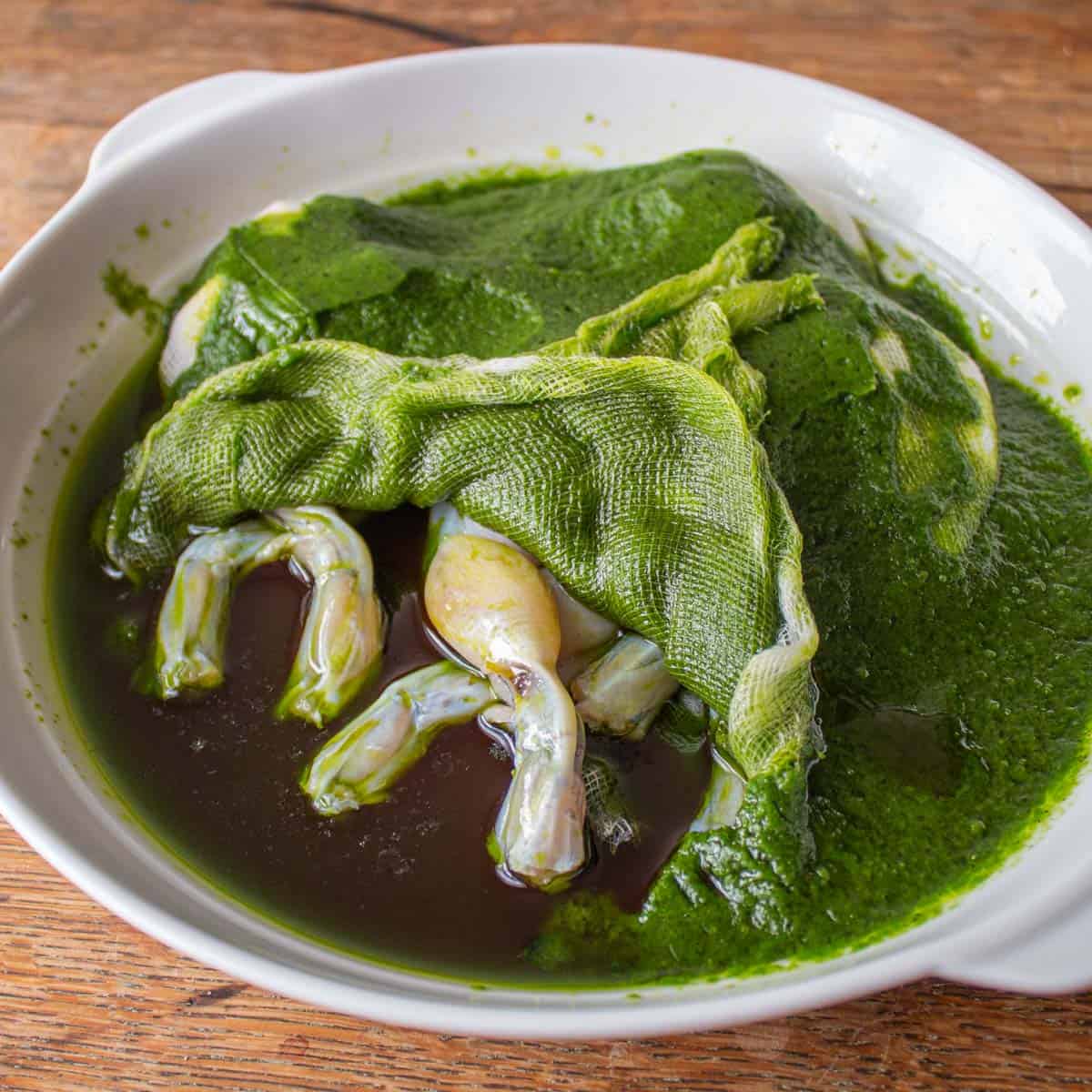 A French club was coming in for dinner, and I was told they would expect escargot. The only problem was snails weren't on the menu, and the party was coming in the next day.
Fresh out of helix snails in cans, I gathered a party to excavate the deep freeze of the French concept/restaurant I started consulting on back in Spring 2018. If you've been in the industry, you know restaurant freezers can be horror stories.
God only knows what you might find in a run of the mill restaurant freezer. Unlabeled containers filled with mystery goo, freezer burnt meat--of course, or my favorite, a sort of amalgam of juices that've migrated out of containers in the eerie pre-freezing period, that, depending on the amount of salt or sugar In their combined liquids, may or may not freeze, be sticky, fishy, putrid, or a combination.
This particular freezer had experienced a gush of crab juice in what appeared to be the 2016-2017 epoch, so most of the bags on the bottom were frozen solid in a layer of saline wash, that had a perfume I can only describe as "oxidized crab smell". Oh the joys of kitchen life.
On the middle shelf in the deep freeze, between the french fries, frozen peas from and pearl onions, back from the late 90's when those things were en vogue, I found a recently purchased pack of frog legs.
I chuckled at my luck, and at the thought of serving frog to frogs. I pulled out the pack, checked them over for freezer burn, and set my Kermit parts out to thaw overnight in the fridge. I wouldn't have snails, but I'd have grenouille.
Through the evening service, my mind was buzzing with how to cook my little swamp chickens. I'd only cooked frog legs a handful of times before, by-products of my experiments shopping at the Asian markets in St. Paul in my early 20's.
Unfortunately, out of the 500 or so books on food I'd wager I've owned, read, and then donated, not many have had ideas for frog legs, except one: Bouchon by Thomas Keller. I had a vague memory of simple French dishes with garlic and parsley, but I remembered Keller's method exactly: marinating the frog legs before deep-frying in strong flavored herb oil.
A little green oil alone wouldn't have made a home in my memory, but there was something special about the method: the frogs were covered in cheesecloth before marinating, which was because the herb flavored oil wasn't strained.
Now, the look of green oil has been nearly as abused as much as the trademark balsamic Christmas tree pattern that adorned, well, everything from cheesecake to caprese salad during it's heyday, but as a marinade, I thought it could be novel, especially with a good, garlicky flavor.
Besides being a cliche, green oil can be weak in color if wonky proportions are used, as well as weak in flavor if the oil is strained too soon (I prefer to marinated it overnight before using, or at the very least for a few hours).
Or, if the herb oil is used on a dish that doesn't need it, like using parsley oil on an a-la-carte steak topped with blue cheese, or a spicy curry, it adds nothing but a gaudy look, a sort of outdated, cluttered fashion chef's learned the lessons from collectively when I was in highschool and college, and have since moved on from, for the most part.
It was just getting to be Spring, and I thought there might be some baby ramp leaves up, but I knew I might have to work a little for the amount I'd need if they were super young. The next day I went to the farm, happily cut some young ramp leaves and proceeded to tweak the recipe at work to make a little ramp marinade.
It's a great way to marinate things that are going to be fried with delicate herbs, and would be great with other light tasting water creatures, especially shrimp, clams, and things that like to be fried. Even chicken or poultry would take it well, but, they're not nearly as cool as fried kermit legs marinated in green oil.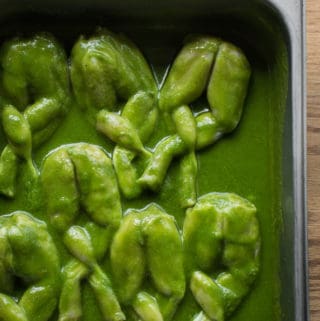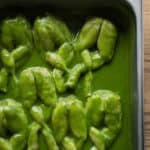 Print Recipe
Fried Frog Legs Marinated in Ramp Leaf Oil 
French style marinated frog legs. The ramp leaf puree will marinate anywhere from 6-10 pairs of legs.
Ingredients
6-10

pairs of frog legs

thawed if frozen, and drained

2

ounces

ramp leaves

roughly sliced, about 1 cup packed

1

cup

blended olive oil

or a flavorless oil, like grapeseed

2

teaspoons

kosher salt
Instructions
Poke a paring knife through the calf on one leg of each pair, the put the other leg through where you poked the knife to hold the legs steady (see picture above). Put the frog legs in a dish or hotel pan, then cover with cheesecloth. Puree the ramp leaves and oil with the salt in a highspeed blender. Pour the ramp leaf puree over the frog legs, then cover the dish with plastic wrap and refrigerate overnight, turning at least once.

To fry the legs, heat a fryer or cast iron skillet to 375 degrees, then remove the frog legs from their marinade, pat dry, and dredge well in flour. Take your time, and really make sure to really work the legs around in the flour well, kneading them around to get a nice crust. Tap off excess flour lightly, then drop the legs into the oil, making sure not to overcrowd the pan to fast, which can lower the heat, if frying on a stovetop.

When the frog legs are golden brown and hot throughout, about 3-4 minutes, remove them to a warmed plate, sprinkle with a pinch of salt and garnish with lemon slices, lemony mayonnaise or aioli.
More