Quick recipe here to compliment the post I have on making garum on my fishing trip in Ontario that was getting a little wordy. If you know someone that makes garum (I have a friend who make barrels of the stuff in Duluth out of local crayfish) or you've shelled out some coin to buy the real deal from Italy, you probably only have a small amount of expensive the stuff, so you want to honor it in your cooking. Along with drizzling on fresh cucumbers, this is hands-down my favorite for enjoying the stuff.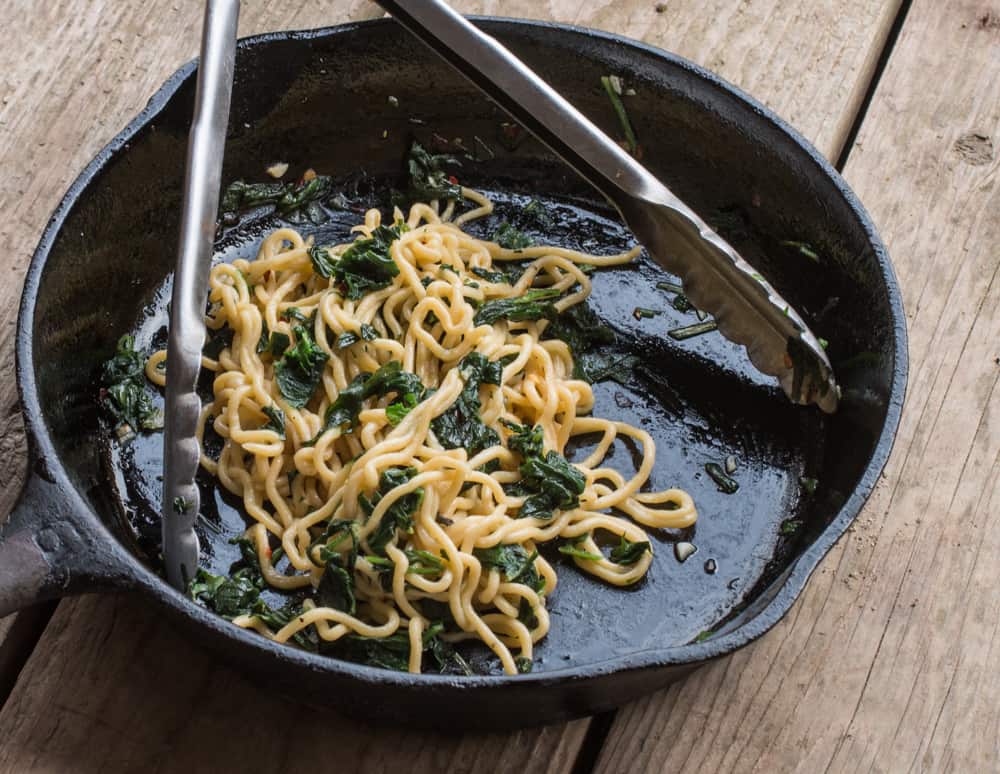 Garum/colatura drizzled onto a simple aglio e olio changes the recipe into it's also traditional cousin: you get the toasty garlicky oil and punch of chili per usual, but with just enough of the caramel, sub-oceanic waves of the garum to let you know it's a bit different. In this version I've also added virginia waterleaf since I don't like eating bowls of just starch unless it's Thanksgiving and I'm diving head-first into a mountain of mashed potatoes. Besides, the pairing is perfect and you could use any greens in small amounts, especially strong tasting or bitter ones, as they're a good foil for the rich taste of the pasta. Cheese is absolutely not served here- it would hide the flavor of the colatura/garum.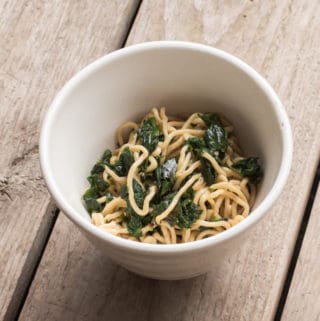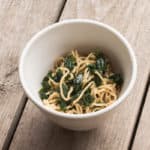 Print Recipe
Fresh Spaghetti with Colatura and Waterleaf
Italian inspired fresh spaghetti with hickory nut oil, foraged waterleaf greens, and Italian colatura
Ingredients
4

ounces

fresh spaghetti or dried spaghetti

¼

teaspoon

crushed red pepper

or more to taste, it should be good and spicy

2

ounces

virginia waterleaf or another wild or strong tasting green

like dandelions, use spinach in a pinch

2

teaspoons

garlic

finely minced

¼

cup

hickory nut oil

optional, blended olive oil can be substituted

Kosher salt

the tiniest pinch, to taste

½

teaspoon

Colatura, garum, or a substitute
Instructions
Boil a pot of lightly salted water-you want to be mindful not to over season this dish with salt because of the garum, but, I do find I need just a pinch to round things out though.

Meanwhile, warm the garlic and oil from cold on low heat in a 8-10 inch saute pan or cast iron skillet, stirring occasionally. When the garlic turns golden, add the chili, stir around to mix with the oil, then add the greens to cool down the pan and prevent the chili from burning.

Stir the greens to break them up, then add the pasta, a dash of pasta water or warm water to lube the pan. Add ½ teaspoon of garum, stir and taste, turning off the heat.

If you can take more, add garum in ¼ teaspoon increments until you like the flavor. Divide the mixture evenly between two heated serving bowls and serve immediatley
Notes
Sam Thayer's hickory nut oil can be substituted with blended olive oil.