Ever wanted to put together a menu for an event, or just dream one up? Special event menus are a creative process I crave. The final event I did for 2018 was the yearly gathering for the Twin Cities Chapter of the Society of Amateur Chefs, who requested a 7 course tasting menu following an hour of butler passed apps.
I thought it would be fun to give you a behind the scenes look at my methods/thought process along with the menu and as many pictures as I could scrape together. It's a bit long, so feel free to skim.
Making obscure ingredients approachable with visual aids
Familiarity with foraged ingredients and esoterica is not the norm. I find knowing the audience, and what they might be able to grasp can help avoid confusing them and making myself look like a wierdo. Adventurous diners can be ready to absorb information, but it helps to have visuals detailing where it came from, and how special some of these things are.
Bringing talking point ingredients in raw or preserved form in a jar to pass around for show and tell is one thing that can help. In this case, with so many people, the host and I slapped together a kind of booklet out of my menu and stock photos to help people understand, which makes things taste better. It also functions as a cue card for me when addressing lots of people during tasting menus, which will last a few hours.
Appetizers:
With only two people (myself and a helper), executing 8 courses plus appetizers, and me discussing everything with guests before each course, ease of execution and pre-prep hedges my bet, so I made sure to have only 1 cold item that had to be assembled (apples and turkey).
Something deep fried that requires no garnishes is always a good bet too (sauerkraut balls). The other app was little fritters I make from mushroom duxelles. Here's what we did:
Slice of dried snowsweet apple with turkey confit, fermented cranberries and Vietnamese coriander
Milwaukee rice, sauerkraut, and gruyere croquettes (deep fried, breaded balls of goodness)
Hen of the woods fritters with caramelized allium sour cream. (Compare to my recipe here)
Amuse Bouche: Pork tenderloin crusted with szechuan peppercorns, spices and seeds, skewered with a birch twig
An amuse bouche that attacks you with flavor. Bite-sized pieces of pork get pressed into the spice mixture, skewered with a twig and seared to prevent having to skewer food after it's cooked, which could make it overcook and/or cool down.
Leccinum mushroom sourdough buns with soft cheese and wild onion scapes
The buns are a great app or first course, and an excuse for me to discuss sourdough with guests. You take a bun, brush it with lard, grill it until it's hot and toasted, then serve with a dollop of good mascarpone or another soft cheese, and finely chopped, brined wild onion scapes that end up functioning like caviar.
Shellfish bisque with crayfish salad and crayfish oil
A request of the host I was working with. After tasting my bisque at a local restaurant I was consulting at this Spring, he was adamant it be a part of the dinner.
Buttercup squash agnolotti with bitternut hickory cream, shagbark nuts, birch syrup and parmesan
I needed to find some way to showcase the hickory nuts and hickory nut oil. After starting out with squash ravioli being dressed with a caramelized porcini vinaigrette, I ended up with this version above.
You whisk some cream with hickory nut oil, and leave it broken so the bubbles of oil are visible, dress some good squash ravioli with it, then top it with toasted hickory nuts and birch syrup (tastes a bit like balsamic), which helps to cut through the richness.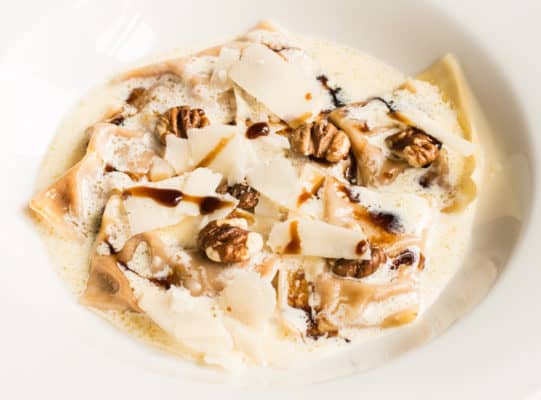 Lamb Sequence
A sequence is a study in an animal where I serve one protein separated into 3 courses, it usually begins with offal, then a luxury cut, finally a broth made from the bones of the same creature.
Lamb heart sausage with 14 day fermented root vegetables, wild caraway, wild horseradish
As I mentioned above, the first course of the sequence is offal. Everyone likes smoked sausages, so I fashioned one purely from ground lamb hearts. It ends up tasting like a braunshwieger, and needs to be served pink.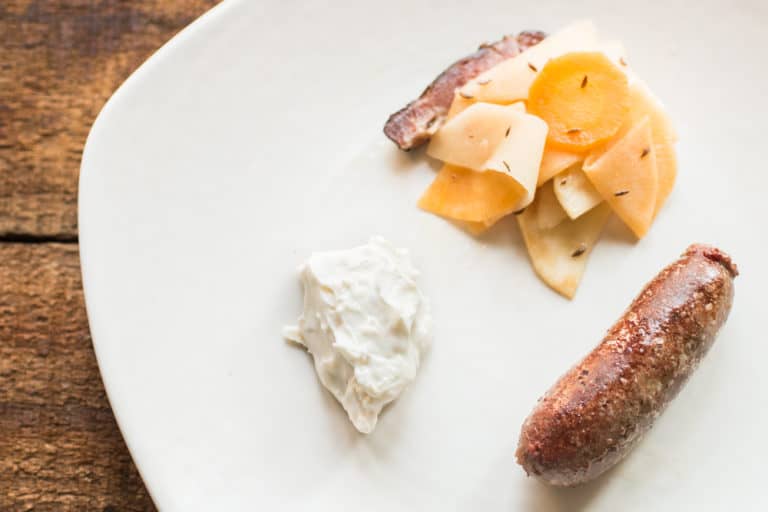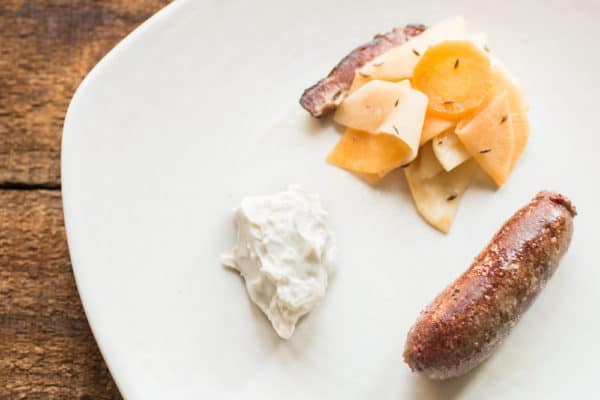 Fermented root vegetables
The root vegetables are a mix of gold and purple top turnips, rutabaga, carrot, celery root and parsnips that get salted, pounded with a mallet, mixed with wild carraway seeds and fermented just like you would sauerkraut.
Since they haven't been canned, they're crunchy still, so they need to be cooked, which I like to do with butter and a piece of smoked meat to flavor them. The sour cream condiment is horseradish I dug at the farm, shredded, mixed with vinegar, drained, and worked into sour cream.
Half lamb roulade, with burdock, horseradish leaves, pig ear mushrooms and tkemali
With 35 people, I needed an easy to prepare (ahead of time), and attractive main course. Having a whole lamb we'd raised and butchered on the farm, I immediately went to porchetta, but it was not that simple.
A cliff note would say I cut the lamb in half, fabricated each half into an even-sized jelly roll, tied and seasoned them, then braised them slowly, chilled, cut, and gently reheated them.
The garnishes are important too. The first thing the sheep would go to eat when put in a new paddock seemed to be young bitter burdock leaves, so burdock root is cooked alongisde a cake of horseradish greens, Tkemali wild plum sauce, and sauteed pig ear mushrooms (Gomphus clavatus).
Lamb broth infused with black trumpet mushrooms
The "final thoughts" on lamb. This gets served in a bowl, or in this case, a tea cup. I don't serve broth with a spoon, you need to have the guest put their face in it somehow, so they can smell it. The mushrooms are infused and strained out since they can't be sipped. I did a couple different variations with mushroom infusions, and black trumpets were the winner, since the only thing deeper than the color they imbue is their flavor.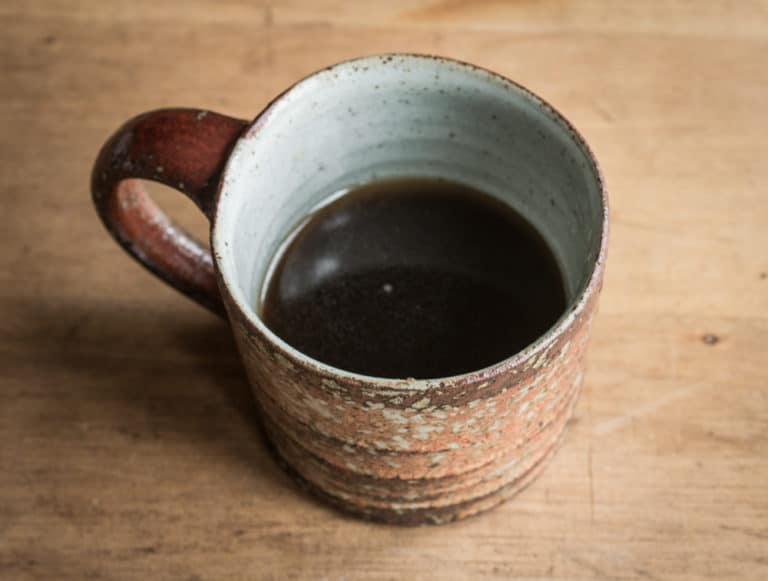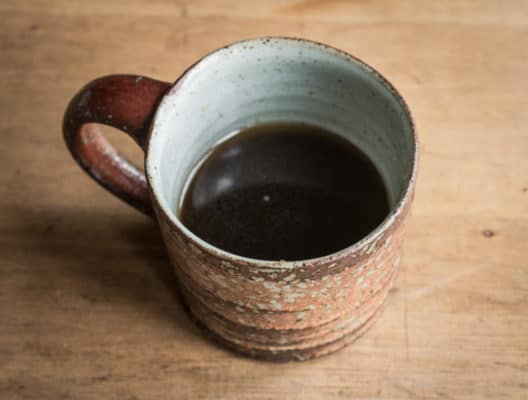 Desserts
3 desserts here, but to speed up service and to shock diners with a table that goes from empty to packed with an array of sweets in sedonds, they all arrive to the table at the same time.
Spruce tip posset with wild blueberries
A chilled custard with no egg or gelatin. One of the best ways I've used spruce tips so far.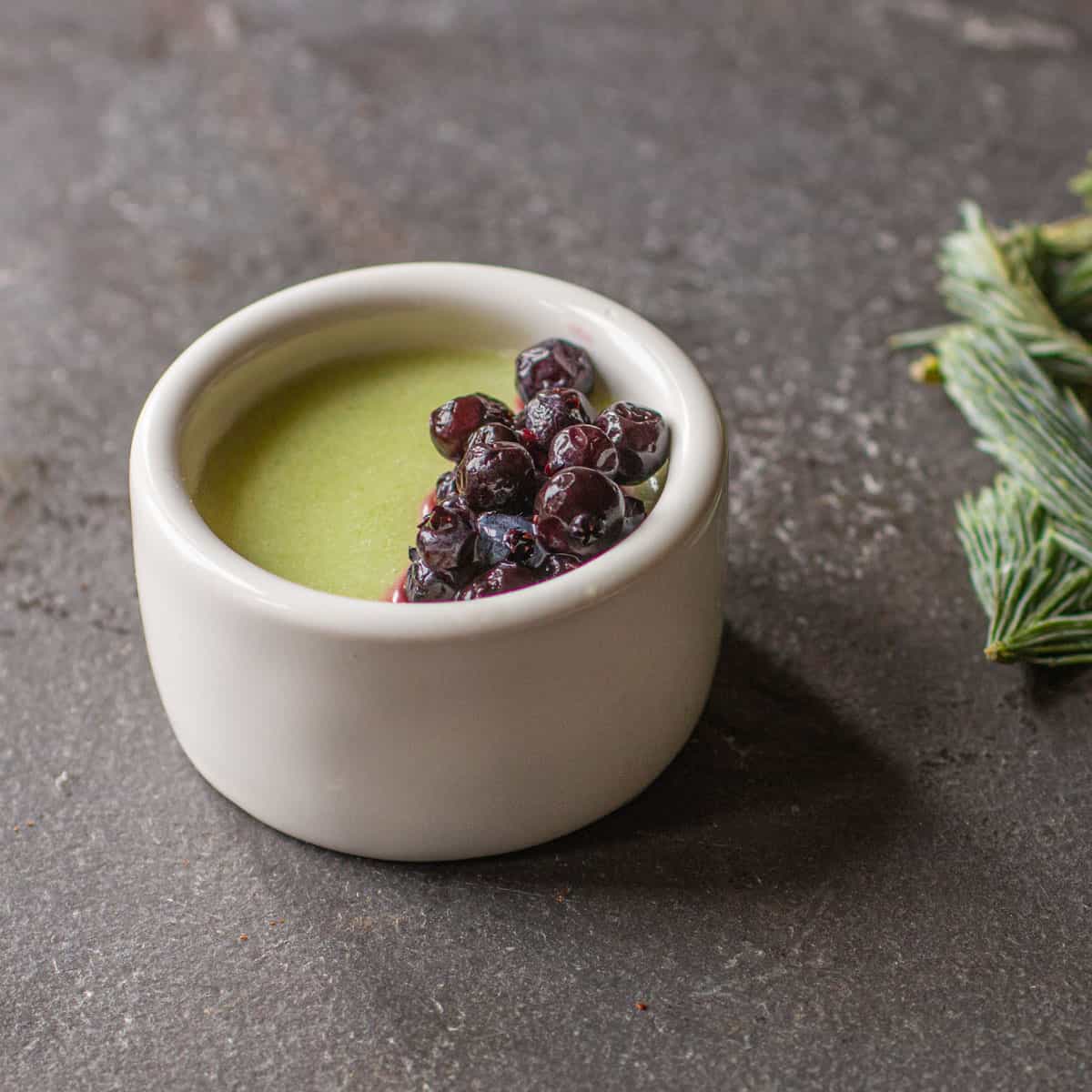 Caramelized pumpkin bread with mascarpone, candied wild plums, and black walnuts
This was hands-down the crowd favorite dessert. Take a piece of pumpkinbread, smear it with butter, then dip it in maple sugar and griddle it. Top it with some berries, candied black walnuts and a good dollop of creme fraiche. The wild plums here are stoned plums candied in vinegar-sugar syrup, which is a really great way to preserve them. My orignal version alos had heirloom popcorn, but I forgot to pop it at the last minute-shit happens.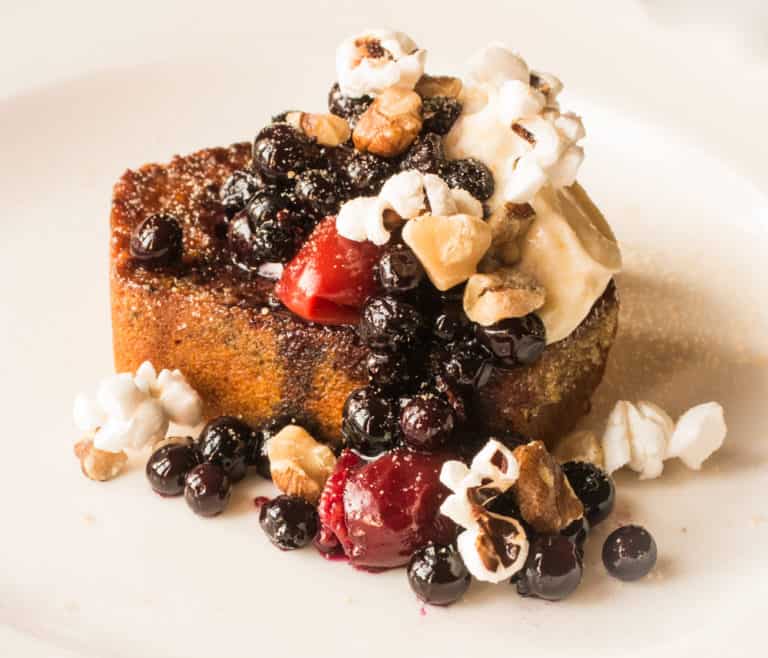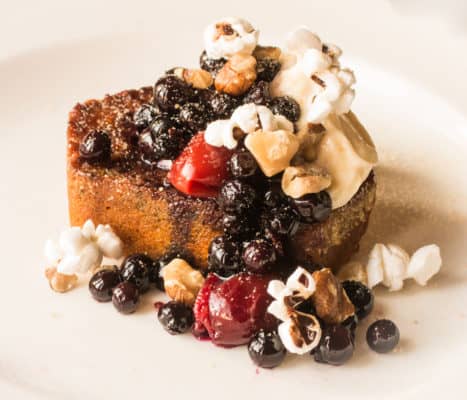 Mignardises
(Meen-Yahr-Deez) These are little sweets, petit fours, or other small treats. The beauty of the mignardises is that they can all be prepped far in advance, and served straight-away with zero added prep. Coming up with a blend of ones using foraged flavors was a great exercise, and for more informal dinners or lunches most of them can be packed up and served straight from a cooler in remote locations, like after a plant walk or foray.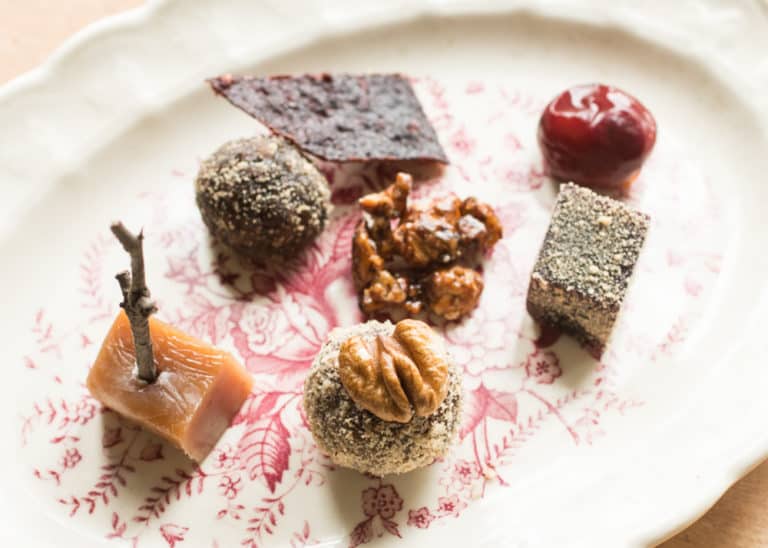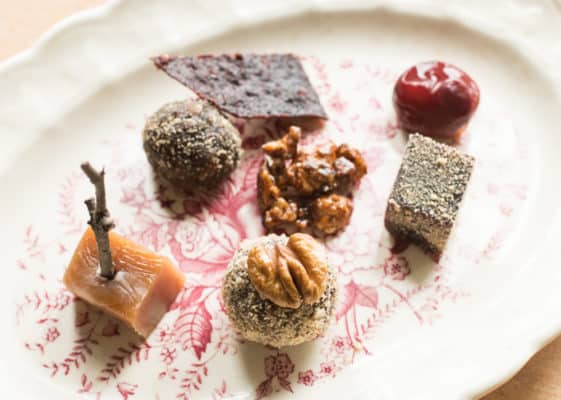 Starting LtR: candy cap caramels, fruit truffles marinated in nocino, traditional serviceberry leather, candied wild plum, wild grape pates de fruits, candied black walnuts, black walnut-maple chocolate truffles.