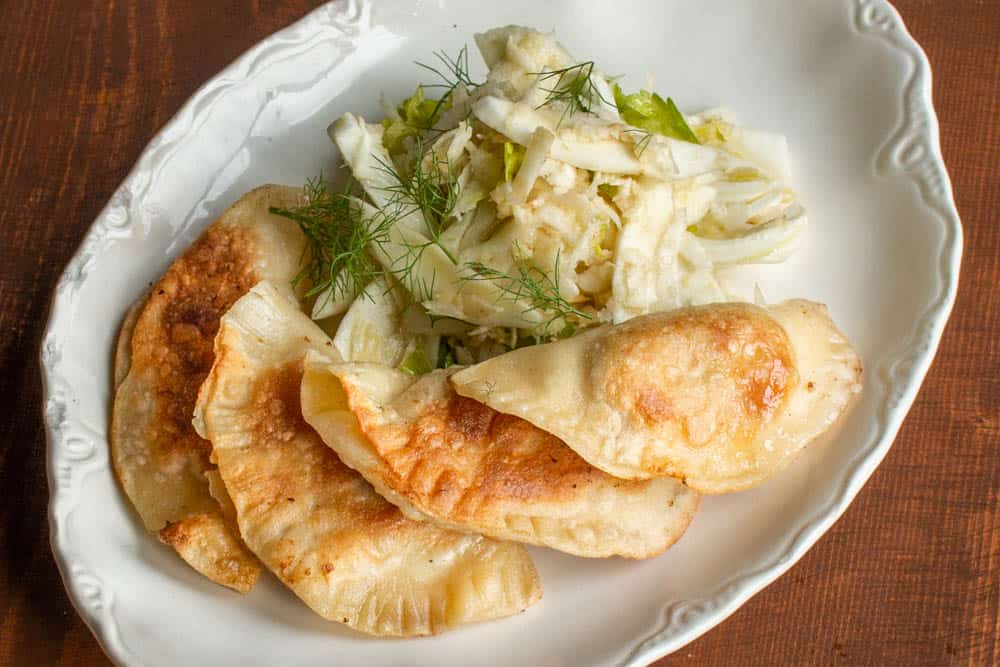 Fermented mushroom pierogi, along with a few different sauces I've made (dryad saddle shoyu/soy sauce) are the most delicious things I've made with fermented mushrooms yet.
Fermented mushrooms are a concentrate, they're not something I'm going to go and just eat out of a jar, especially if they've been long-fermented and have turned soft. The flavors are powerful, especially vacuum-fermented, which, as there isn't a release of air, means the mushrooms sort of marinate in their own aroma, compounding and amplifying the flavor over time.
Golden chanterelles are one of the best mushrooms you can ferment, and the finished product is a sort of potent chanterelle seasoning you can add to all kinds of things. But, I like to use them with a light hand, since, if you can believe it, the flavor is too strong by itself and needs to be diluted to smooth out any bitter notes.
Dairy is a great equalizer here, and a filling of cream cheese smooths out and calms the flavor of the fermented mushrooms, at the same time making them taste more like themselves, since the fermented mushroom concentrate all by itself is really potent.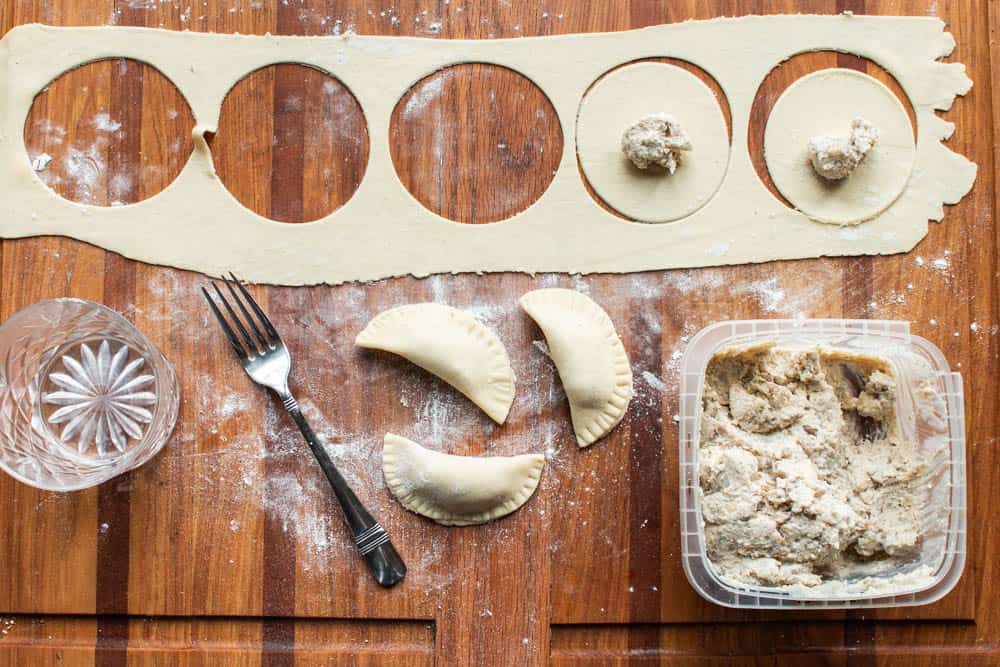 Notes on wild mushroom fermentation
I ferment the chanterelles raw here, seasoned with 3% of their total weight in kosher salt, and quickly vacuum sealed in a bag. After seasoning, the mushrooms are fermented for 1 week.
With some mushrooms (morels, honey mushrooms, Gyromitra, etc) you would want to steam them before fermenting to make sure they're safe, since all of those mushrooms need high heat cooking to not cause G.I. distress.
After fermentation, the mushrooms can be refrigerated for months, still in the bag or transferred to a jar, with no loss of quality as long as they're covered with their brine.
This is a great way to use older, soggy mushrooms that you picked after it rained, although I used nice little buttons since they're what I had at the time. See my full post on fermented mushrooms for more (link at the bottom of the post).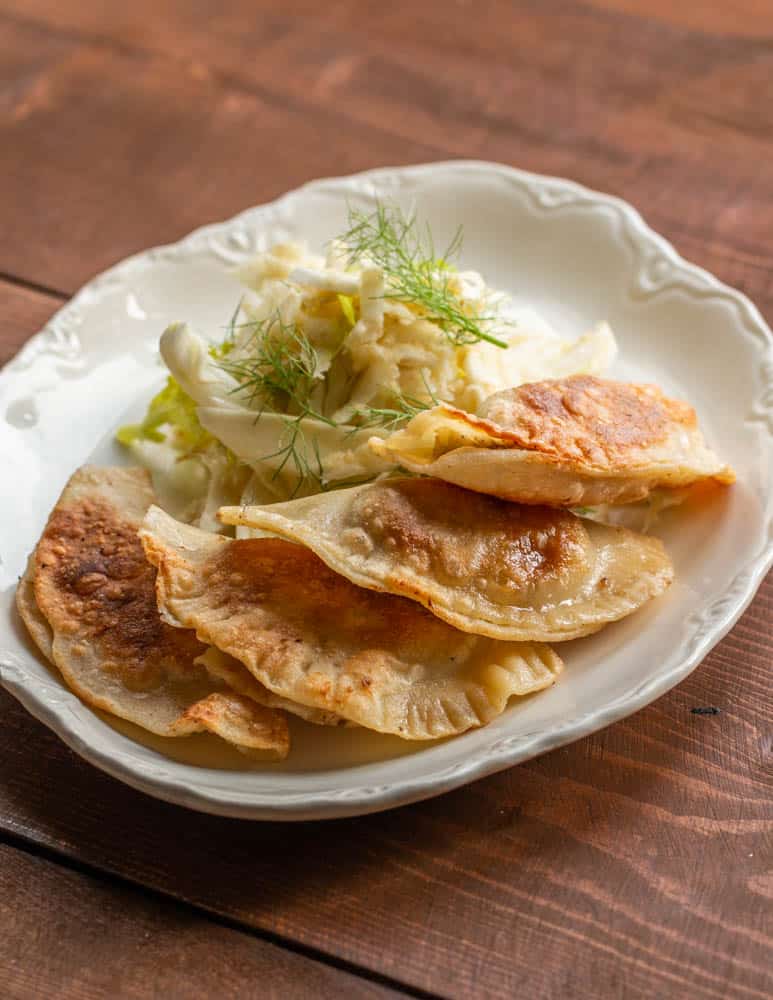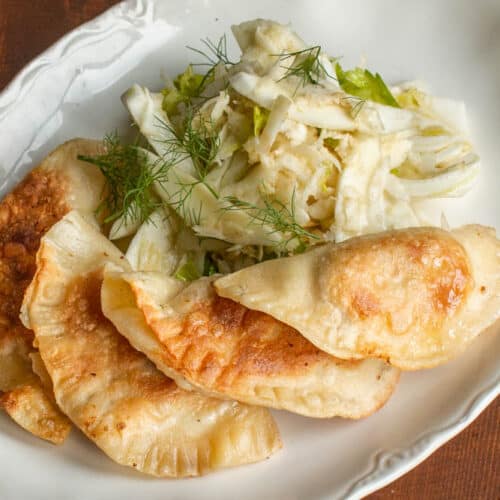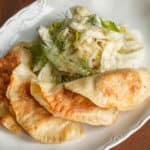 Print Recipe
Fermented Chanterelle Mushroom Pierogi
Makes about 45 pierogi, you can cut the recipe in half for smaller batches. Mild potato and cheese fillings like pierogi and ravioli are magic here, and I was shocked that it seemed to taste even more like chanterelles after they were mixed and "diluted" with starch and fat. As they ferment, they marinate not only in salt, but in their own perfume which amplifies their flavor.
Ingredients
Filling
4

oz

fermented chanterelles

8

oz

cream cheese

12

oz

rice potato

scant 1.5 cups

Fresh ground black pepper

to taste

Fresh chopped dill

a teaspoon or two (optional)
Dough
2.5

cups

all purpose flour

8

oz

sour cream

1

teaspoon

kosher salt

1

tablespoon

soft butter
Instructions
Filling
Puree the fermented chanterelles with the cream cheese and potato in a food processor. Mix in the dill if using, then taste and adjust the seasoning as needed for pepper and dill and adjust until it tastes good to you.
Dough
For the dough, whisk all the wet ingredients together, then add flour and knead into a soft dough. Chill the dough to make it easier to work with.

To roll out the dough, use a pasta roller or a rolling pin, and roll the dough out a little thicker than you would fresh pasta, about ⅛ inch, it doesn't have to be perfect.

Flour the work surface as needed to make the dough easier to work with. Use a drinking glass or ring mold to cut out roughly 3.5 inch rounds, then estimate two generous teaspoons of filling in each circle of dough, fold them closed, crimping the edges with a fork.

Save scrap to re-roll as needed. Cook the pierogi in boiling water until they float, then remove to an oiled pan and refrigerate until needed.

To serve, saute freshly cooked pierogi in a little oil until browned on both sides. As pierogi are rich, I like to serve them with things like freshly cooked vegetables, especially wilted greens, or something like a crisp fennel salad, as pictured.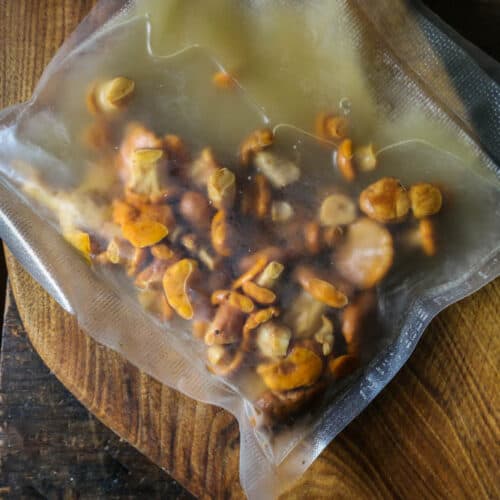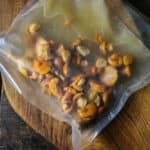 Print Recipe
Vacuum-Fermented Mushrooms
Mushrooms seasoned with salt and fermented without air in a vacuum bag.
Ingredients
Wild Mushrooms

as fresh as possible

Kosher salt

as needed
Instructions
Clean the mushrooms very well, then weigh them in grams. If you want to eat the ferment straight out of the bag, steam them first, then weigh.

Multiply the weight of the mushrooms by anywhere from .02-.05% to get the weight of salt needed. For example, 1000 grams of mushrooms you would use 20-50 grams of salt.

Combine the mushrooms with the salt, then quickly vacuum seal the bag. Use a bag larger than you'll need to allow extra space at the top for resealing the bag once or twice during the fermentation process.

Over the course of a few days, you'll notice the bag puff and inflate from carbon dioxide, snip off the corner to release the air and "burp" it, then carefully re-seal without using the vacuum setting.

Allow the mushrooms to ferment in a cool dark place with a stable temperature (don't ferment them outside) like a pantry. Taste them after 5 days. I like them aged anywhere from 5-10 days depending on what I'm doing. Remember over-fermenting can make them mushy.

When you're pleased with the flavor, transfer them to a mason jar, or another non-reactive container, along with every bit of juice from the bag. The mushrooms will last for a month, or longer if you are careful to keep them completely covered by their juices.
Notes
You'll get decent flavor from mushrooms fermenting them anywhere from 7-14 days. If you forget about them in the vacuum bag, don't worry, the ferment is stable, and forgiving. 
More