Do you like preserved lemons? I do. If you do too, you'll want to read on, especially if you're the type of person who likes an easy fermentation project.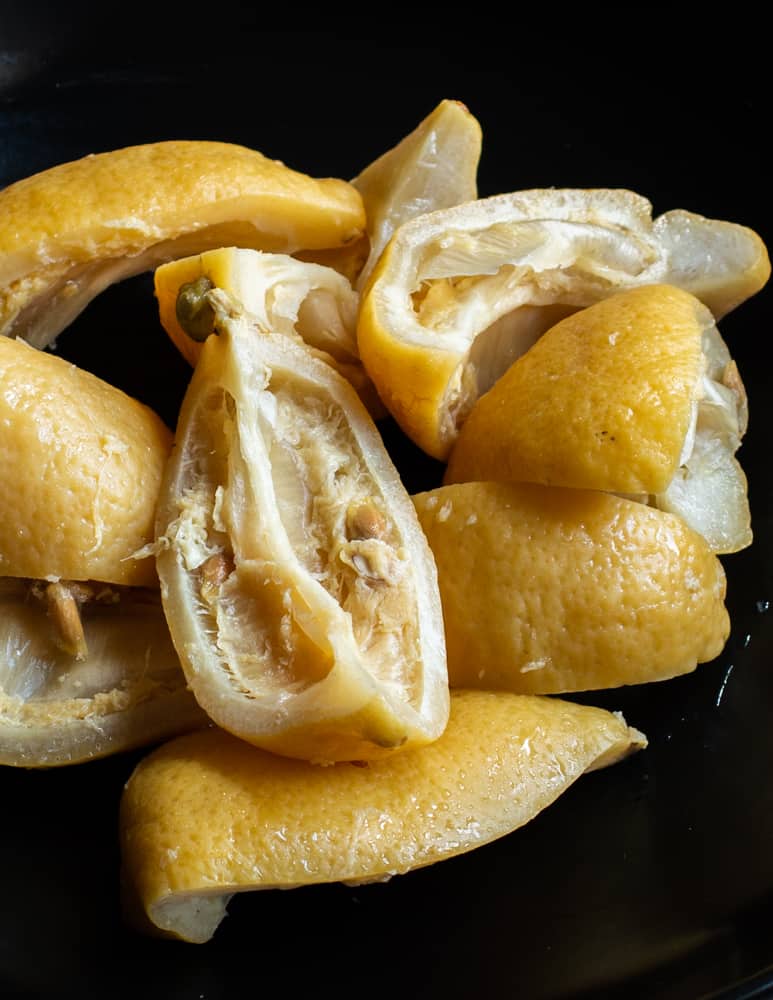 I seem to crave Moroccan-style salted lemons when I don't have any around. They can be hard to find if you don't live in a big urban area with access to Middle Eastern markets.
Making your own, while a fun experiment, takes months. But there's an easier way to do it. Instead of just burying lemons in salt you can ferment them, and it's my favorite preserved lemons recipe.
Why it works
They're pretty darn close to traditional salted or preserved lemons (which are not fermented). But, these come without extra salt you have to rinse or soak off, and you won't be left with a bunch of salt at the bottom of the jar.
It's also done in a couple weeks, instead of months, and, just like salted lemons, it's also shelf stable near indefinitely. They make a delicious addition to savory dishes, and have the bonus of the beneficial bacteria from the fermentation process.
Depending on the fermentation process you use to make them, fermented lemons can also give you fermented lemon juice some people value for it's "health benefits". The liquid isn't indelibly salty as with traditional preserved lemons that are buried in salt.
There's two different ways you can make these: in brine, and fermented under vacuum. I'll describe each method.
Fermenting in Brine
Lemons will ferment easily in a traditional brine ferment. To do it, take lemons and quarter them, put the lemons in a jar, and pour over a solution of 3% brine.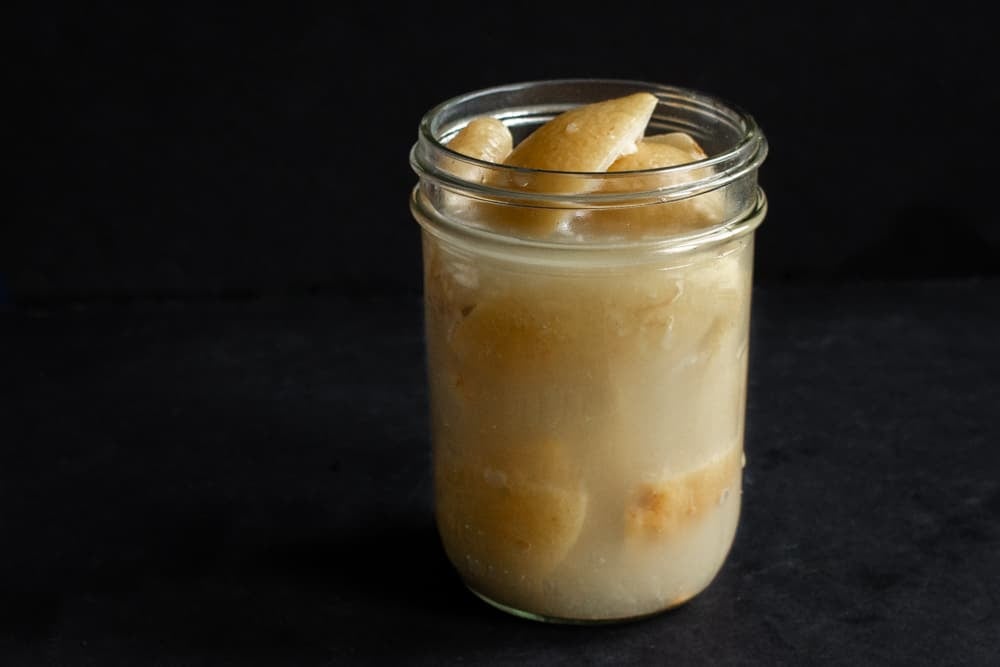 Press the lemons down with something (a clean stone is fine) and allow to ferment for two weeks, or until sour to your liking. You can also use an air lock.
Fermenting only the rind in brine
If you cut the flesh and seeds from the quarters of lemons, you can ferment the rind, saving the fresh lemon juice for another purpose. This also allows more lemon rind to fit into a jar, which will give you a higher yield.
Fermenting Under Vacuum
Fermenting under vacuum is my favorite and a great way to preserve food. Vacuum fermentation means that as the ferment isn't exposed to air, it's basically impossible for it to mold. Using vacuum fermentation, I have never seen any sort of mold or kahm yeast develop.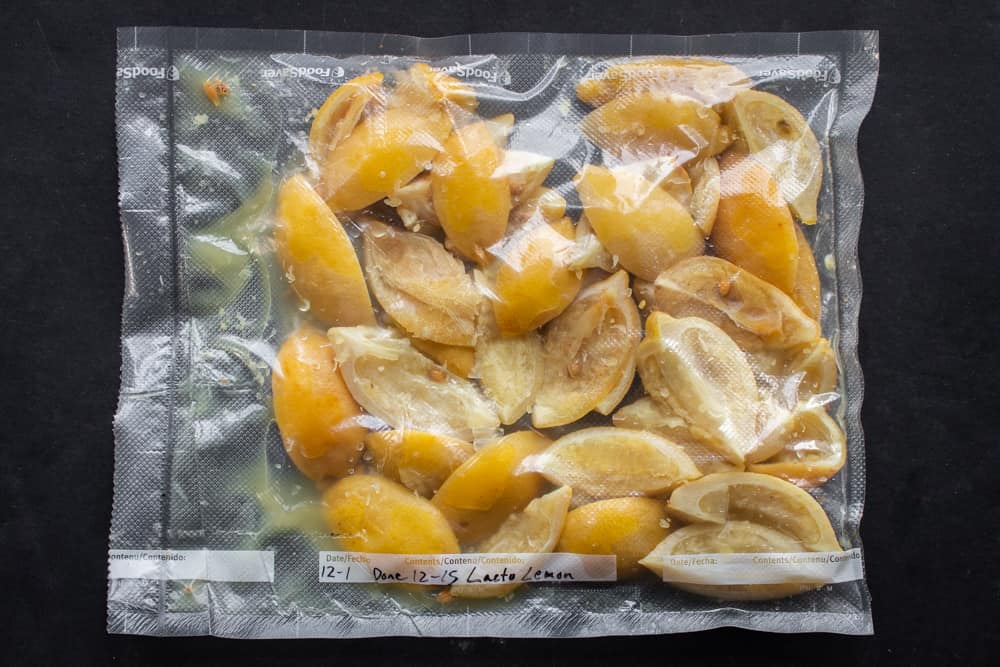 The lack of air exchange in vacuum ferment means that the lemons, along with aroma in the rind are trapped together. This forces a marinating exchange of flavors that happens as the fermentation takes place.
These taste and smell and taste extra lemony. This is because none of the aromas have been lost to air exchange from exposing them to air.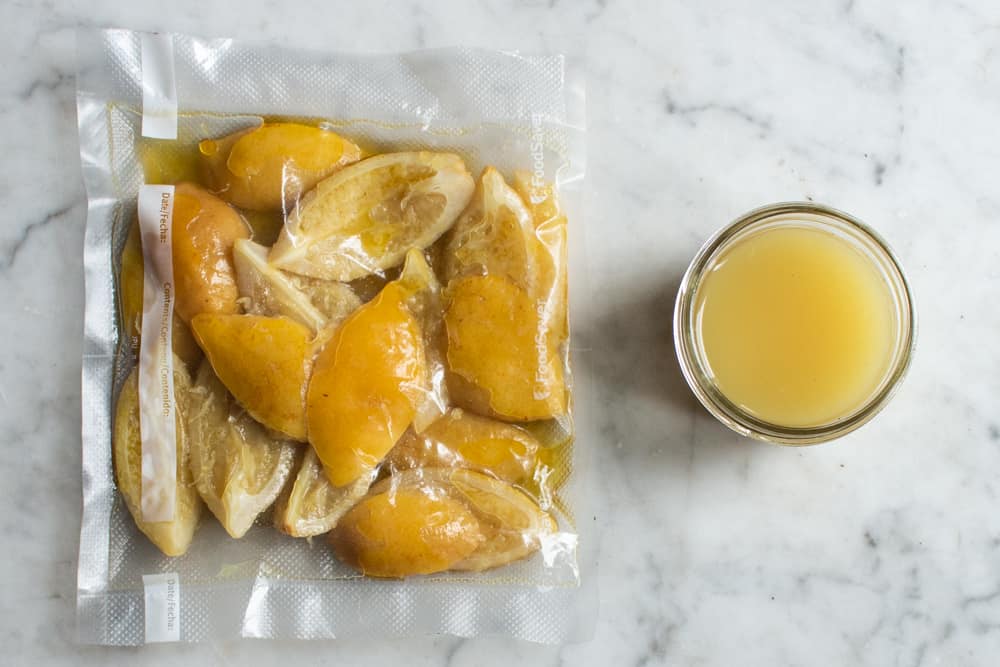 Adjust the texture of the fermented lemon rind
One of my favorite things about traditional salted lemons is their tender bite. Fermented lemons won't have the same soft chew of salted lemons at first, but it's easy to get around.
To soften the texture to use as preserved lemons, I sous-vide the fermented lemons or steam them gently until they're tender. If you're putting the lemons in a stew like a tagine, you just can simmer it a bit longer until the lemon pieces are tender.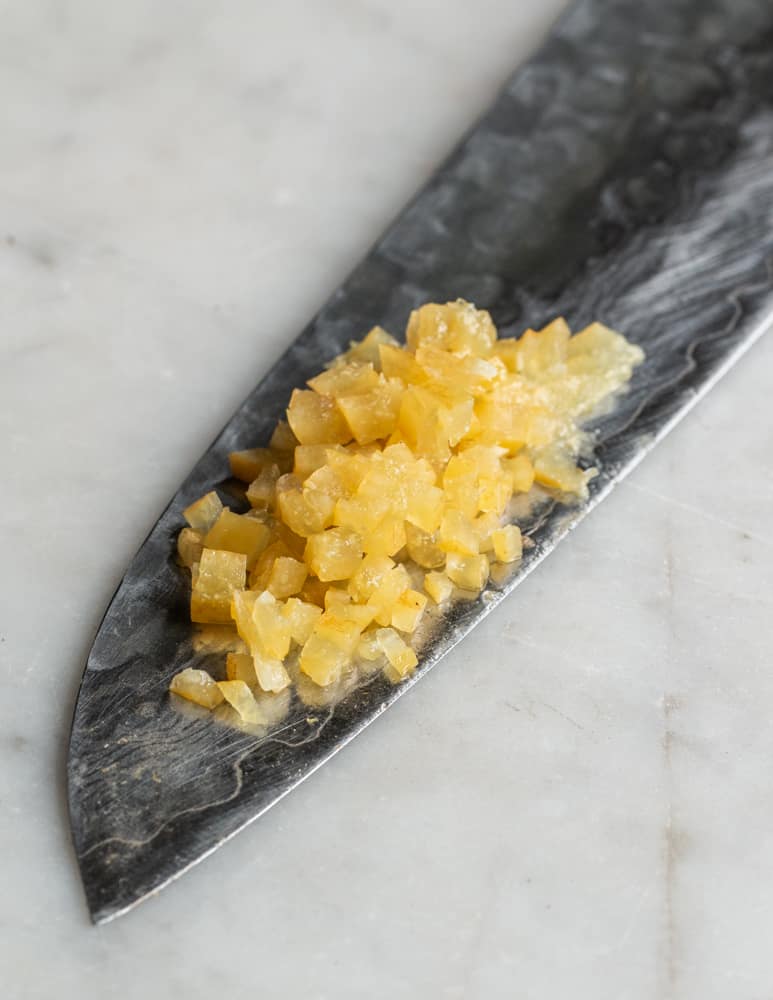 How to Use
You can use fermented lemons in any recipe that would call for preserved lemons.
Tagines
The North African stew is probably the best-known place where you'll find preserved lemons. Other soups and stews especially complex things like curries can also work.
Dips and spreads
Adding a sprinkle of finely diced, cooked, fermented lemons will add a great lemony bite, artichoke dip is a good example. The chopped rind can also be mixed in things that will be buzzed in a food processor. Borani esfenaj with fermented lemon would be great.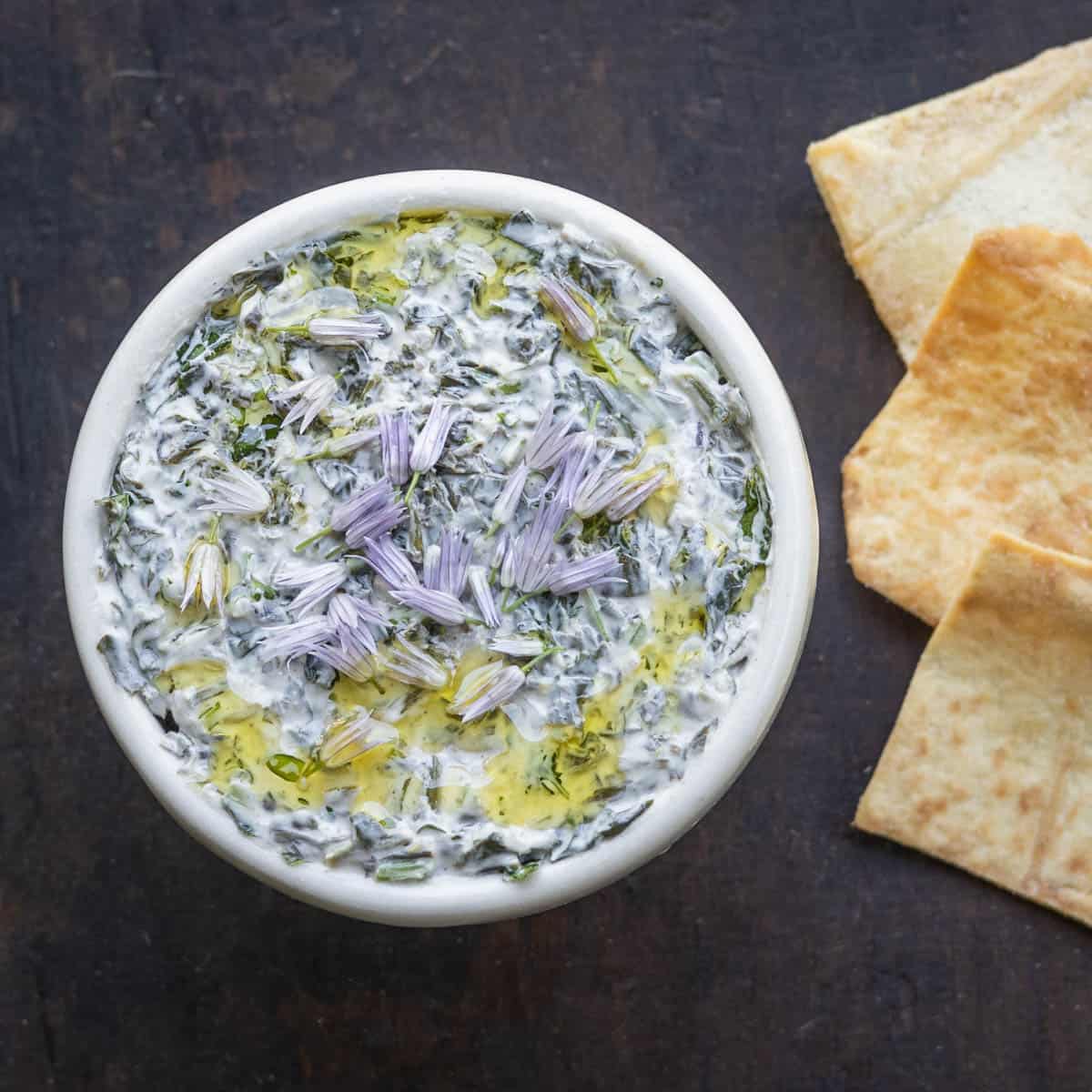 Use where you'd use lemon zest
Pan sauces, stuffings, etc. I worked at one place where we made a compound butter for steak made from blending preserved lemon, rosemary and black pepper in a food processor.
With Leafy Greens 
Morrocan Foraged Greens with Preserved Lemon: Bakula or Bqula, is one of the most traditional recipes for purslane / verdolagas I know of. Preserved lemons are added at the end. You can substitute many different cooked leafy greens there.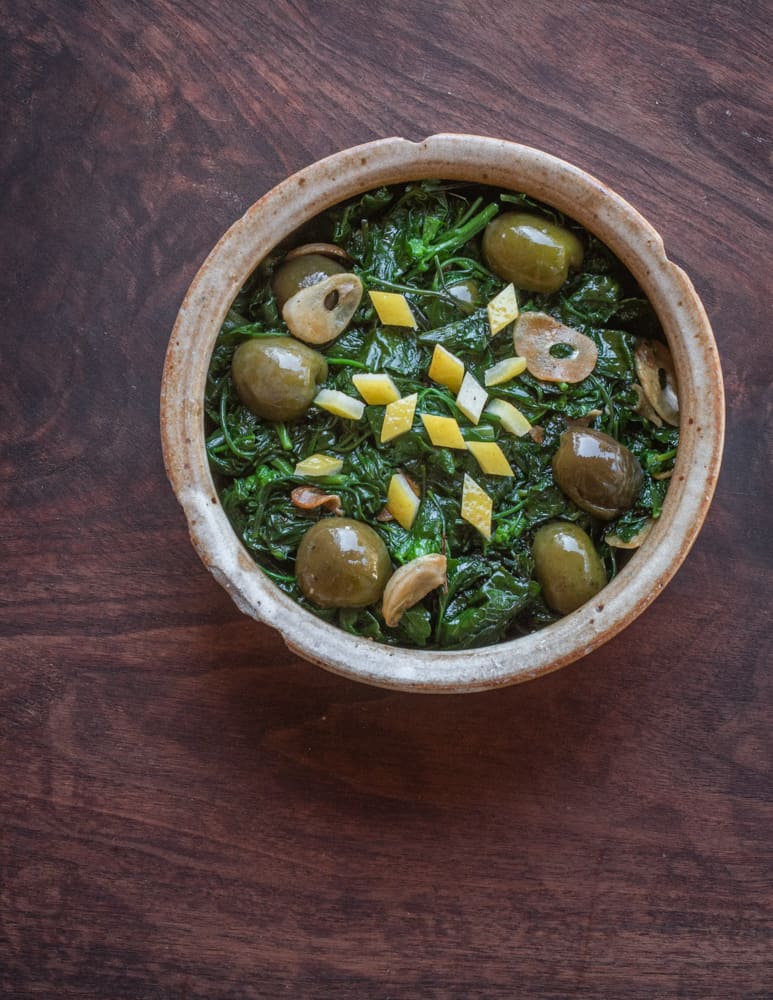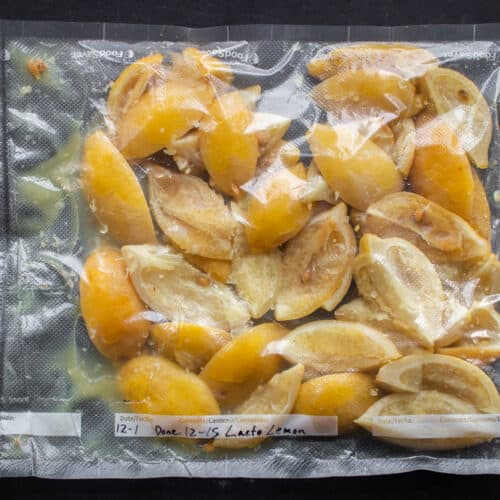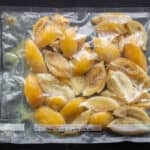 Print Recipe
Vacuum Fermented Lemons
Simple, fermented lemons made by fermenting in a vacuum bag.
Equipment
Vacuum sealer

Vacuum bag, gallon size
Ingredients
Brine fermented lemons
2

lbs

Organic lemons or meyer lemons

don't use regular lemons

27

Grams

Kosher salt or sea salt
Instructions
Sealing and fermenting
Cut the lemons into quarters the long way, then add salt, mix, and quickly seal in the vacuum bag. Allow the lemons to ferment in the bag for 2 weeks, or until sour to your liking.

As the fermentation progresses, the bag will inflate from carbon dioxide. While I've never had a bag burst, I do cut the corner off of the bag as needed to release carbon dioxide, resealing the cut corner without using the vacuum to keep the lemons contained.
Trimming
After the lemons are fermented, remove them from the bag, put them rind-side down on a cutting board, and, using a sharp paring knife, cut away the pith and seeds and discard. If you used the vacuum method, you can squeeze the capillaries and pith to extract fermented lemon juice.

From here, the lemons are shelf stable and can be held in the refrigerator, or water-bath canned in their brine if you used brine. Canning in brine will also tenderize the rind, which is a nice bonus. Do not can lemons in their juice, which could become bitter-save that for another fresh purpose like salad dressing.
Tenderizing the rind
Finally, you need to heat the rind long enough for it to become tender. My favorite way to do this is to seal in a vacuum bag and cook sous vide at 150 F for 2 hours, but you can also steam them.
Notes
To Ferment Lemons in Brine 
Make a 3% brine solution by mixing 30 grams of salt for every 1000 grams of water.

Cut your lemons into quarters and pack into a large jar, such as a half gallon mason jar, or a couple quart jars.
Method 
Cover the lemons with the brine, weighing them down with an object in the jar like a clean stone to keep the lemons submerged under the brine. Allow the lemons to sit at room temperature and ferment for 7-14 days, or until sour to your liking. Seal the jar tightly then refrigerate. There is no need to turn the jars upside down.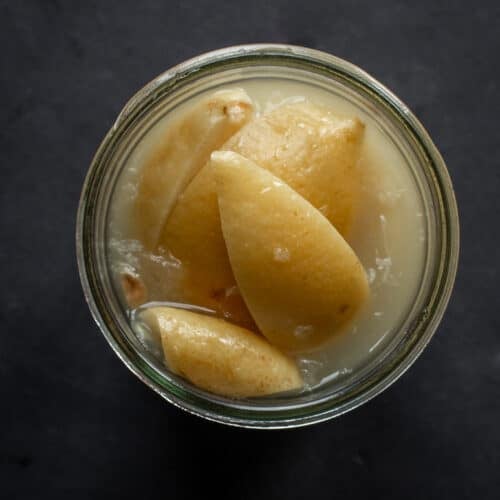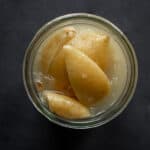 Nutrition
Serving:
5
grams
|
Calories:
13
kcal
|
Carbohydrates:
4
g
|
Protein:
0.5
g
|
Fat:
0.1
g
|
Saturated Fat:
0.02
g
|
Polyunsaturated Fat:
0.04
g
|
Monounsaturated Fat:
0.01
g
|
Sodium:
524
mg
|
Potassium:
63
mg
|
Fiber:
1
g
|
Sugar:
1
g
|
Vitamin A:
10
IU
|
Vitamin C:
24
mg
|
Calcium:
12
mg
|
Iron:
0.3
mg