Once in a while I learn something new about a vegetable that changes how I think about cooking it. One of my favorite memories is about cooking the spinach I get from my friend, a 70 year old gardener from Oregon named George. George always sends the most beautiful, pristine greens and vegetables, air freighted overnight to keep them fresh.
Usually when you think of spinach, you think of a bunch of cut leaves that need to be trimmed of their stem before cooking, depending on size. George starts sending the spinach right away in the spring when it's young, and, instead of sending just the leaves, he sends the entire plant, little root and all. The fun part about the little spinach bunches, or "clouches" as they're called, is that instead of trimming the leaves off, the entire plant can be cooked, stems and all, almost like a small vegetable as opposed to a green.
What's this have to do with dandelions? Plenty.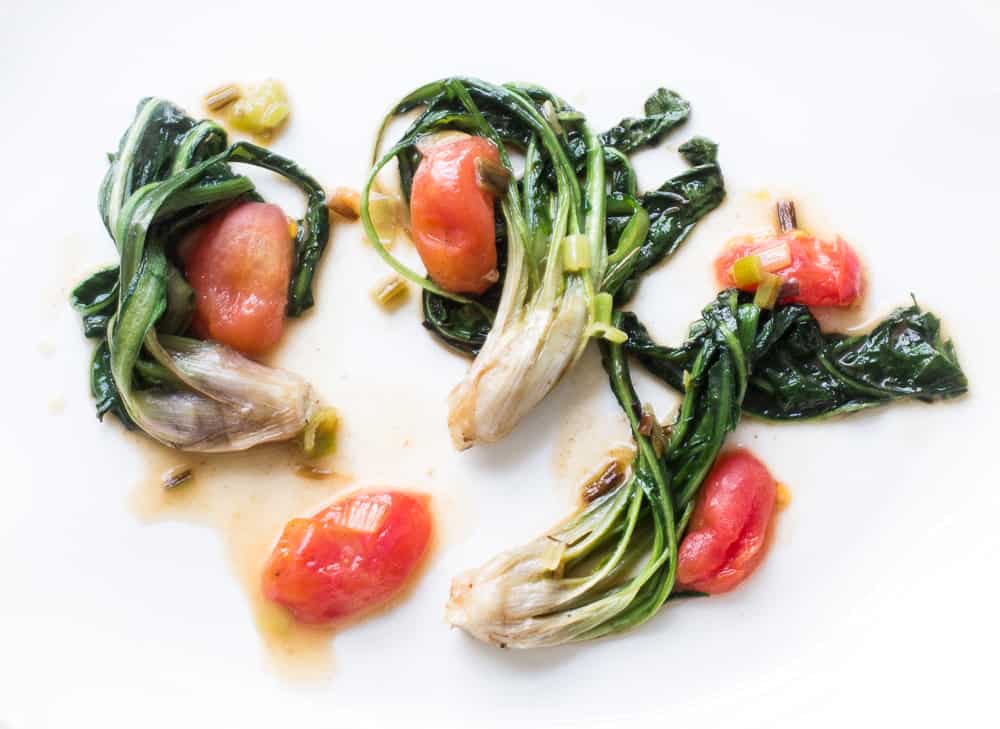 This spring I was walking on the street to work when I noticed a little rosette of dandelions. For some reason, the little cluster of greens reminded me of George's spinach. The next time I went on a hike, I brought a little dandelion picker with me and dug up a couple rosettes.
As I lifted a couple out of the ground, I was happy to see they were held together by a little nub at the bottom, which I knew I could peel and clean easily. Cooking them was a breeze, and they turned out just like I thought they would, more like a vegetable than a bowl of greens-just like the spinach, and just as delicious. My favorite part is the little stem. After cooking it gets soft, and mild. A couple of the clusters I picked had a bonus too: young buds emerging from the center, which was fun to see.
Dandelions are known around the world as being a bitter green, but if you pick them before they flower, they're very mellow. The "eat it before it flowers" technique is true with plenty of plants as well from my experience. Broccoli, cauliflower, romanesco, and a host of other veggies get very bitter if they're not picked before they flower and go to seed too.
Speaking of other vegetables, dandelions are definitely not the only plant than can be cooked in the clouche form. Now that you know about it, I guarantee you'll start seeing greens that grow in a garden, or any place differently, I know I do.
Anyway, here's a great way to cook those clouches. The recipe is tried and true: peeled tomatoes, greens, and some garlic. Sometimes I like the tomatoes whole and little, sometimes they're large and chopped, but either way they have to be peeled, since as they cook little particles of tomato come out and help to thicken the pan sauce that get forms when peeled tomatoes get cooked with stock and butter. In this version, I added some green garlic-a great spring ingredient.
Green garlic is the garlic you know and love, just harvested young before the stem gets woody. Since it's tender, the entire plant can be cooked like a giant scallion. It's more mild than regular garlic, so I usually cook it briefly, although it's great in slow cooked jams and chutneys too if you have a bunch. Look for green garlic in the spring and early summer at your local coop if you're in the Midwest.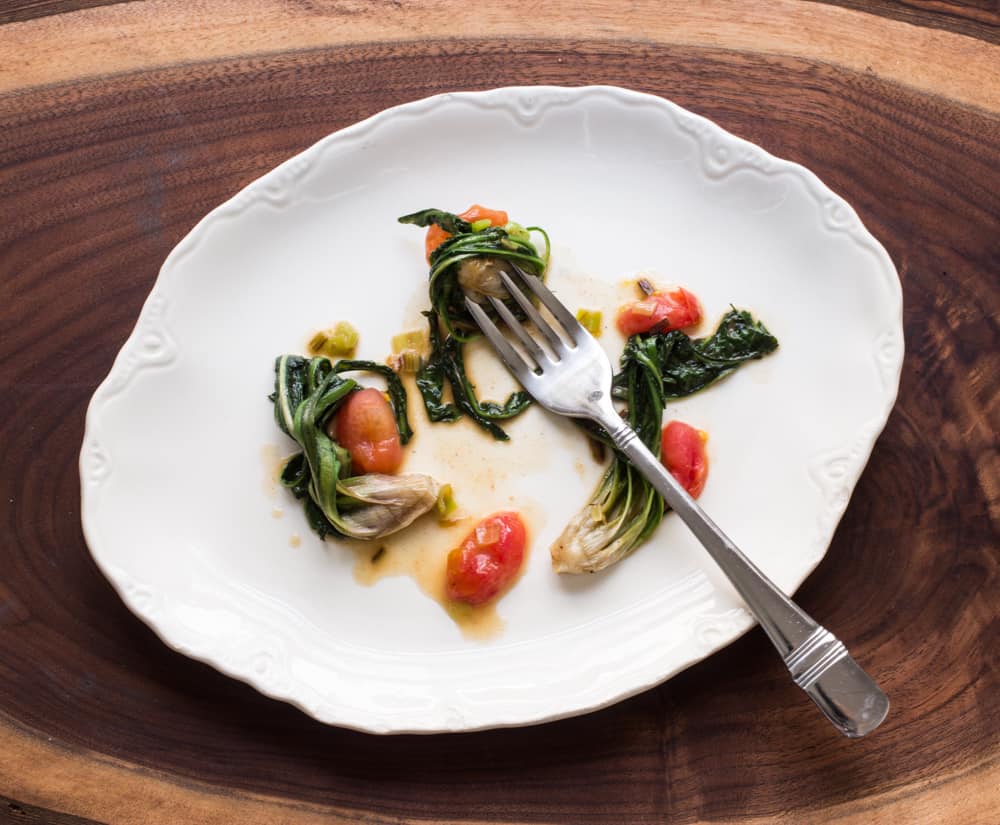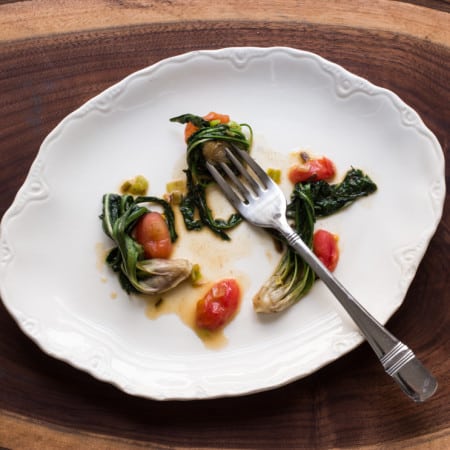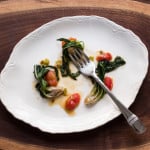 Print Recipe
Young Dandelion Crowns With Grape Tomatoes and Green Garlic
Ingredients
6-8

clouches of young dandelions

depending on size

8

ripe grape tomatoes

¼

cup

chicken stock

preferably homemade

¼

cup

dry white wine

2

tablespoons

unsalted butter

Kosher salt and fresh ground black pepper

2

teaspoons

green garlic

diced
Instructions
Fill a sink or container with cold water. Wash the dandelions thoroughly, then trim the roots with a paring knife to remove any clinging debris, rinse the dandelions again, then wrap in a clean towel to dry.

Bring a quart or so of salted water to a boil. Using a paring knife, score the tomatoes lightly with an x, then blanch in the water for 20 seconds. Remove the tomatoes to an ice bath, chill, then remove and lightly squish to remove the seeds. Reserve the tomatoes.

To cook the dish, heat 1 tablespoon of the butter in a saute pan. Add the green garlic and cook for 30 seconds. Next add the tomatoes and dandelions, season lightly with salt and pepper, then add the wine and stock and cook for a minute or two, just to wilt the leaves. Reduce the pan juices until they're thick and syrupy, about 4-5 minutes on medium heat. D0uble check the seasoning for salt and pepper, then remove the dandelions cluster by cluster, to avoid tangling the leaves. Arrange the dandelions on a heated plate with the tomatoes around them, drizzle over the remaining pan sauce and serve immediately.
Notes
A small dish that should be part of a dinner, it would be great spooned on top of a piece of fish.