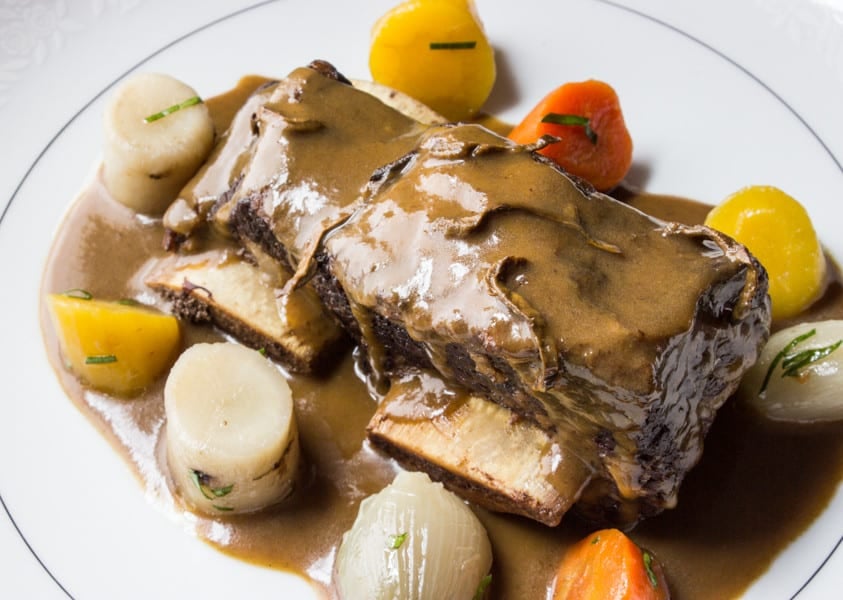 I often get asked things like "what's your favorite mushroom" or "what's the most interesting mushroom you've cooked with?". They're questions I can't really answer, but there's a particular shroom I like to mention as a conversation piece, since it's a good example of the possibilities I see in boletes.
The tricky part is that I've only collected it once-the first and only time I saw it. Here's what happened:
I was wandering through some oaken woods where I know chanterelles grow. So far I had been getting skunked, but in a clearing next to some white oak I spied two giant boletes growing together.
The first thing I noticed was that they were yellow, but yellow doesn't do it justice, they were yellow to the point of looking like they came out of a cartoon, it was neon. Since they were large, and mature I had some trepidation: boletes of that age age will usually feel loose when you uproot them, since they're probably heavily bug damaged, or still infested. These were rock solid though, I could tell there wasn't a bug in them, which might mean they have a natural defense towards larvae, which is nice.
Next, the cut test. I sliced into one, thinking I might see some blueing as the stem was cut. They didn't turn just turn blue, they turned blue, and then quickly morphed to the deepest black, a color change I had never seen, in any mushroom. I took them home for research and dried them.
I've been trying to piece together what they are for about 5 years now, I'm no mycologist, but again and again, I keep coming up with Boletus psuedosulphureus. If I ever find them again, take some better shots and write another post.
Things got exciting after I dried them. Like other boletes, their smell intensifies after drying, but these are like no bolete I'd ever smelled before. Their aroma is woodsy and deep, like most boletes I've smelled, but much more rich. It like coffee, or cocoa, crossed with mushroom, remarkably different from any bolete I've smelled.
With such an interesting scent, I knew I had to see how they played out in the kitchen. The first thing I thought of when I smelled their cocoa-y, coffee-like smell was dark beer, so that's where I started. From there it went to a braise with meat, after that, add a couple vegetables and you have yourself a dish.
Shortribs make an excellent pot-roast type dish, so that's what I went with, although you could do the same thing easily with a chuck roast, or another braising cut. The vegetables could be whatever you want too, I used some salsify, carrots and shallots.
As for the flavor of the boletes, They're definitely not as strong as something like a porcini, which isn't a bad thing at all. Even so, they're flavor is definitely present, and unique. If you come across some dry them out and give them a try sometime.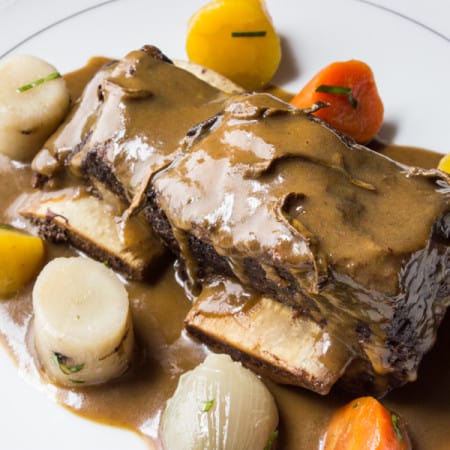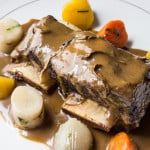 Print Recipe
Dark Beer Braised Beef Short Ribs With Dried Boletes And Root Vegetables
Ingredients
4

8oz

beef shortribs

bones attached-optional (if the bones are removed they will weigh less)

2

cups

dark beer

8

cups

beef stock

preferably homemade

½

cup

each diced carrot

onion and celery

2

ounces

dried boletes

roughly two handfuls

Bouquet garni of 5 black peppercorns

3 cloves of garlic, 5 sprigs of thyme, 1 bunch of parsley, and 1 dried bay leaf (wrap these ingredients in cheesecloth and tie closed for easy removal)

Kosher salt and pepper

Flavorless oil or lard for searing

Root vegetables

as needed (I used a couple shallots, a stalk of salsify, and two heirloom carrots, cut into equal sized pieces. If you use shallots, cook them until completely soft.)

2

tablespoons

unsalted butter

1 tablespoon for sauteing the vegetables, plus an additional tablespoon for thickening the sauce
Instructions
Marinate the shortribs for 24 hours in the beer and bouquet garni, turning them every few hours to ensure an even infusion.

The day you cook the ribs, rehydrate the mushrooms by placing them in the stock for 20 minutes. Agitate the mushrooms in the stock to remove any debris, then strain the stock. Finely chop the mushrooms and reserve.

To cook the ribs, remove them from the beer, dry them thoroughly, then season liberally with salt and pepper. Heat a few tablespoons of the oil or lard in a large braising pan. Sear the shortribs deeply on each side until golden brown.

Discard the fat from the pan, deglaze with the beer, cook off the alcohol for a few minutes, reducing the booze by half, then add the diced vegetables, bouquet garni, shortribs, and stock. Bring the mixture to a simmer, then cook, covered, for 2.5 hours or so until fork tender, but not falling apart. Remove the ribs, strain the stock to remove the vegetables and bouquet and discard, then add the mushrooms back to the stock. Chill the ribs.

Put the stock back on the burner and reduce to 2 cups, then chill.

Meanwhile, blanch each of the vegetables in salted water individually until tender, then chill in an ice bath and reserve. This can all be done days in advance.

Plating The Dish

Reheat the stock with the shortribs in it. Season to taste with salt and pepper. When the sauce and ribs are hot throughout, whisk in the cold butter and heat, whisking constantly until the sauce thickens and becomes creamy. Meanwhile, reheat the vegetables in some butter until lightly colored and warmed through. Toss the vegetables with some chopped parsley. On the middle of two preheated dinner plates, plate a short rib and drizzle some of the sauce over to taste. Garnish with the vegetables and serve immediately.
Notes
In the dish pictured, I julienned the boletes, which ended up looking weird, which is why they're minced in the recipe method.
An interesting phenomena is the color change these boletes undergo. When fresh they turn black when cut, then back to yellow when dried, then blue when re-hydrated.