Guess what? You can make higher quality stock than the majority of professional chefs in the restaurant industry at home using a crock pot.
Story goes last year I read a book about the science of home cooking from J Kenji Lopez-Alt, the man behind the intensive blog at Serious Eats. The book won the James Beard award, and honestly, if you have to justify throwing away 5 books to fit it in the collection, do it, it's just that good. There's no fancy recipes, just simple home cooking technique taken to the next level, building block and technique sort of things.
The importance of time
One of the big take-aways my staff at the time and I got from the book was from looking at Kenji's graph of collagen extraction over time in stock making. Long story short, it takes around 4 hours to get to the plateau of collagen extraction from whatever bones you're cooking, and depending on how much they're broken up.
A hallmark of a good meat stock is a nice gel from the collagen when chilled, which makes anything made with it taste great, and will set your soups, stews and sauces apart. I knew Kenji's timeline was spot on, but for home use, I still needed a stock pot, and they take up a lot of stove space at home and kick off a bunch of heat, too, especially if it's going for over 4 hours.
The aha! piece of the puzzle came when I was talking with one of my old chefs over dinner. His girlfriend (also a chef) had been using their crockpot to make stock at home, and they sold me on it. I made sure to give it a shot.
I grabbed some big beef bones, knuckles and stuff, the kind that I usually avoid making stock from since they have to cook all day to not taste like boiled bones. I roasted'em hard, tucked them in the crock pot with some aromatics, added water just to cover, and let it ride for 24 hours. oh, I made sure to put the crock pot outside too, since it keeps my girlfriend up at night and makes the house smell a little too rich.
Crystal-clear, restaurant quality stock
The next day I strained out the solids, let it cool, chilled it overnight, then scraped off the fat. It was really good, and  The collagen had set so hard that I could shake it upside down in the container and it didn't budge a bit. It was the best stock I've made at home, period. Another bonus was that the stock was absolutely crystal clear, a difficult part of stock making to master that most people never think about. The stock was so clear, I would be tempted to pass it off as consomme, the clarified hot cousin of stock so clear it's like looking through a window.
The importance of insulation
A good long simmer isn't the only thing that's working here to make your stock amazing though. Typical stock pots are made of metal, and metal conducts heat and cold, rapidly. The material the liner of the crock pot is made of insulates things, and instead of conducting nearby temperatures, it holds it's own, like a thermos. I don't know the science behind it, but it definitely seems to work more efficiently, and the same can be said for enamel-lined cookwear.
A small amount of the first beef stock I made. It gelled so hard I could shake the container upside down.
Can I cook it for more than 24 hours? 
Technically yes but it's kind of pointless IMO. After 24 hours the max amount of collagen has been removed from the bones. Further cooking it only evaporates water and reduces your yield. If you want to reduce it to make glace (pictured at the bottom of the post) go for it.
Stock like this can make a big difference in your cooking, but how? I know that ideas that come easily to me might not be so clear to everyone else, so here's a few ways I would use it if I wanted to show it off:
Leveraging stock 
Some of the best pasta's I've had in restaurants were simply dressed with a dash of butter or oil, and a ladle of great homemade stock then maybe a little meat from the animal the stock was made from, and a leafy green.
Season it well with salt and a drizzle of dry sherry or vermouth, then pour it into cups and charge people 7$ for a 4oz pour. Call it consommé, no one will know you didn't painstakingly clarify it by whisking egg whites in and forming a raft.
Season it, then drink it. Afterwords brag to the hipsters drinking bone-broth at the farmers market that you know a super obscure bone broth they've never heard of, that it makes their's taste like weak-sauce..
Putting the stock back into the crock pot for another day, this time with the lid off, and cooking it down again will give you some wicked homemade meat glace, something I occasionally portion in ice cube trays and then stick in freezer bags for special sauces. Make sure to keep an eye on that though so it doesn't become glue. There's a picture of glace at the bottom of the post.
At the end of the day, anything made with stock like this is going to be great.
Different bones will give more or less collagen
The bones of large animals give the most collagen. I use beef bones generally since I have a lot of them. Beef bones, and other large creatures will give a stock with more gel, so don't be frustrated if you use chicken bones and it doesn't stand upside down like the stock I have pictured.
On chicken stock, if you use the feet, which I reccomend, or use say, half feet/half bones, you can get a stock that gels, too well actually if you use all chicken feet, and it can leave a tacky mouthfeel.
If you're wondering about fish stock, know ye this: with the exclusion of shellfish stocks, fish stock should not be cooked for more than 30 minutes to an hour, think of fish stock like making tea. Overcooked fish stock is not pleasant, and is bitterly fishy and strong tasting.
What's the difference between stock and broth? 
If you want to call something broth, that means it's been seasoned with salt, stock is unseasoned. The only difference is that you need to be careful cooking with broth since it will season a dish, but the salt in the broth will also extend the shelf life, since salt is a preservative. Without salting your broth, it will spoil quickly. I generally season stocks at least lightly with salt for shelf life alone if they won't be immediatley frozen.
I use a 6 qt crockpot (pictured above) and filling it with meat, vegetables and water to cover usually gives me about 12 cups of really good stock after 24 hours. Yields will vary a bit depending on the size of your slow cooker.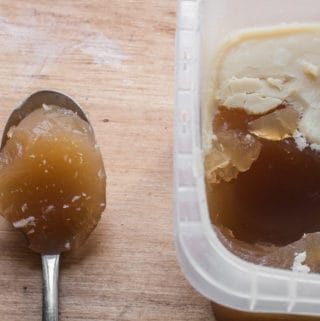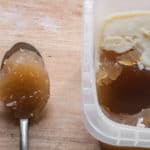 Print Recipe
Crockpot Stock or Bone Broth 
Bone broth and stock, cooked in a crock pot for maximum collagen extraction
Ingredients
Bones from an animal

or meat, scrap and trim

Small amount of carrot

onion and celery (leave these whole or in very large chunks)

A dried bay leaf or two

A clove of garlic or two

A few small sprigs of fresh thyme

optional

Water to cover

A good pinch of salt
Instructions
Roast the bones at 375 until nicely toasted and browned, turn them over once in a while to make sure they get evenly caramelized, this should take about 45 minutes to an hour, depending on size.

Transfer the bones to the crock pot with the carrot, onion, celery and herbs. Cover everything with water, there should be just enough water to barely cover the bones, then put on the lid and cook overnight on medium-high heat for for at least 4-5 hours, and as many as 24, depending on how much time you have.

Remove the solids and discard, then strain the stock through a fine strainer (optional) cool to room temperature, season with a good pinch of salt to taste, then transfer to labeled containers and refrigerate or freeze.