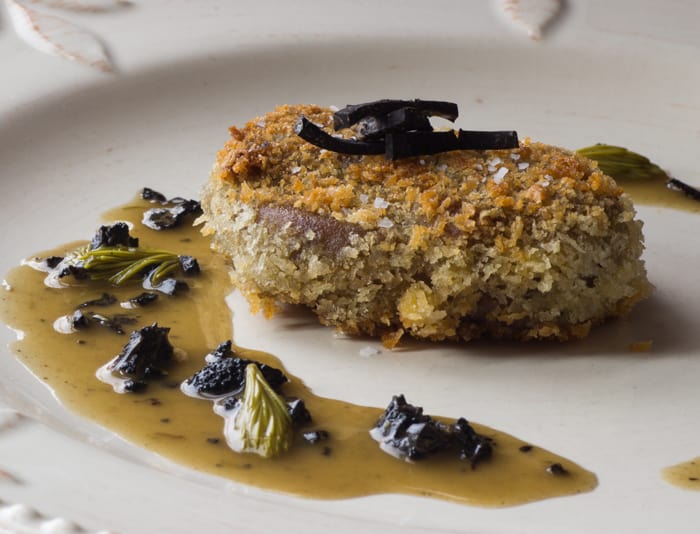 The last time I visited the Butcher Block restaurant in Minneapolis, Chef Fillipo Caffari gave us a tour of the kitchen. Fillipo moved here from Rome, where he used to be a butcher. I haven't worked directly under him except for one or two special dinners, but I always admired the magic he works with pork, and meat fabrication in general.
During our tour of the kitchen, I remember getting excited over his homeade charcuterie: guanciale, pancetta, and his famous garlicky pork sausage. On the tail end of the tour he told us about an unusual ingredient he was going to be cooking with: pig snouts.
With a chuckle, he said he was going to serve them stuffed with shredded pork. I had no idea how to cook a pig snout back then, but I vowed to try someday. It took a couple years, but last week I got some.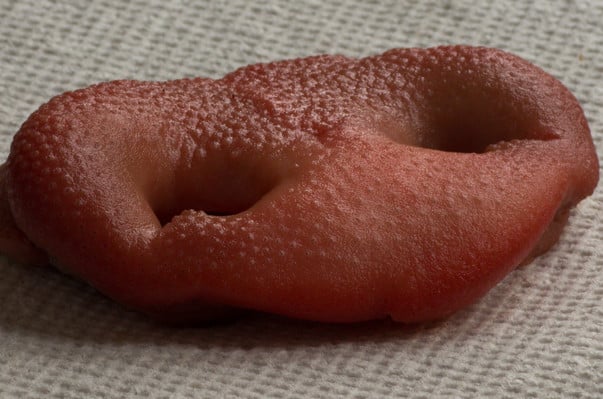 I've cooked plenty of pig heads, but never just the snout itself. After making headcheese off and on for the past couple years, I knew the snouts would need to be braised for a long time to render them tender, and would also need some special preparation to improve their soft, slightly fatty texture.
I was pretty excited to take home my snouts and play, so I snapped a quick iphone picture to put on instagram. A couple hours later I got a message from an old friend of mine from college: a wild Yugoslavian dude who used to steal cars and smuggle absinthe back to the dorms after his trips back home. As a joke, he said I should cook the pig snout with truffles. At first I didn't get the humor, but when it hit me I laughed out loud, then laughed some more. I told him I'd take a picture of the dish when I made it, and make it I did.
You might be wondering too if there is any meat on a pig snout, or if they actually taste good. Suffice to say there is much more meat than you would expect, and it makes for some seriously rich eating, it's similar to eating oxtail or a fatty marbled pork chop. The flavor itself is very mild: slightly porky with just a hint of funk.
Without further ado, here's something to make when pigs go nosing around in your truffle patch...Get it!?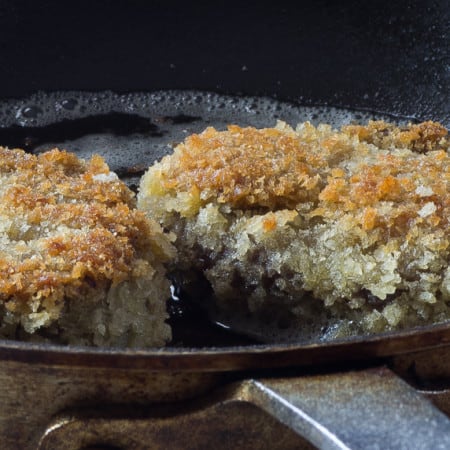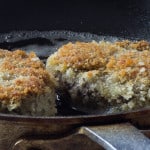 Print Recipe
Crispy Pork Snout with Black Truffle
Serves two as an entree, with a salad or something light on the side
Ingredients
Two pork snouts

trimmed of any connective tissue or bone

5

ounces

pork scrap or trim

¼

ounce

fresh black truffle

about 2 teaspoons, chopped (You could substitute canned here)

1

qt

chicken stock or vegetable stock

Fresh lemon juice

to taste

Kosher salt and fresh ground pepper as needed

All purpose flour

1

large egg

Panko breadcrumbs

as needed

¼

cup

dry white wine

1

tablespoon

unsalted butter

diced

Flavorless oil for sauteing

like grapeseed or canola
Instructions
Heat the oven to 300. Place the snouts, wine and stock in a covered pot with a ¼ teaspoon of salt and cook for 3 hours, or until very tender. Remove the snouts from their liquid and cool until firm enough to handle.

In a saute pan, heat a tablespoon of oil until lightly smoking.

Brown the pork scrap, seasoning with salt and pepper, then cover with 1 cup of the reserved snout liquid and cook, covered on medium heat for 45 minutes , or until tender.

Shred the pork scrap, then cook down in the liquid until the pan is nearly dry. Cool the shredded pork and reserve.

Stuff each pork nostril with 2 teaspoon of the shredded pork, then bread the snouts by dipping first in flour, then beaten egg and lastly the panko breadcrumbs.

Roughly chop the black truffle, then add it to the snout liquid and reduce on medium heat until only ½ cup remains, about 30 minutes.

Finishing and plating

Heat a saute pan with a few tablespoons of oil and a tablespoon of the butter. Brown the snouts on medium heat until golden and crisp on each side, about 5 minutes.

Remove the snouts from pan and keep warm.

Heat the truffled snout stock on medium heat and whisk in 1 tablespoon of unsalted butter.

Continue to whisk until the butter is absorbed and the sauce thickens enough to coat the back of a spoon, then add some lemon juice to taste.

Place a fried pork snout on each of two preheated plates. Garnish each plate with 2 tablespoons of the sauce and serve immediately.