Recently I did a big tasting menu with a couple different desserts. The crowd favorite was this pumpkinbread, spread with butter, crusted with maple sugar, griddled and smothered with wild blueberries, candied plums, soft cheese and candied black walnuts. As pictured its a bit of a process, but doing a toned-down version would be a great brunch dish for a special occasion.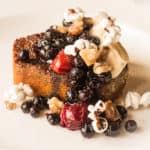 Print Recipe
Pumpkinbread
Yield: 1 loaf pan or 2.5 small loaves for tasting menu portions
Ingredients
1

cup

kabocha squash or pumpkin puree

you can use canned in a pinch but it's not as good

1

teaspoon

curry powder

½

teaspoon

ground cinnamon

½

teaspoon

kosher salt

½

cup

sugar

¼

teaspoon

nutmeg

¼

teaspoon

cloves

2

large eggs

4

tablespoons

melted butter

plus more for greasing the pan

Maple sugar

for dusting the baking pan, optional

¼

cup

milk or half and half

¼

teaspoon

baking powder

½

teaspoon

baking soda

1.5

cups

all purpose flour
Instructions
If possible, try to have the ingredients at room temperature before you begin. Preheat an oven to 350. Grease a loaf pan with butter, then dust liberally with maple sugar. In a stand mixer, whip the eggs and sugar with the whisk attachment until doubled in volume.

Meanwhile, sift the flour, soda, baking powder, cloves, salt, nutmeg, curry and cinnamon. Add the pumpkin puree to the whipped eggs and combine, then drizzle in the oil while the machine is still whisking. Turn off the machine, then gently fold in the flour mixture by hand until just combined.

Put the batter into the prepared loaf pan or another vessel, then cook for 45 minutes or until a cake tester comes out clean. Remove the pumpkinbread from the oven, carefully remove from the cooking vessel and cool on a rack until room temperature, then store in a plastic bag on the counter until needed.

The bread will last a few days. For a different shape, the pumpkin bread can also be baked in greased, sugared pint jars, which gives an attractive circle shape.
Notes
This should be cut into slices, spread with butter, dipped in maple sugar, griddled, and topped with fruit and soft cheese.
Cooking and serving as pictured in this post
Ingredients
Pumpkinbread (from recipe above)
Wild blueberries
Candied wild plums or wild plums preserved in syrup
Black walnut croquant, to garnish (recipe here)
Maple sugar, about a tablespoon per portion, plus a little to season the blueberries
Unsalted butter, at room temperature, about a tablespoon per portion
Mascarpone cheese, about a tablespoon per portion
Orange zest and juice, to season the blueberries, to taste
Heirloom popcorn, freshly popped (optional)
Method
Carefully stone the plums, keeping them as whole as possible. Crumble some of the black walnut croquant.
Cut the pumpkin bread into ½ inch thick slices, spread liberally with butter, then cover the butter completely with maple sugar and griddle on medium-low heat until the sugar is caramelized and the bread is hot throughout. If you have a kitchen blow torch you could also just brulee them or caramelize underneath a salamander.
Meanwhile, toss the blueberries with a little maple sugar and orange juice to taste. Season the mascarpone to taste with orange zest and a pinch of maple sugar. Warm the blueberries up, but don't cook until they pop. Reserve the blueberries and keep warm.
Put a caramelized piece of pumpkin bread browned-side up on each plate, top with the berries, some of their juice and a couple plums, a dollop of the mascarpone, the black walnut croquant and popcorn, dust with a little maple sugar, then serve immediately.

Related