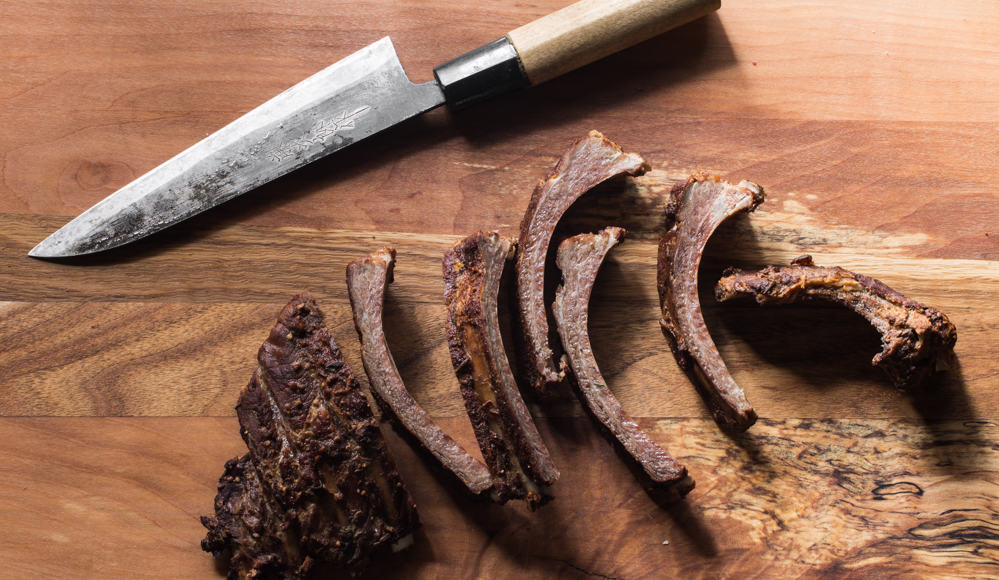 Some interesting foods can be a harder sell than others, but boar will never be one of them. I'd chalk it up to the long history of Americans eating pork-boar sounds like a wild, exciting version of a meat many already know and love.
Flavor wise, all boars aren't created unique though. Like a lot of animals I like them to have a little fat on them, so I tend to prefer wild boar that's been raised, as opposed to one that's completely wild. My favorite comes from Money Creek Ranch in Minnesota.
The story with our ribs here is that I was looking for a new bar-type small plate, and a couple of ribs sounded great, but they needed to be interesting ribs.
These particular boar ribs needed a little more fat on them to stay moist enough for me to charge 13 for three bones, and as they were the only purveyor I could get enough boar ribs from at a time, I ended up scraping them and sourcing some lamb ribs instead, which are also really good.
The preparation with the elderberry glaze is worth keeping though, and a great way to use the berry infused vinegar I wrote about in this post earlier this year. You can use it with any rib you want to give a sweet and sour (and slightly spicy) note to.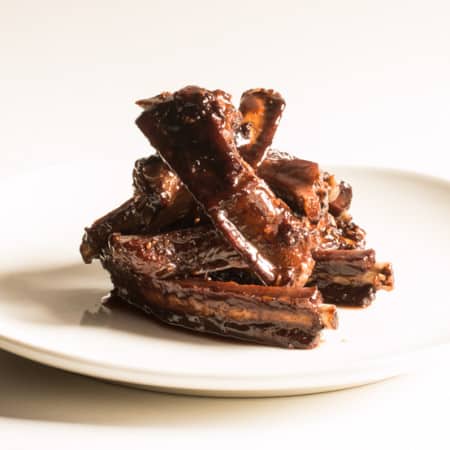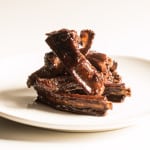 Print Recipe
Boar Ribs With Elderberry Vinegar Glaze
Ingredients
2

small racks of boar ribs

Kosher salt and Fresh ground black pepper

Dried elderberry stems

for smoking, you can also just use woodchips

½

cup

elderberry vinegar

1

tablespoon

sugar

1

tablespoon

unsalted butter

Pork stock

or another meat stock, preferably homemade, as needed for moistening the sauce, about ¼-1/2 cup
Instructions
Season the ribs with salt to taste, and liberally with pepper. Allow the ribs to marinate overnight. The next day, smoke the ribs at 225 degrees for 1.5 hours or so, until the meat moves freely from the bone. Depending on the size of your ribs your cooking time may vary. My ribs were very small and lean, with each rack weighing maybe a 1 lb-1.5 lbs, so they cooked quickly

Chill the ribs to make slicing and serving them easy. From this point the ribs can be frozen for future meals, or used within 5 days.

Slice the ribs into individual bones. Meanwhile, heat the vinegar and the sugar with ¼ cup of the pork stock and reduce by half. Add the ribs to the pan and continue to cook, turning them over in the sauce to laquer them with it. Cook until only about ¼ cup remains, then add the butter and cook over medium heat stirring constantly to emulsify the pan sauce and thicken it to a shiny glaze. Toss the ribs in the sauce to coat, then serve immediately.