Lactarius sanguifluus, the bleeding milky cap mushroom, is a delicious cousin to saffron milk caps that grows in Europe. They give off a dark red latex as opposed to orange.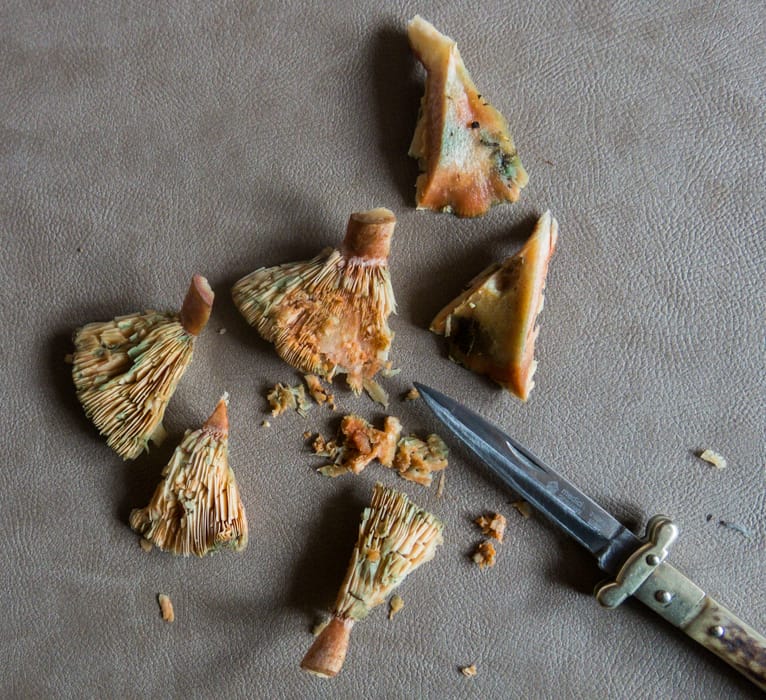 From my experience, finding Lactarius that are good for the table is tough. There's always bugs to compete with, but they just aren't as reliable as a good old chanterelle, black trumpet mushrooms, chicken/hen of the woods, or morels where I live. One year I'll see more than you can pick with a wheelbarrow, then next year I'll see five.  Like so many things, their rarity makes me want more.
Many mushroomers will know Lactarius deliciosus saffron milk cap, even if they haven't had it. If you dig through mushroom literature you'll know that there are other milk caps too, and some of them are rated as much better edibles than the saffron milk cap.
My friends from Spain will probably disagree though. On the Iberian peninsula, the rovellones, or niscalos as they're called, are by far the favored wild mushroom to hunt for the table.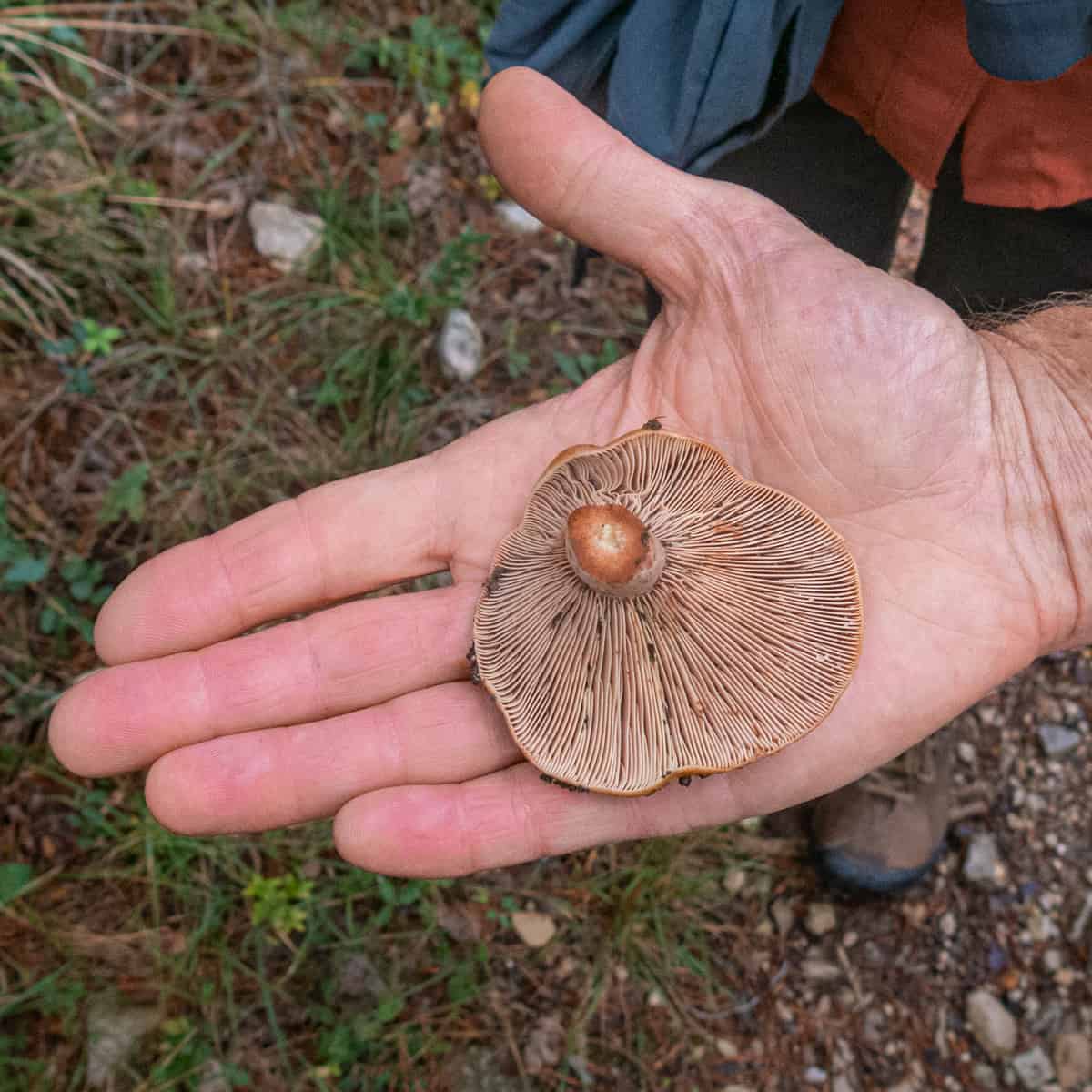 On my wish list to find has been Lactarius sanguifluus-the bleeding milkcap. It resembles the saffron milkcap, but is rusty-red instead of orange. I've heard of people seeing them in the U.S. but sighting seem to be rare, compared to the saffron milkcap which seems more widely distributed.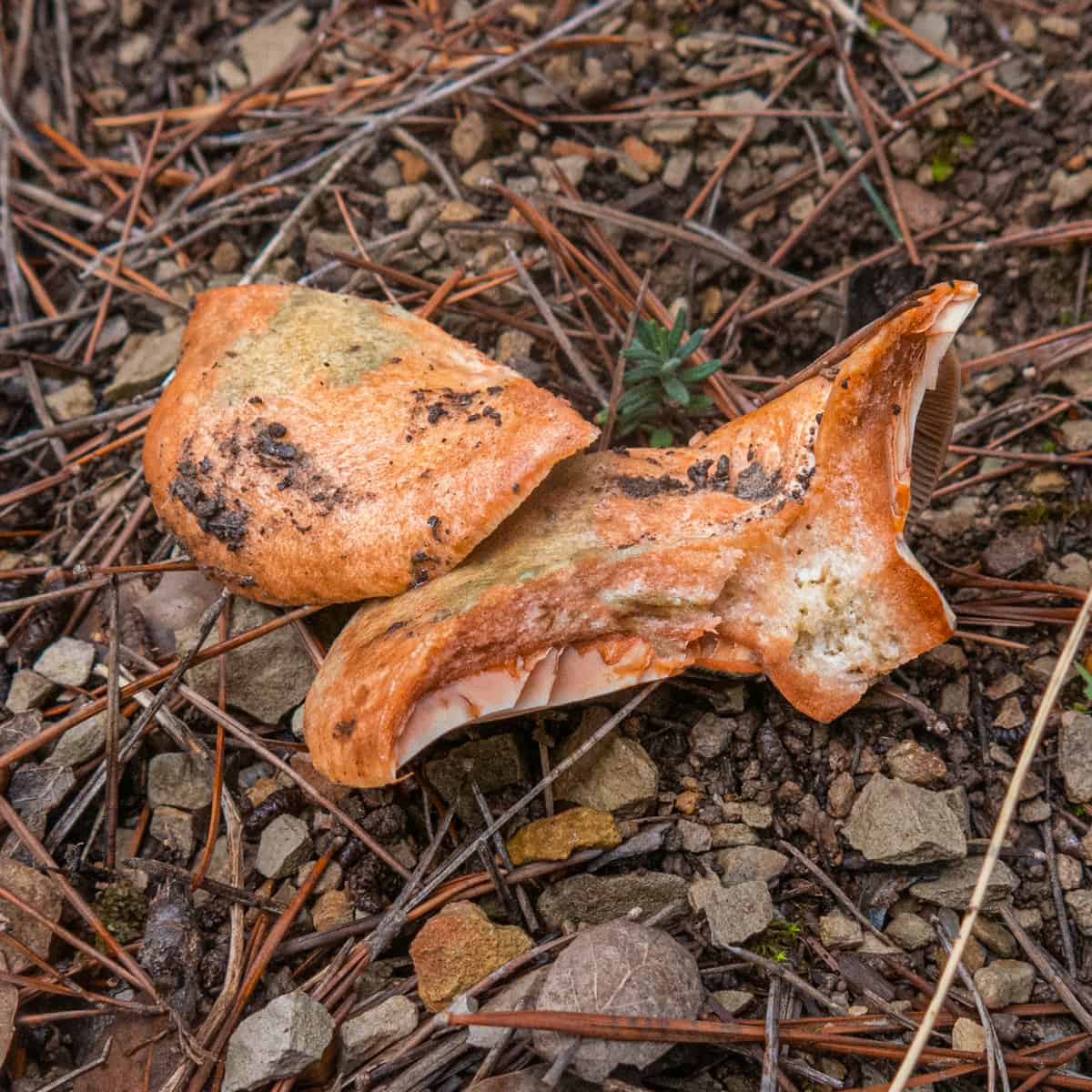 During my recent trip to Provence they were growing along many of the French hiking trails we went through, and were being sold at almost every market that had fresh wild mushrooms.
For the most part, bleeding milkcaps will cook up nice like any other fresh mushroom, but as is the case with Lactarius and some other species (honey mushrooms for example) when pickled or stewed they release a natural mucilage that can get thick and gooey. Searing or blanching them first negates the effect.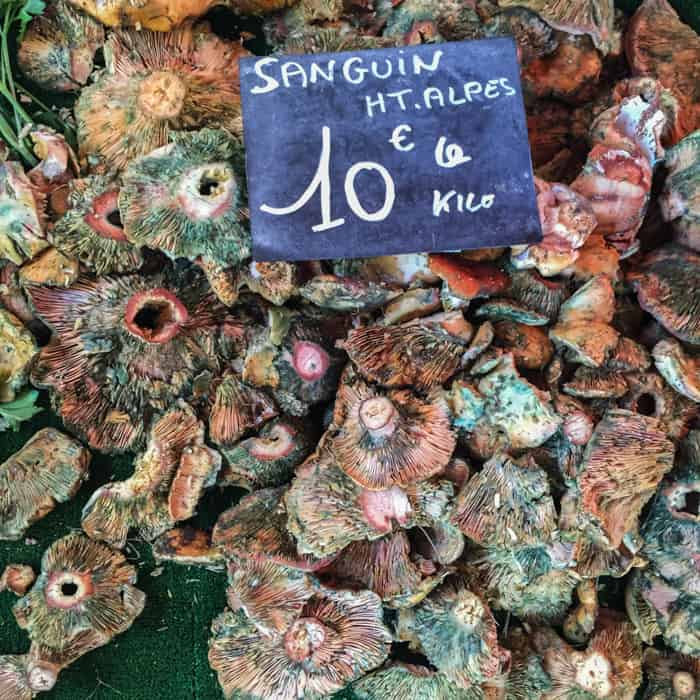 One of the tour guides I had on the trip went to school for botany, so she knew a thing or two about plants and mushrooms.
When she saw me stooping down to pick up a bleeding milkcap, she got excited and told me that many people eat them, but that the flavor isn't as intense as some of the more celebrated mushroom varieties. She said the usual way to enjoy them was marinated, as part of a salad.
The salad here is deceptively simple. I based the dressing off of one I tasted at a pastry chef's house in St. Remy de Provence. Her dressing was so good I had to ask for the recipe, and was surprised when she told me it was just a tiny bit of garlic put through a press, good olive oil, and just the faintest touch of balsalmic vinegar.
Having the garlic mashed completely into a paste, and not using too much is what makes it. The cooked goat cheese crouton is very typical of the salads I ate over there as well-a classic Provencal touch.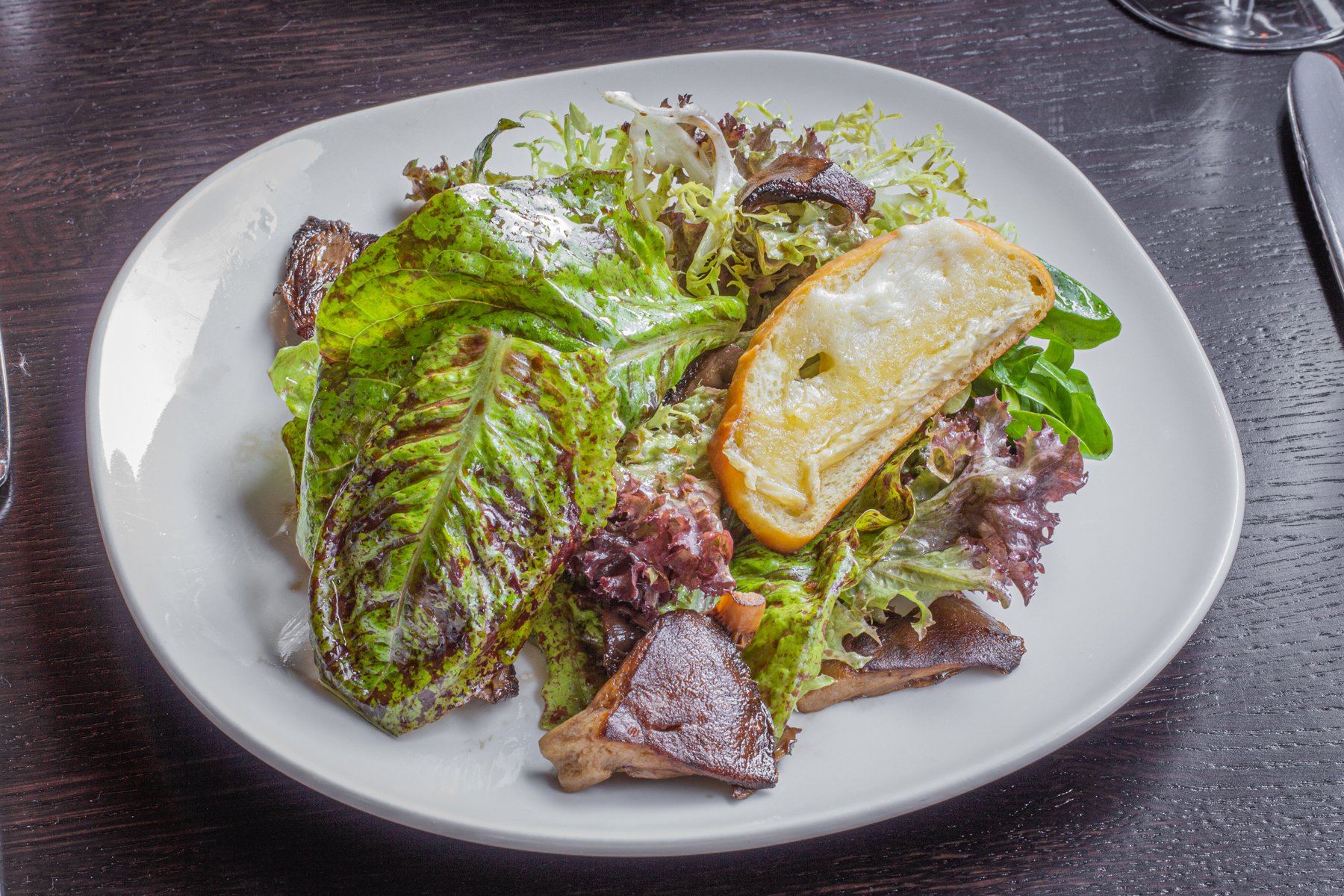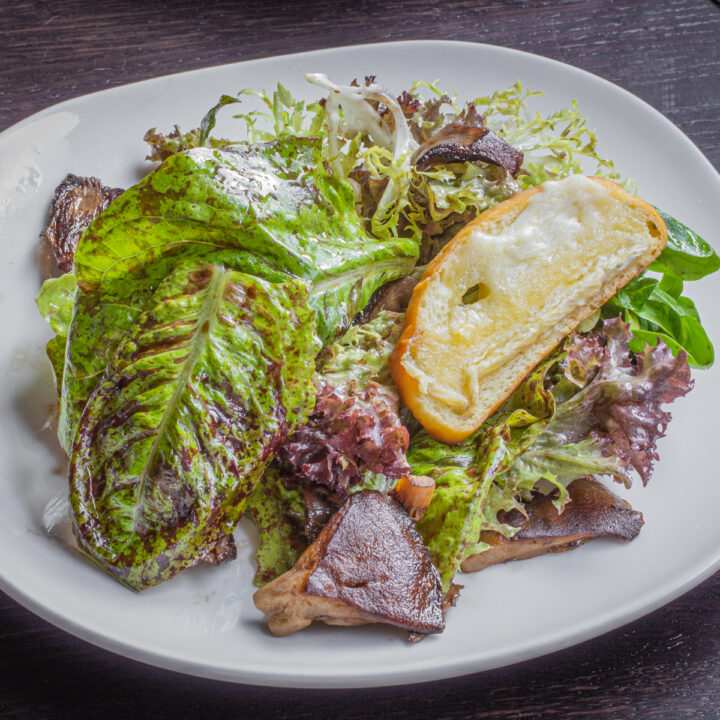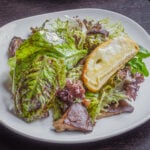 Print Recipe
Provencal Milk Cap Salad
A simple Provence-style salad with marinated milk cap mushrooms and cheese croutons. Serves 2.
Equipment
1 mixing bowl

1 oven-safe pan

for baking the croutons.
Ingredients
⅓

cup

Marinated milkcaps

recipe follows

4

ounces

mixed young lettuces of your choice

Small slices of french bread

1

ounce

lightly aged goat cheese

such as Paille de Larzac (a common French goat cheese),

¼

teaspoon

garlic

pressed through a garlic press or minced and crushed with the back of a knife

Kosher salt and pepper

to taste

1

teaspoon

balsalmic vinegar

2

teaspoons

extra virgin olive oil
Instructions
Heat and oven to 350 degrees.

Put a slice of cheese on the bread and toast it in the oven until the cheese is melted and the bread is just crisp. Meanwhile, mix the garlic with the oil and vinegar in a salad bowl with a fork for a minute, then add the greens and mushrooms and season to taste with salt and pepper.

Divide the salad between two chilled plates, top each with a warm cheese crouton and serve immediately.
Notes
The type of goat cheese is important here. For the traditional Provencal crouton you want to use a goat cheese that has a rind on it that will melt nicely. Typical chevre found in log form is not the right kind of cheese. Montechevre boucheron and Chevre Fluerie are locally made Midwestern cheeses that would be a great substitute
Nutrition
Calories:
89
kcal
|
Carbohydrates:
3
g
|
Protein:
4
g
|
Fat:
7
g
|
Saturated Fat:
3
g
|
Polyunsaturated Fat:
1
g
|
Monounsaturated Fat:
4
g
|
Cholesterol:
7
mg
|
Sodium:
167
mg
|
Potassium:
179
mg
|
Fiber:
2
g
|
Sugar:
1
g
|
Vitamin A:
5085
IU
|
Vitamin C:
2
mg
|
Calcium:
42
mg
|
Iron:
1
mg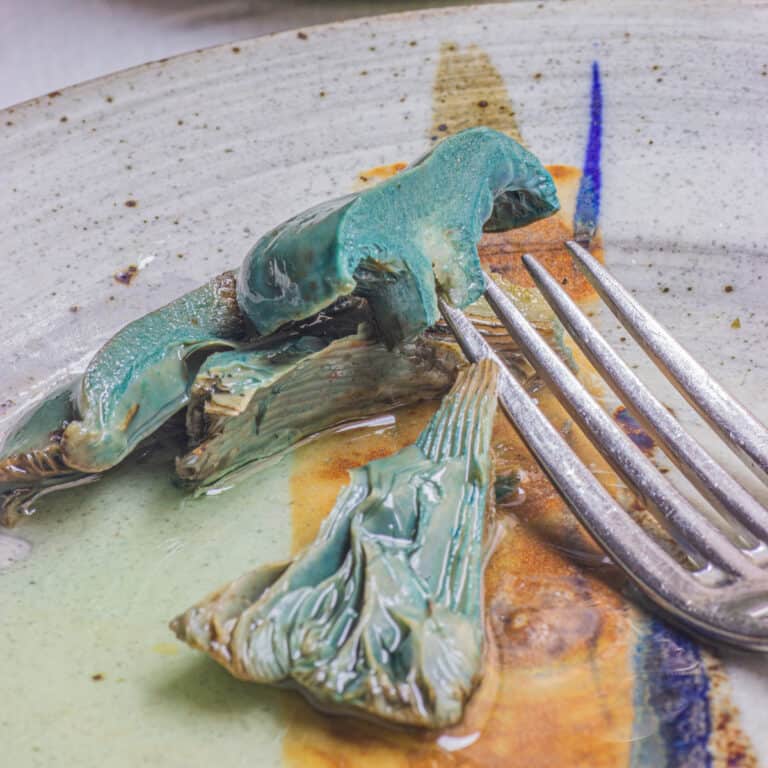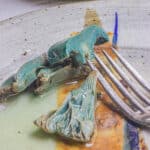 Print Recipe
Marinated Milkcap Mushrooms
A simple recipe for marinated milkcap mushrooms. Passed onto me by a tour guide in Provence.
Equipment
1 10 inch saute pan

1 1 quart stainless steel mixing bowl
Ingredients
1

lb

milkcaps

cleaned, trimmed, and quartered or halved if large. If the mushrooms are small, leave them whole.

½

teaspoon

kosher salt

¼

teaspoon

fresh ground black pepper

½

tablespoon

chopped wild thyme or ½ teaspoon dried thyme

2

cloves

of garlic

sliced

¼

cup

flavorless oil

½

cup

extra virgin olive oil

Zest of half a lemon

grated
Instructions
Heat the oil in a non-reactive saucepan, add the mushrooms and cook until lightly browned, then move them to the side of the pan, add the garlic and cook until lightly browned.

Add the thyme, lemon zest, salt and pepper and stir to combine.

Remove the mushrooms from the pan with a slotted spoon and put in a container, then top with the extra virgin olive oil, pressing the mushrooms down so that the oil covers them.

Label, date, and refrigerate for up to 3 days.
Notes
I asked our tour guide how people in Provence liked to marinate their mushrooms, and it's pretty similar to how I typically marinate mushrooms. The wild French thyme was all over the place in Provence and flavored the cuisine, dried domestic thyme is a good substitute since the wild thyme is very strong. Note also there's also no acid in the marinate, which means the mushrooms should be eaten a day or two after they're made. 
Nutrition
Calories:
386
kcal
|
Carbohydrates:
4
g
|
Protein:
4
g
|
Fat:
41
g
|
Saturated Fat:
6
g
|
Polyunsaturated Fat:
11
g
|
Monounsaturated Fat:
23
g
|
Trans Fat:
0.1
g
|
Sodium:
297
mg
|
Potassium:
367
mg
|
Fiber:
1
g
|
Sugar:
2
g
|
Vitamin A:
0.1
IU
|
Vitamin C:
3
mg
|
Calcium:
7
mg
|
Iron:
1
mg
More