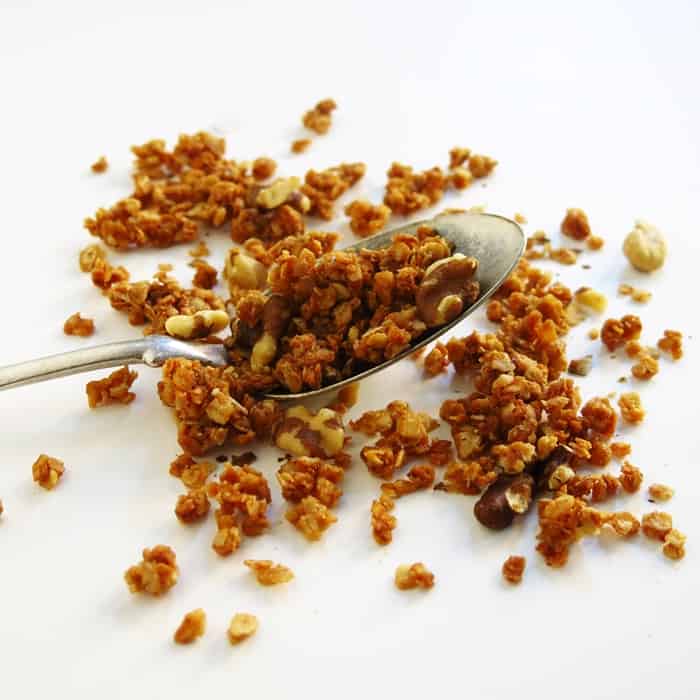 I don't know anybody that doesn't like sweet, crunchy granola. Oats are incredibly cheap too, so I like to make my own variations with different mixes of nuts, seeds and dried fruit to take with me when I hike sometimes. A while ago I was playing with the black walnuts and decided to make a simple recipe for black walnut crumble/granola, a base recipe I could add whatever to.
I should mention too for the sake of clarity that a "crumble" could be a variety of things, granola typically has many more ingredients though. I include both descriptors here because in any of the restaurants I have worked in, if this was to be used as a dessert garnish it would be called a crumble as granola sounds more plebeian. In all reality though it is granola, just lacking a few other ingredients.
Here I use black walnuts, but you could add whatever you want. Dried fruits and berries can be combined with this, as well as other nuts and seeds. Some of my favorite additions are golden raisins, sunflower seeds, and toasted hazelnuts. This is a mother recipe, to be used for experimentation. Even all by itself though, it makes a great garnish to anything creamy and sweet, such as ice cream, flan, panna cotta, and other custard based desserts or puddings.
What really gives character to something like this is the type of sweetener you use to flavor it. Most of the recipes you will find probably use honey, and that's just fine. There are a variety of other, older sweeteners out there though that are fun to experiment with.
When I made this I had been thinking about my dad working in the old sorghum plant years ago, before he became a farmer, so I had a jar of sorghum molasses laying around. You could use whatever you like though. Here are a couple sweeteners that are interesting and could be substituted, each would add a different depth to your finished product.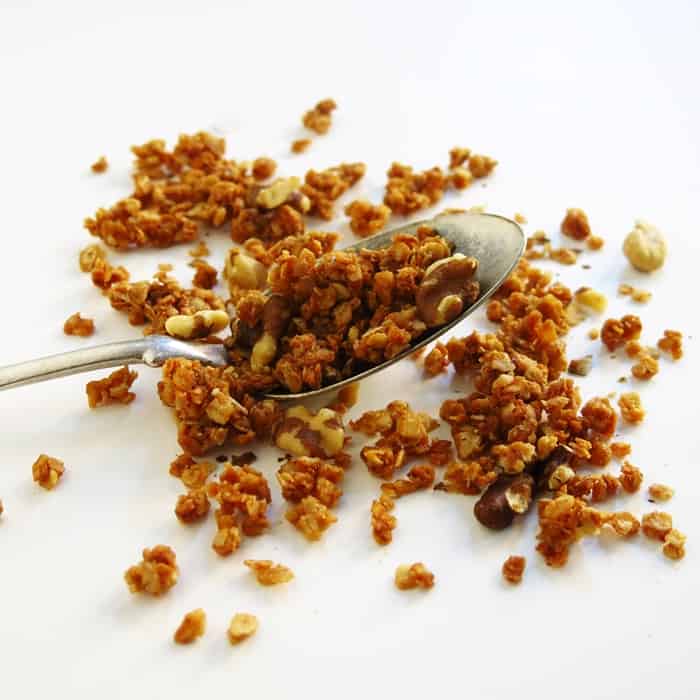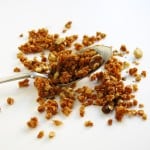 Print Recipe
Black Walnut Crumble/Granola
A simple black walnut crumble, other nuts can be used. This is a garnish for desserts, like custards, ice creams and mousse.



Ingredients
2

cups

oats

4

tablespoon

sorghum molasses

3

tablespoon

butter

A ¼ teaspoon kosher salt

¼

cup

black walnuts

shelled

2

teaspoon

ground cinnamon
Instructions
Melt the butter and barley malt together in a sauce pan, when they are warm, melted, and combined add the oats and stir to coat thoroughly.

Spread the mixture on a cookie sheet in a thin, even layer, then bake at 250 for about an hour or until thoroughly crisp, and very aromatic.
Related Links