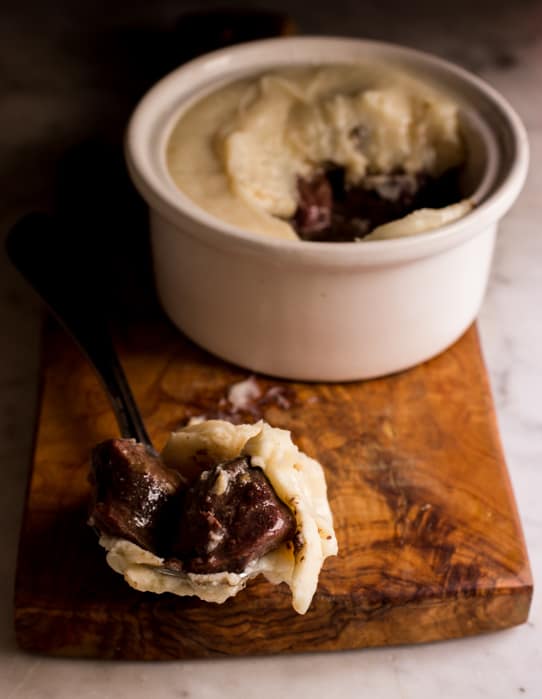 Smoked pork fat. Is there anything it can't make delicious? I don't think so.
Bacon has been on my mind lately, since at the new restaurant we'll be going through a lot of the stuff. I don't know how much yet, but it will be a lot. 3-4 whole pork bellies, or more a week wouldn't surprise me at all. This gave me a thought:
Bacon is on the menu. But what about the bacon fat?
That got my gears working. As long as the line cooks make the bacon according to the recipe and don't burn the fat, we'll have enough bacon grease to fill a kiddie pool each week.
I'd already planned on using animal lard for plenty of things: cooking potatoes, vegetables, steak in beef fat, duck in duck fat, etc. But with so much bacon fat laying around, we'll have enough to confit things in it.
It's not much different than using regular lard but the bacon fat is smoked, so it'll transfer a nice amount of that to whatever confit we make. What you might not expect though, is that fat will absorb salt too, so we'll have to adjust the seasoning a bit too ensure the confit isn't too salty, but just salty enough.
As you've probably gathered, the first thing I used the bacon fat to confit was some gizzards. Most of the time, when you see confit on a menu, it'll probably be the leg of some type of poultry, usually duck, although pheasant and goose are awesome too. Pheasant and turkey have a lot of pin bones that have to be removed from their legs though-for an easy version of confit using thighs, check out my pheasant recipe here.
Gizzards are an underused piece of poultry, and just happen to make fantastic confit since they need extra cooking any way. In some ways gizzards are easier to confit than a poultry leg too, because you don't have to worry about overcooking and having the legs fall apart. Even after cooking for hours, the gizzards hold a great shape.
You might be wondering, how do gizzards taste? Are they gamey? The answer is no, not at all. Turkey gizzards, or any other gizzards, are really mild. I like to tell people to imagine the best part of a poultry leg or a thigh, since it's dark, and more flavorful than the white meat.
Here's a basic recipe for making the confit, as well as the first thing I made with it-a warm salady-pilaf with grains, ramps, and nettles from last season.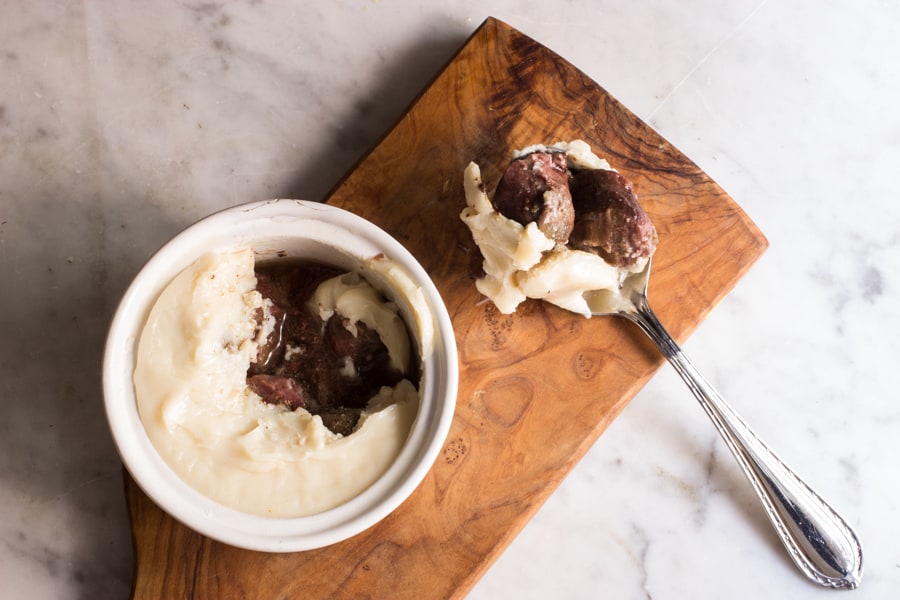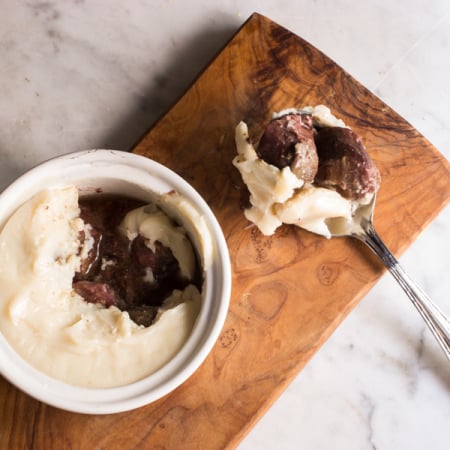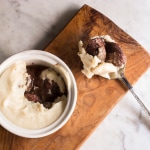 Print Recipe
Bacon Fat Turkey Gizzard Confit
Slow cooked turkey gizzards cooked in bacon fat
Ingredients
1

lb

turkey

chicken or other poultry gizzards

Bacon fat

as needed for cooking and sealing the confit, I only needed a few cups

Herbs

dried or fresh, for seasoning the gizzards

Kosher salt and fresh ground black pepper

a pinch or two
Instructions
Trim the silver skin and fat from the gizzards. Season the gizzards very lightly with salt and pepper and the herbs and marinate overnight.

The next day, preheat the oven to 250.

Place the gizzards and herbs into a small earthen ware crock or terrine, preferably with tall edges. Cover the gizzards with melted bacon fat until they're covered completely by 1 inch of liquid fat.

Cover the dish with aluminum foil and bake for 3 hours, or until tender when pierced, then remove the gizzards from the oven and refrigerate in their dish. The gizzards should be completely covered with solidified fat, and not protruding at all or exposed to air. Refrigerate the gizzards for 3-4 days, then add to whatever recipe you're using.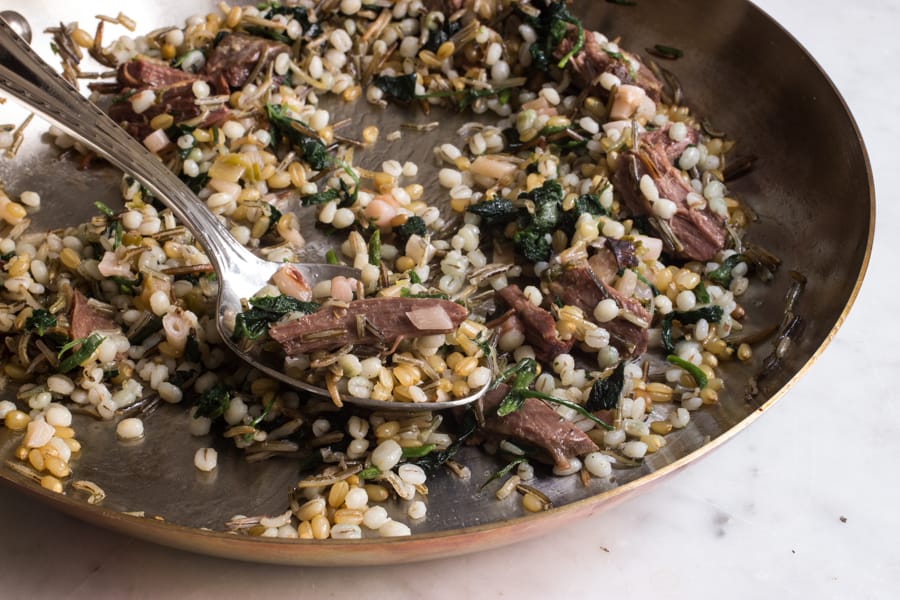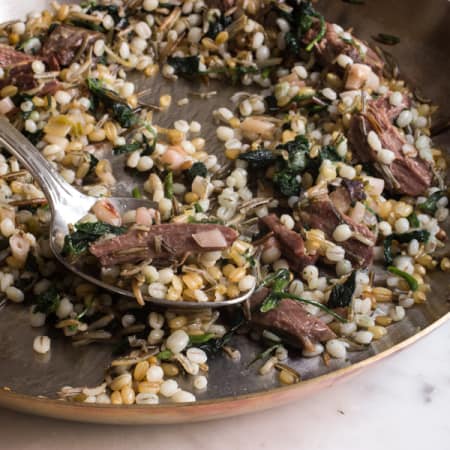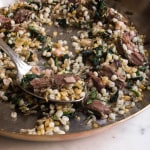 Print Recipe
Grain Pilaf with Confit Turkey Gizzards, Pickled Ramps and Nettles
Serves 4 as a side dish
Ingredients
1

recipe bacon fat-gizzard confit

roughly chopped (see above)

½

cup

dried barley

½

cup

wild rice

preferably wood parched

½

cup

wheatberries

Kosher salt and fresh ground black pepper

2

tablespoon

chopped pickled ramp bulbs

plus some of their pickling juice for acid

Unsalted butter

2 tbsp

2

ounces

nettles

blanched in salted water, shocked and drained

Chicken or poultry stock

as needed, ½ a cup or so
Instructions
Cook all the grains separately in lightly salted water until just tender, the wheat berries will take the longest, followed by the barley and the wild rice.

Cool the grains, and rinse the barley lightly with cool water to remove starch that would make the grain salad sticky. Combine the grains and reserve. This can be done a day or two ahead of time.

Warm the butter in a saute pan When the butter melts, add the gizzards, cook for a minute, then add the grains and heat through.

Deglaze the pan with the stock to avoid browning, then finally add the nettles, an ramps just to warm them. Season the mixture with a shot or two of the ramp pickling liquid and double check the seasoning for salt and pepper, then serve immediately.