I ate my first mushroom from the Amanita amerirubescens group this year, but it wasn't the first time I'd met them, or collected them. As many of you know, the often-avoided genus has a number of lethally poisonous mushrooms, as well as some very well known edibles in it.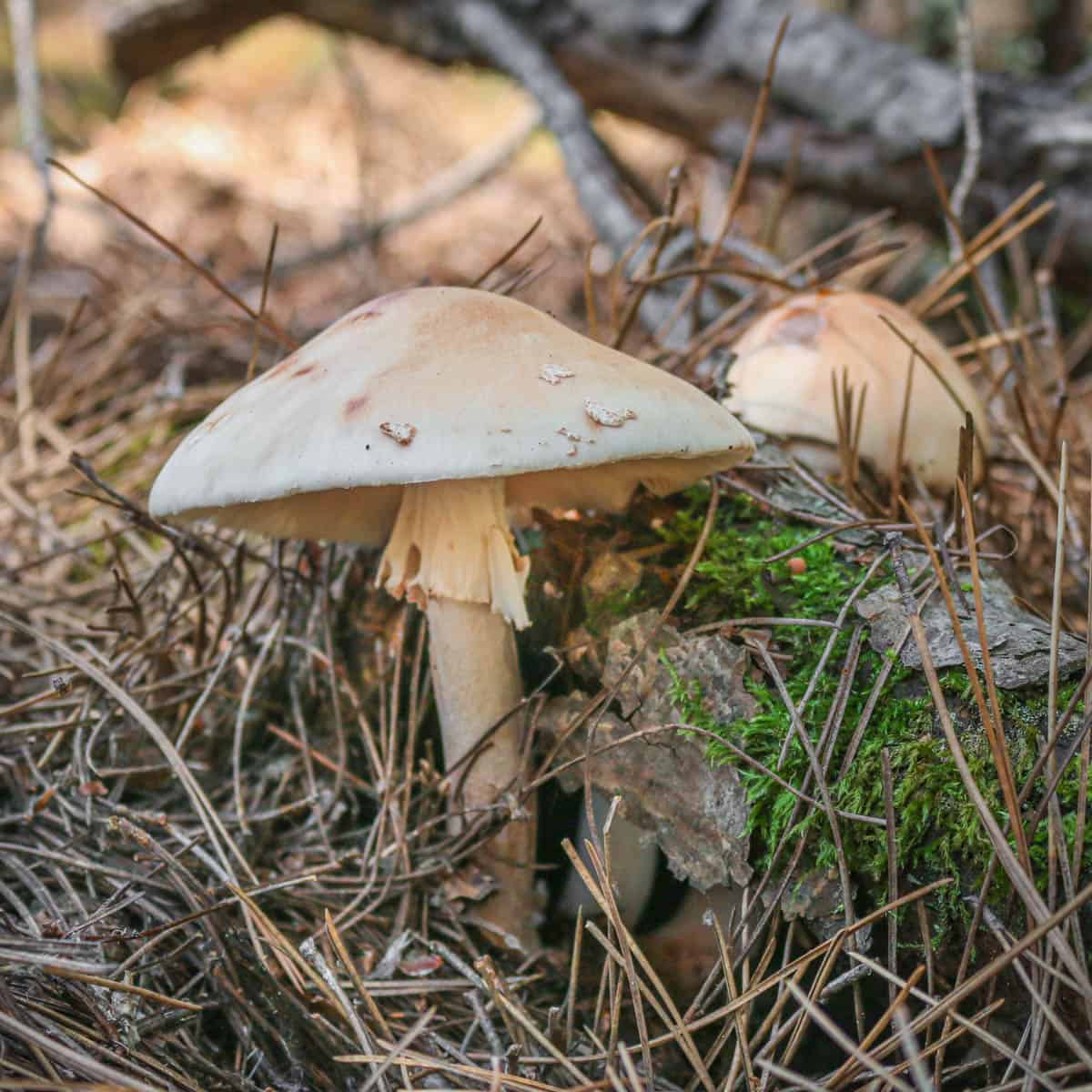 I first found them first 3 years ago, after picking blueberries in the pine barrens. Walking around looking for wintergreen leaves, I found a number mushrooms I suspected were in the amerirubescens group growing in a plantation of mature red pines. I brought them home, inspected them, and discarded them after a day or so. The next year I found them again, in the same spot, and repeated the process of bringing them home, inspecting them, and discarding.
Here and there I see people get scolded for picking mushrooms they don't know, but as far as I'm concerned, harvesting mushrooms is an important part of the learning process. Don't get me wrong, I play the point-and-name game plenty, especially if I'm with someone new, but if I'm trying to learn a new edible, I do my homework. In my mind:
It's nothing to harvest mushrooms you don't know for the purposes of identifying them, bring them home, and discard them, multiple times, until you could shout to a group of mycologists exactly why you know the species you have is what you think it is. With an amanita, your life could literally depend on it.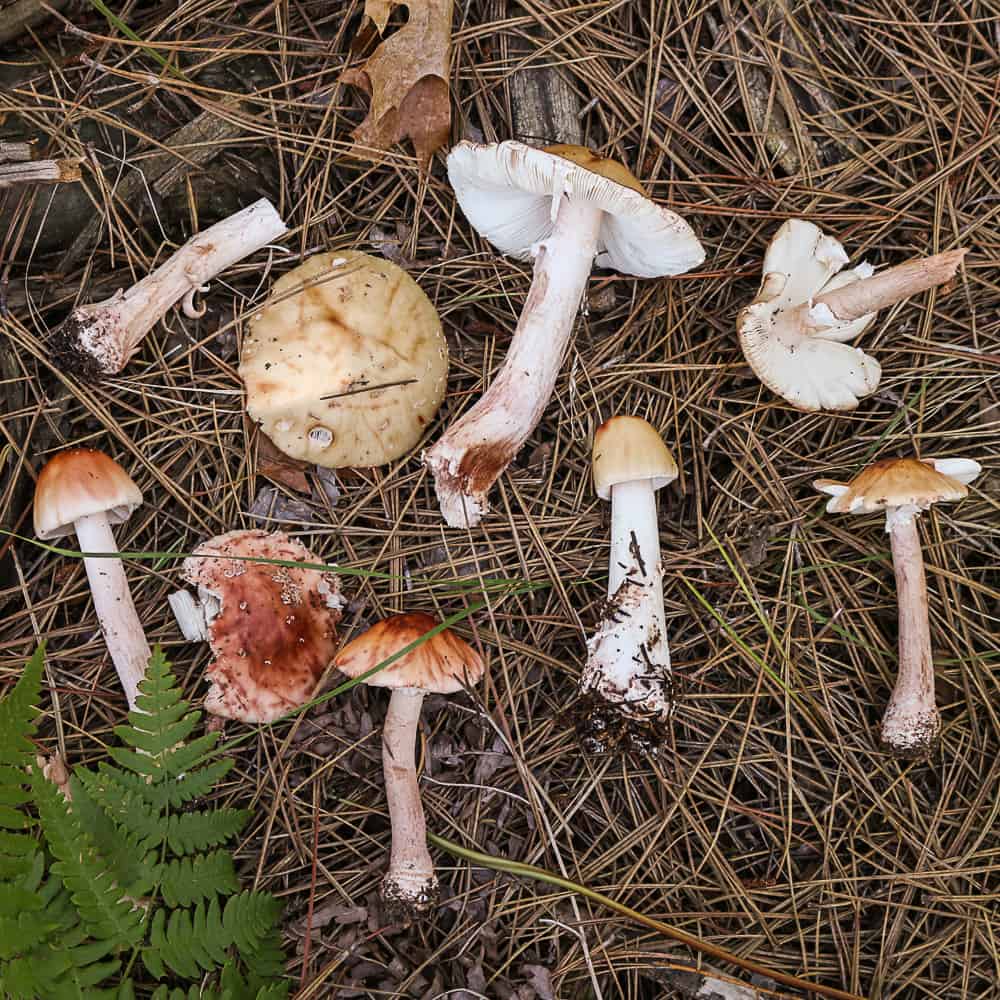 There's all kinds of things to notice: does it stain when touched, if so, how fast after handling, 1 minute, 30 minutes, 2 hours? Are they firm and robust, heavy as a paper weight, or thin and fragile, falling apart with too gentle handling? What color are the spores? What do they smell like today, then, what do they smell like tomorrow after sitting on the counter? What's the texture of the cap like? Is it tacky? Dry? Velvety? Slimy? Gelatinous?
Blushers have a few characteristics that stick out, so while I'm not going to recommend anyone eat them, at least in Minnesota or Wisconsin where I've seen them I hope a few images and description of what made me sure enough of my ID to eat them can be helpful.
I spent extra time digitally correcting the color with a histogram, too. For the most correct color, see the mushrooms photographed on slate at the bottom of the post, as the light was a little warm and direct in the field. Also keep in mind that these are only one collection from Minnesota, and they're part of a group of mushrooms containing other similar, but unique ones, and, the last time I checked, some that are unnamed.
My Blusher ID List
This isn't a comprehensive list, but it's what helped me feel comfortable enough to eat them after 3 rounds of collecting.
Blushing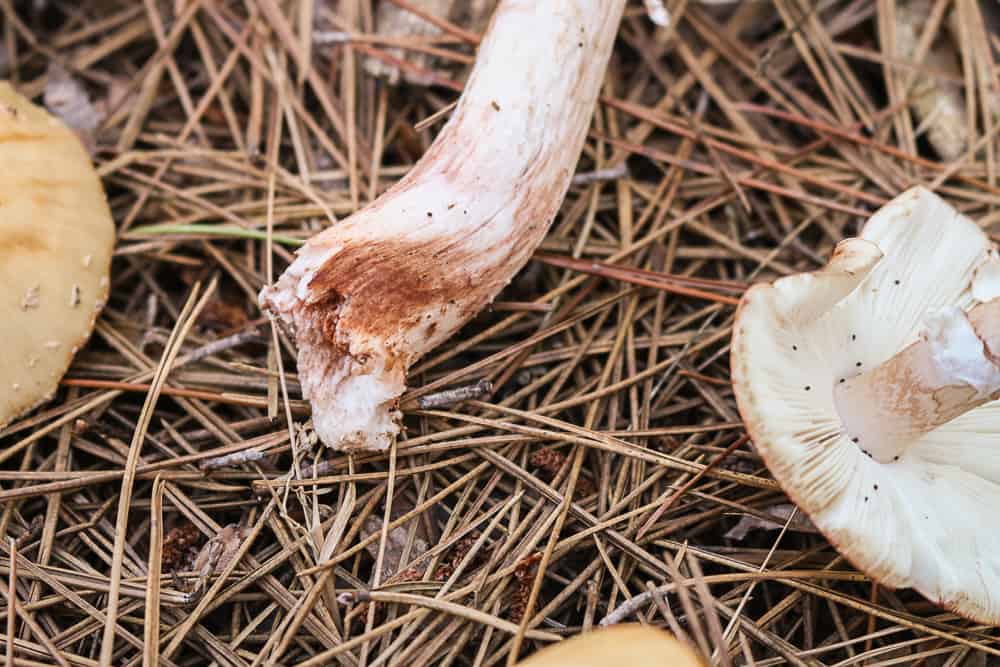 They all bruise red-ish. True blushers *all* blush, and I made sure every single one I put in my basket I touched to confirm that, since other amanitas can grow in the area. If it doesn't blush red-ish pink, it could be an imposter, like a panther Amanita, or something else (Arora describes an unnamed look-alike that bruises brown).
Bug damage and tunneling bruises red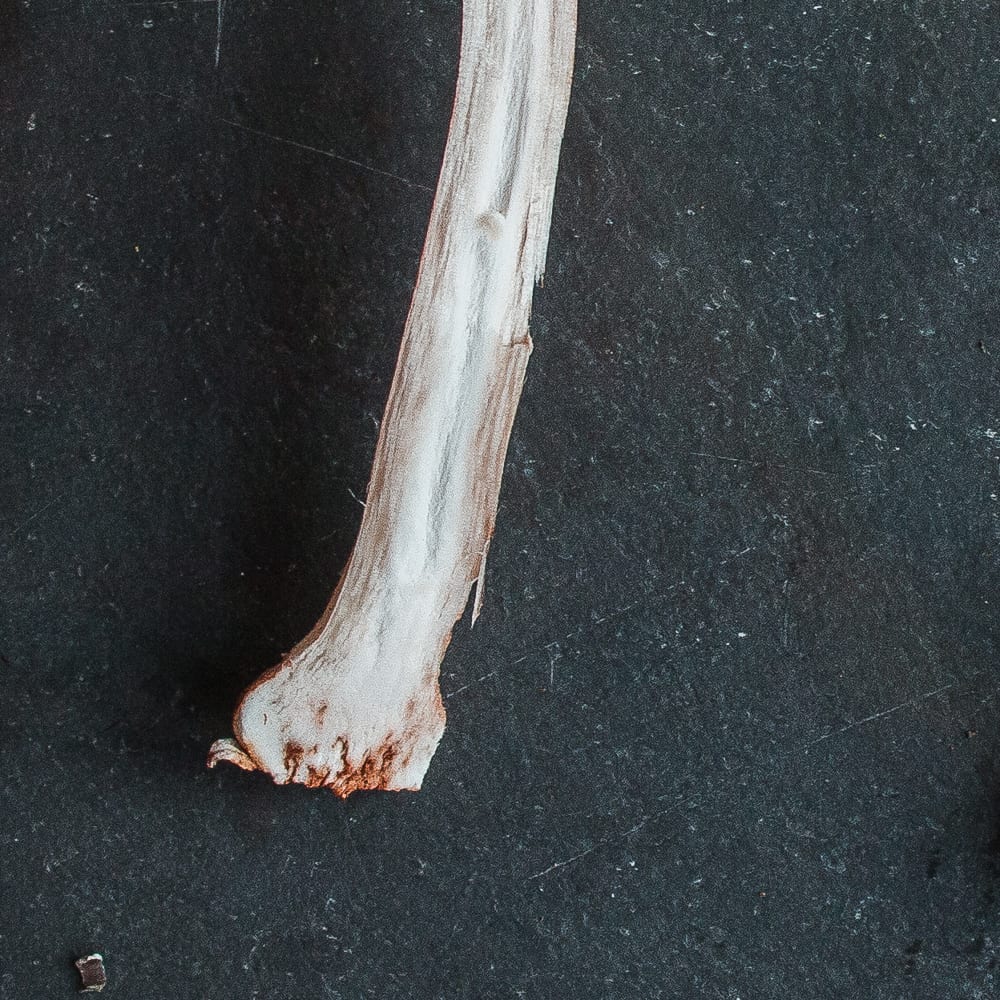 No Sac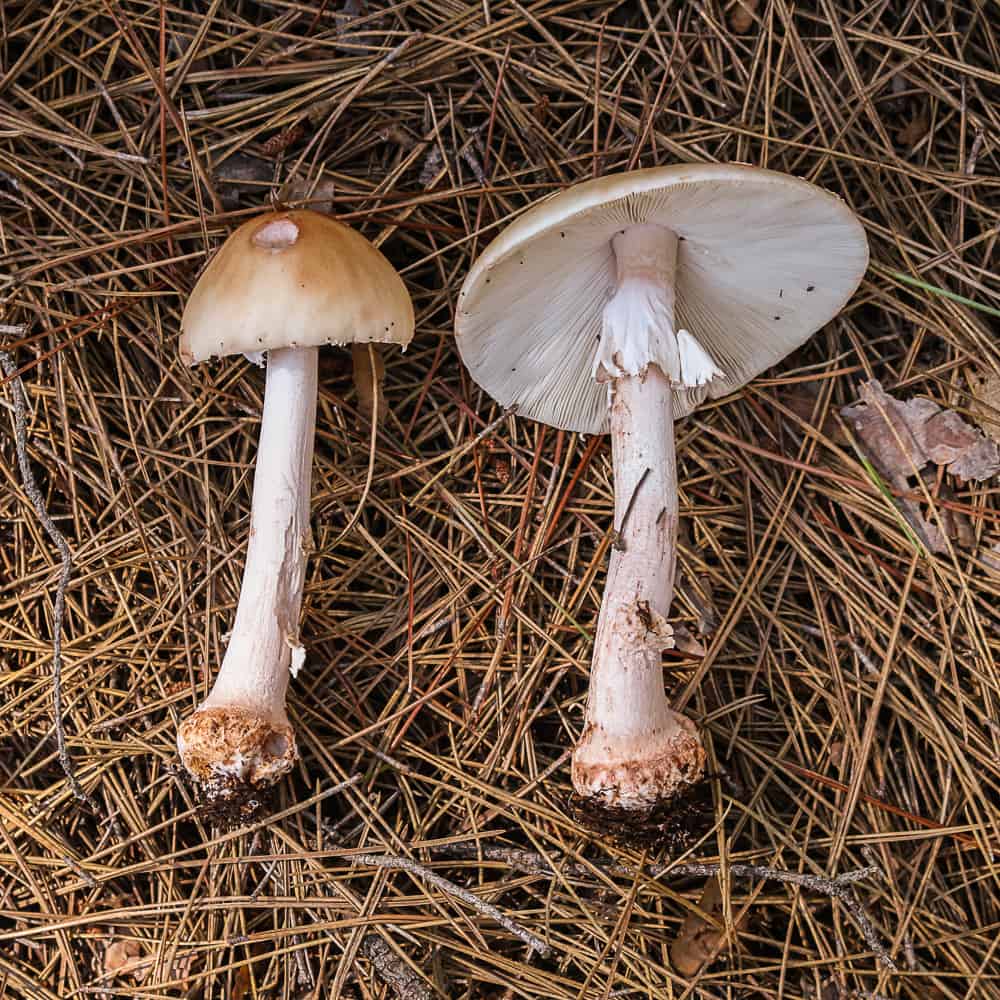 No sac at the base of the stem like dangerous Amanitas (Ocreata, Phalloides, and similar) rather, the base looks a little bulbous (indistinct) I think it kind of resembles the end of a cane with a rounded end.
Warts on the cap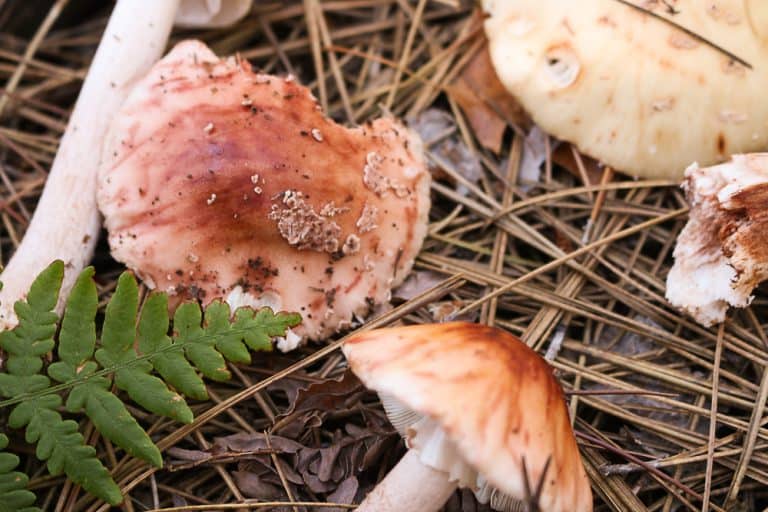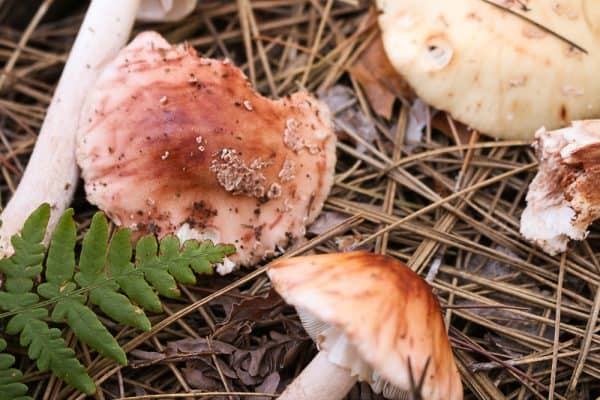 Tasting notes
So, how do they taste? A delicacy like the ones from France are rumored to be? At least for me and this collection, no, not in the least. While I'm at it, here's something I find helpful re: tastes of new mushrooms. If you hunt mushrooms you'll probably agree with me that chanterelles taste good, really good, and they score high on all the counts I can think of: wide availability, dependability, long shelf life, relative ease of Identification, and taste. So, when I taste a new mushroom, or I'm comparing other mushrooms to weigh their value, I like to ask myself: "How's this compared to a chant?".
My Amanita amerirubescens were, not that great. Not good enough to hold a chants jewelry in my opinion. I cooked them down with the wet saute method, putting a finger of water in the pan and cooking it dry before I added fat to ensure they were fully cooked, since blushers need thorough cooking.
I found them bland and not too interesting, especially since I could've thrown a rock where I was, at the time I was there, and picked another basket full of Newfoundland chants (Cantharellus enelensis). It was the least interesting of the 5-6 amanitas I've eaten, the two best which were A. velosa, and A. muscaria, respectively. Here's the exact entry from my tasting notes as I ate them:
"They reminded me of grisettes in that they were brittle and a pain to bring out of the woods and keep separate, since the chanterelles would've battered them around. The texture of the stem was soft on the youngest, most firm one I ate, enough so that I needed a very sharp knife to cut it. The flavor was much milder than I expected, a touch nutty, but nothing crazy, just mild and mushroomy. Very mild. I prefer the taste of fried Amanita muscaria, and that's after boiling. They taste fine fried in butter, but what doesn't? I don't know if I would go out of my way to collect them, maybe if I saw a large flush they could be very nice simmered in Asian style broth or pho, maybe."
If you've eaten these, especially if you've liked a version from where you live, wherever that may be, drop a comment below. I assume the French species is better (the pictures look more robust and larger, for one) but, since David Arora also gave them a luke-warm taste review in Mushrooms demystified, I'm skeptical.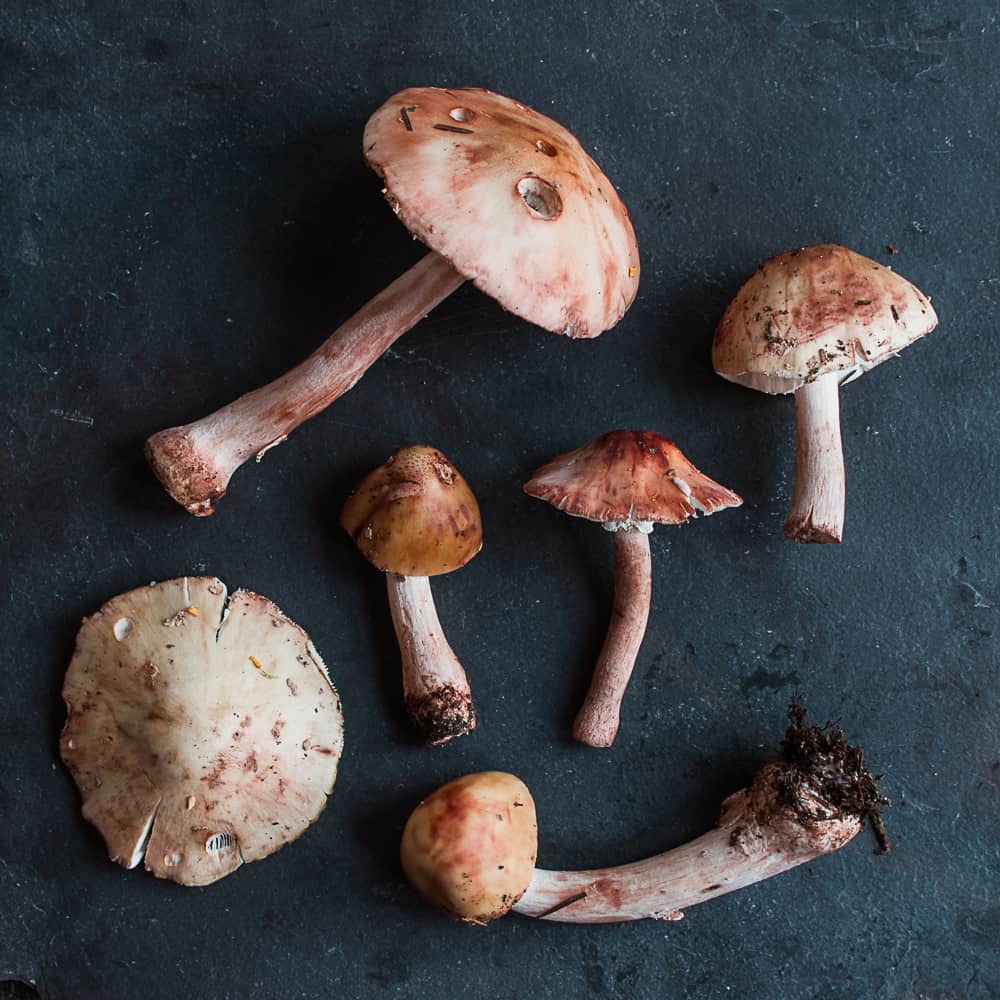 Further reading
The first link below was a useful grouping and description of different North American A. amerirubescens-type mushrooms, some of them unnamed yet. David Arora's account in Mushrooms demystified, like with so many others, was very helpful too.
Different varieties of A. rubescens.