Here's an awesome recipe for those ramp leaves. I've cooked ramps many ways, this is one of my favorites. It also happens to be a very easy gnocchi recipe that can be flavored in any way that you want. Typical gnocchi are made with potatoes and flour. These are French style gnocchi called Parisiennes, which are made from pate a choux, or eclair dough.
It can be tricky to introduce different flavors into regular potato gnocchi, since adding excess moisture can cause the dough to fall apart or produce tough dumplings. Not so with Parisienne gnocchi. Parisiennes are made from pate a choux, or eclair dough, so they are much more adaptable. With these gnocchi you also don't to roll them out at all, you just put them in a pastry bag, or use two spoons to make balls like you would when you are making cookies, and then just simmer them in salted water until the float for 5 minutes or so, depending on size.
After the gnocchi are blanched, the things you could do with them are endless. They are typically fried in butter or baked like a gratin, but I like to poached them in broth too, just make sure if you are cooking them to put in soup that you don't heat them too long in the liquid, since after a while they will fall apart.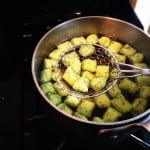 Print Recipe
Ramp Gnocchi Parisienne
Ramp Gnocchi Parisienne. Makes enough to serve 4-6.
Ingredients
2

cups

flour

2

large eggs

1.5

cups

water

12

oz

1.5 sticks unsalted butter

1

teaspoon

salt

⅓

cup

blanched and minced ramp leaves

½

cup

parmesan cheese

grated

1

Tablespoon

whole grain mustard
Instructions
Heat the water in a small pan with the butter and salt.

When the water boils, add the flour all at once, turn the heat down to low and stir rapidly for about 2 minutes, until the mixture in the pan forms a sticky dough. Transfer to a stand mixer with the paddle attachment

Mix in the grated parmesan and mustard, let cool for five minutes and them beat the eggs into the dough one at a time until the dough comes together, it will be sticky.

Mix in the chopped ramp leaves.

Put this mixture into a pastry bag with a ½ inch round tip. Boil a pot of lightly salted water, and start to squeeze the dough out of the pastry bag into the water, using a scissors to cut the dough that comes out into ½ inch dumplings. In a pinch you can use a zip loc bag.

You will probably have to make two batches. once the gnocchi float, let them cook for 2 minutes longer and then remove to a cookie sheet that has some oil on it, so they don't stick. Repeat with the rest of the dough.

Cover the cookie sheet with the dumplings once they are cooled, they will keep in the refrigerator for 3-4 days.
More