Cooking is more than a job to me, it's a way of life. When I'm sad, I cook. When I'm bored, I cook. This little cake came from an evening where I cooked because I was really happy. I was cooking for a date, with the most talented and beautiful woman I'd ever met.
I have a little dating tradition. After a couple dates, I like to have what I call the "dinner date". I plan a little menu, usually about 5-6 courses, nothing too crazy. I make sure to plan the meal around things my date would like, making sure to ask questions here and there a couple weeks in advance. "Do you eat meat?" "What type of sweets do you like?" "What's your favorite kind of fish?" Days before hand, I come in early to wherever I'm working, buy some ingredients, and prep things for the meal, which is typically on a Sunday since Saturday nights are a no-no in kitchens.
You might be thinking since I work in a kitchen, I naturally wine and dine women. Yes, and no. The meal functions as much as a way for me to show a woman I have a skill as it does for me to interview them. Did she remove the skin of the fish I carefully crisped in a pan? Did she turn green when I talked about how good frog legs can be? Or worse yet, did she say: "no thanks I'll pass on the morel sauce, I don't like mushrooms".
Romantic dinner interviews aside, this was an interesting one. My date had a number of dietary restrictions: no gluten, no dairy (although butter is ok) no green beans, peppers, raw allium of any sort, and she fancied the "paleo diet" meaning that she eats mostly meat and vegetable centered dishes.
For the most part, it's pretty easy for me to tip-toe around restrictions like these, but, since I'm not a pastry chef, dessert was going to be challenging. I knew I wanted to use rhubarb, since it was spring, and since gluten was a no-no, I thought I'd incorporate hazelnut flour into a sort of cake. What I came up with was a soft, buttery cake made from hazelnut meal and butter cream, speckled with rhubarb and topped with some simple macerated rhubarb and a little scoop of spruce tip ice cream. Needless to say, It didn't suck, but, being a little absent minded, I forgot that she couldn't have the ice cream….d'oh! Here's the recipe.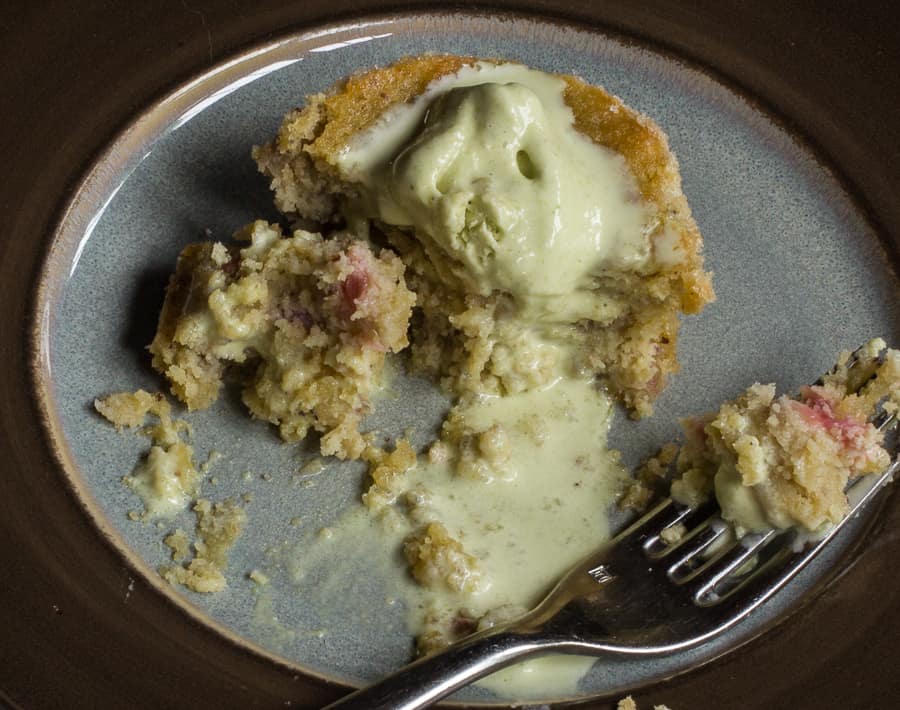 Rhubarb-Hazelnut Cake, With Spruce Tip Ice Cream
Since there is no gluten in the cake, they can be a little delicate, nothing to be scared of though.
You could play with the spices here however you want, allspice or cinnamon would be nice additions too, in small amounts.
Ingredients
1 cup rhubarb, diced 1/2 in, plus an additional 1/4 cup sliced on the bias as thin as possible to garnish
1 cup light brown sugar, plus 3 tablespoon granulated white sugar
2 egg, plus 4 egg yolks
2 stick (4oz) unsalted butter
A pinch of kosher salt
1 tsp powdered ginger
1/4 tsp fresh ground cardamom
1 tsp fresh grated orange zest
2 cup hazelnut meal, almond meal, or another nut flour
1 recipe spruce tip ice cream, recipe follows
Method
Toss the sliced rhubarb with 1 tablespoon of the white sugar and reserve. Preheat the oven to 325. In a mixing bowl or a stand mixer, cream the butter and sugar until very fluffy, about 4-5 minutes, then incorporate the remaining ingredients well. Lightly butter 6 four oz ramekins, then dust the sides with white sugar. Spoon the batter into the ramekins, then bake in the oven for 30 minutes, or until just set. Allow the cakes to cool.
To serve the cakes, gently reheat them in an oven at 300 or so until just warm, then run a paring knife around the sides of each ramekin and un-mold onto a plate. Top each serving with a scoop of the spruce tip ice cream, garnish with the macerated rhubarb, drizzling some of the sauce the rhubarb released over each cake and serve immediately.
Spruce Tip Ice Cream
It's important to have the ice cream mix at room temperature before pureeing it. Pureeing cold cream will create butter in the blender and break the emulsion, pureeing hot cream with the spruce tips will react with their acidity and change their color swamp green.
Also, this recipe is great with all non bitter spruce or pine tips. To taste if they're bitter, try one, and then another from a different tree, you'll be surprised at how different the flavor can be. Remember that all will be a bit tannic, and mouth drying raw, but that dissipates after cooking, how much though can depend on the species.
Makes 1 qt
Ingredients
1.5 cups heavy cream
1/2 cup milk
1/2 cup fresh blue spruce buds
6 large egg yolks
1/2 cup sugar
1/8 tsp salt
Method
On low, heat the cream, milk, sugar, salt, and egg yolks in a small sauce pan, whisking constantly to avoid having the egg stick to the bottom of the pan.
When the mixture starts to steam and is hot to the touch, but not simmering or bubbling, (This should take a couple minutes) remove it from the heat, continuing to whisk. Transfer the mixture to the bowl of a blender and allow to cool to room temperature completely.
When the mixture is cool, add the spruce tips and puree working up the power settings gradually until you get to high. It takes a bit of horsepower to break down the needles, for the best flavor you really need them finely blended.
When the mixture is pureed, pass it through a fine mesh strainer and then place in the bowl of an ice cream maker. Process the ice cream for 15 minutes in the machine, then check on it. The ice cream should be smooth and thick, doubled in size, with the consistency of sour cream. If needed, process for 5 minutes more, or until the desired consistency is reached.
Keep an eyeball on it to make sure the ice cream doesn't get hard on the bottom, which will make it chalky and turn its color dark. When the ice cream is done, transfer it to a container and freeze until needed. The ice cream will firm up as it freezes.