One of the most exciting things that happens for me is discovering something that I haven't found before. This year, one of those things was red chanterelles.
One day I got a picture message from an old coworker, and I was shocked to see a big basket of what looked like red chanterelles. I didn't think it was possible-I hadn't ever heard of them before in the Midwest.
I told my friend I'd do anything to get my hands on some to play with. He told me he'd see what he could do, but the person that had picked them lived a couple hours away.
A day or two later, I got an online message from someone around the St. Cloud area in Minnesota requesting an I.D. They shot me some pictures of the mushrooms, and sure enough, they looked to be the same species that my friend's buddy had found. Now I was really interested, how on earth could I have never found these before?
Habitat
The next week, I went on a little hike on a farm in Wisconsin. We were in an area with mixed hardwoods, with plenty of oak, maple, and aspen-the same type of habitat I hunt golden chanterelles in the same area. On a large slope I started to see some lobster mushrooms and dried up golden chanterelles (their season was over by this time in August). After picking a couple lobsters, I noticed a few pink mushrooms hiding under the duff. Could it be?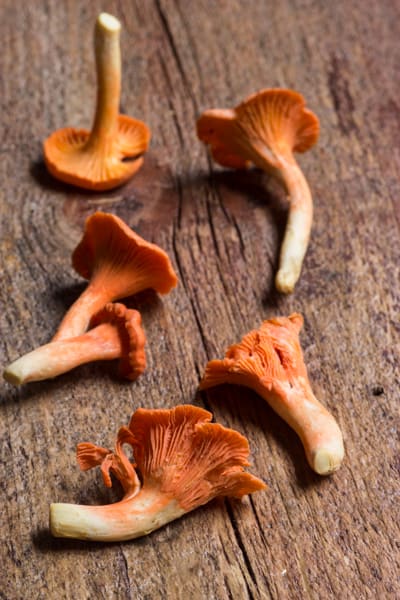 I picked one up and noticed the tell-tale chanterelle veins under the cap, running down the stem. They had the scent that anyone who's hunted chanterelles or black trumpets will know too-they, and most of their related species (hedgehogs excluded) have a very similar aroma.
That night, we went to a local brewery outside Menomonie Wisconsin for a couple drinks. I decided to walk down the dirt road since it was still light out, and because there was plenty of oaky looking, open woods across the street. Out of the corner of my eye I spotted more. More oaks and dead golden chanterelles, and more of the red guys in their prime.
Cooking
The next day I brought them home and played around with them in the kitchen. Here's how they cooked up:
The aroma of the red chanterelles was not as intense as golden chanterelles or black trumpets.
Their flavor ended with some peppery notes, almost a bit spicy.
Their season in the Midwest, from what I can glean, is definitely after golden chanterelles as they were growing in mid-August.
They were all much smaller than golden chanterelles, but still had the meaty stem you would associate with one. Given this, since their texture is closer to a chanterelle than a hollow black trumpet, or yellowfoot chanterelle, drying is not a great way to preserve these in my opinion. I would pickle, marinate or saute in butter and freeze to preserve them.
So, the flavor of red chanterelles is not as intense as golden chanterelles. There is a bright side though, and it has to do with the thickness and girth of the mushrooms themselves. Golden chanterelles I've eaten, be they from the Midwest or PNW, unless very, very immature buttons, really suffer from freezing. Cooked in butter, lard, frozen inside blocks of stock, the result is the same every time I've tried-dry, watery, insipid.
What happens is that the thick stem of the golden chanterelle, and the entire mushroom itself has the way it's molecules hold water changed from the freezing process. In other words, they end up being a stringy, unappealing thing.
Red chanterelles suffered much less from the freezing process than any golden chanterelles I've frozen, and If you blindfolded me, I would be hard pressed to know the difference. Here's a fine freezing method.
Red Chanterelles Preserved in Butter
When you remove the chanterelles from the freezer, heat them again and put a little color on them-they'll taste better. Don't caramelize them before you freeze though-they could over cook and dry out.
This also works great for black trumpets, fragrants, yellowfoot chanterelles, as well as very young golden chanterelles and hedgehogs. Scale the recipe, add/subtract seasonings to your liking.
1 lb red chanterelles, cleaned and washed if necessary
1 lb unsalted butter
Kosher salt, to taste
5 Sprigs of fresh thyme
1/4 cup shallots, diced
Method
In a wide saute pan, melt the butter and the shallots and cook until the shallots are translucent, about 2 minutes. Add the red chanterelles and thyme, season with salt to taste and cook, until the chanterelles are completely wilted, about 5 minutes on medium heat. Remove the thyme, separate the chanterelles into 1/2 cup or so portions for easy access and place in airtight containers, then cover with the butter and freeze, labeled and dated, until needed.
When you take the chanterelles out of the freezer to eat, remove some of the butter since it's only there to act as a preservative.