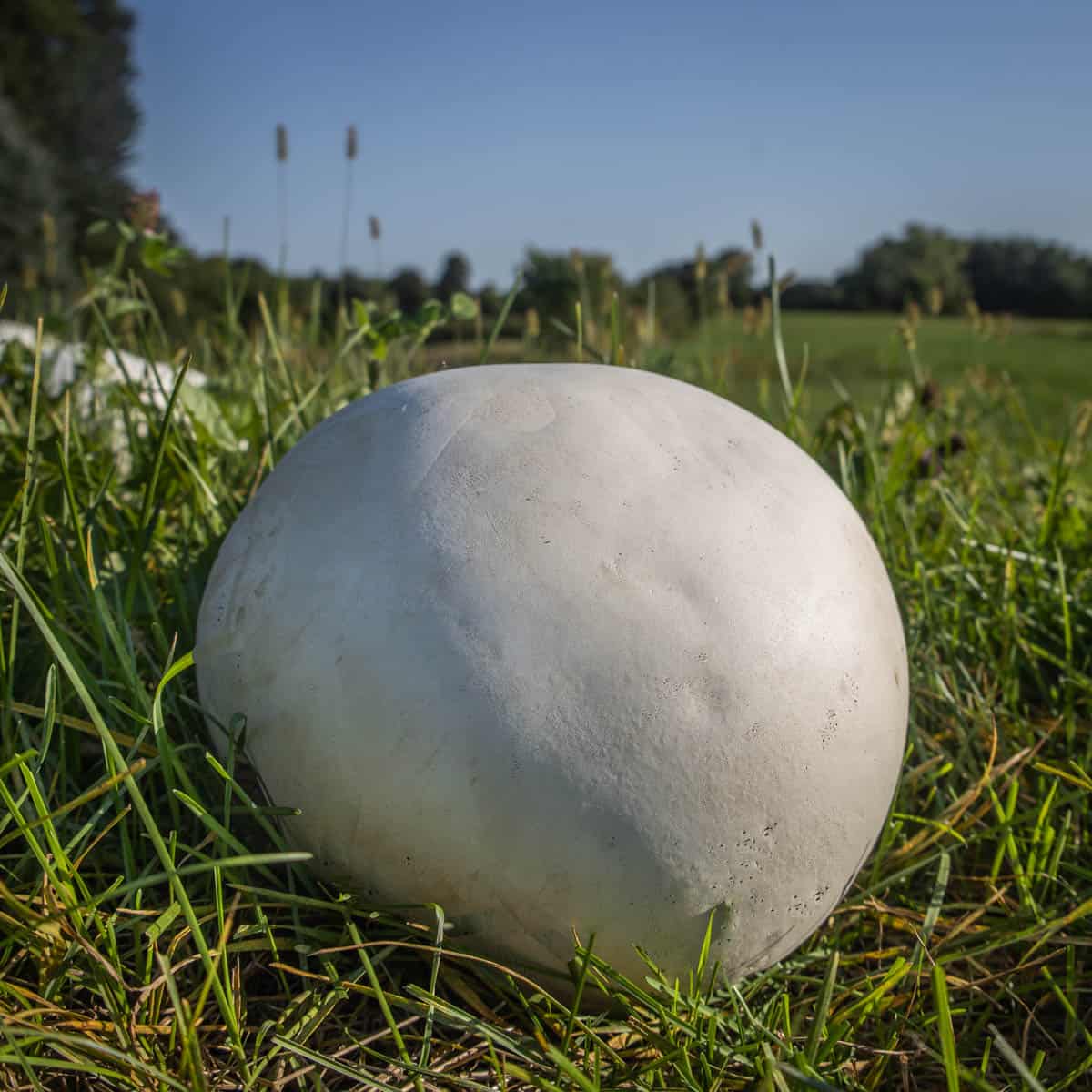 Even if you haven't ever thought about eating one, you've probably seen these around, and likely kicked them as a child, I know I did.
These are great, easy mushrooms to find and eat. They are easy to spot, generally very large, and pretty versatile in the kitchen. They also don't have poisonous look a likes, if it's solid, without gills, and shaped like a large ovoid blob, you have yourself a puffball.
Puffballs grow anywhere that their spores have landed. I have seen them in fields, in the deep woods, and directly on trails. This is because unlike many other mushrooms that are either parasitic or mycorhizal Puffballs are just huge spore factories and after they mature, let their billions of spores fly on the wind.
Even though they don't grow with particular trees, I know a couple places where I can pick these every year without fail, usually in the exact same spots as the year before.
Cleaning

First things first, when you find a puffball, no matter what size, turn it over and inspect where it attaches to the ground. Cut away the flesh with dirt attached, then inspect the mushroom for color: it should be absolutely, perfectly white. If it's at all yellow or greenish, it's too old-look for another one. If you see tunneling which can mean worms, cut away the mushroom flesh to see if you can remove any sign of tunneling, if you can remove any tissue with holes in it, and the rest is still perfectly white and firm, you should have removed the bugs and they won't continue to eat the mushroom.
Cleaning is relatively easy with these guys, compared to most other wild mushrooms you'll find. They're covered with a leathery protective coating that keeps dirt out of the part of the mushroom you want to eat, which is pretty convenient.
In a restaurant setting, I keep the skin on the mushroom until I'm ready to cook them, since it keeps the mushroom flesh inside moist, while still allowing it to breathe. This is easier said than done at home considering the size of most puffballs though-you'll be lucky if you can fit them into your fridge after slicing or chopping them up. Fitting one in a fridge whole will probably require some serious re-organization. A compromise is cutting them into slices and putting them in large ziploc bags with some moist paper towels.
Cooking
Kitchen wise, there is really only two things you need to know: puffballs must be browned, or coated in something, and then browned. I also like to peel their outer skin before cooking, although some people eat it.
One of the worst things I ever made was boiled, pickled puffballs. Without caramelizing and browning in fat, these will just shrivel up and become like some god awful cousin of tofu.
To cook puffballs, peel, then slice or cut into chunks. Afterwords, saute in your favorite oil or fat until they're golden brown, lightly seasoning them with some salt and pepper to draw out their nutty-cheesy flavor.
Preservation
Since they're so large, (some weighing in at 50lbs or more) People have found creative ways to preserve them, in pioneer days, I've read that people would dry and powder them, and then use them to make a sort of unleavened bread. See my post on making puffball powder below.
To dry them, peel and slice as thin as possible, then place them in a dehydrator. You could also dry them in the sun on wire racks or screens, just make sure it's hot outside. A bit of warning though-dehydrating puffballs will make your kitchen stink for a little bit, and pureeing/grinding them up will fill the air with mushroom powder, which is pretty sticky stuff, just a warning. I've also developed a really interesting technique for preserving puffballs which is a caramelized puree to add to soups, butters, sauces etc, see the link below for that.
Recipes
One of my favorite ways of preserving these is a conserve, or type of pickle. The only thing you really need to know is that they have to be browned first, otherwise they will be soggy and…not good.
Puffball Conserve

After you've seared the puffball chunks nice and golden brown, (I like strips or cubes (about 1/2inch dice is good) for pickles) splash some nice vinegar on them and some extra oil-since it wont be heated anymore, you could use a nice olive oil for this.
Now add a couple chilli flakes and some garlic if you like, you could also add a sprig of some herb you like as well, but don't chop up the herbs, simply place a sprig in with them to perfume them, otherwise you wont taste their delicate mushroomy flavor and it could end up tasting like medicine or aspirin, especially if you use rosemary or sage.
Now put them in a small mason jar or other container, and press on them to make the oil cover. Taste them for salt, and make sure they have a slight vinegar bite to them, as this is indicative of a PH low enough to preserve them for a very long time. Place some plastic wrap on top of the pickled mushrooms and press down so that it covers them and their is no air for bacteria to grow–if you are using mason jars you probably will not have to do this.
Then just keep them in the fridge for as long as you want and have them for a snack with cured meat, or as a compliment to any meat dish/or vegetarian for that matter.