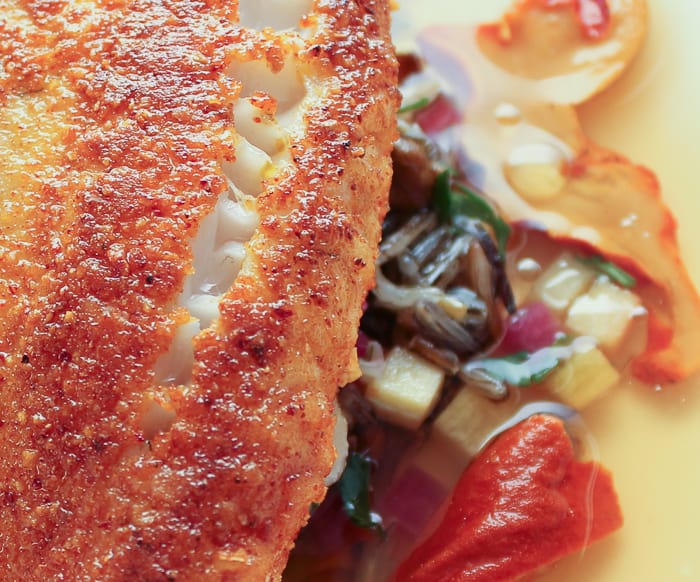 Wondering what to do with all those dried lobster mushrooms? Here's a great technique.
At a restaurant I used to work at, the signature dish was veal tenderloin crusted with ground porcini and espresso. The first night I did a stage trying to get a job, they offered me some chow, whatever I wanted off of the menu. Naturally I wanted to try the veal. The tenderloins were rolled in the porcini mixture and seared, then served with some linguine, garlic butter and shiitakes, as well as choron sauce. The espresso overtook the porcini completely, but I always remembered the combo, and how the chef used ground mushrooms as a seasoning.
Fast forward a couple years and I'm juggling a massive fruit of lobster mushrooms. I pickled them, preserved them whole in butter, and dried them. All the preservation methods were good, but I noticed drying the lobster mushrooms really seemed to bring out their shellfish flavor.
One night in the winter, we had a chef's table that requested fish. The old veal dish popped into my head and I thought: "man I should crust the fish with lobster mushrooms!". The chef"s table loved it, and it became a staple technique in our kitchen.
Crusting fish with dried mushrooms serves a couple purposes. We use only with freshwater fish where I work, and many are lacking in natural oils that can insulate them from overcooking, a nice dredge in some flour can help this, and acts like a layer of fat. Some freshwater fish too (especially whitefish) can be difficult to sear and crisp their skin: if the pan is too hot the skin burns on the edges, if it isn't hot enough the skin sticks to the pan and rips off.  Not only does this method helps the fish not stick, but adds a really great lobster mushroom flavor.
This winter, I thought It would be fun to do with walleye, Minnesota's state fish. Alongside it is a lobster mushroom broth, and a fun wild-rice root vegetable sub-recipe, since there is pretty much nothing else left in the local cellars right now.
Cutting Boneless Walleye Filets
Walleye and pike have plenty of bones, but with a little effort you can remove them. Cutting off the boneless, meaty portion of the walleye filet might seem like a waste, but you can save the scrap for mousse, dumplings, or soup. You don't have to cut your filets like this, but it helps the fish cook evenly and makes a nice presentation.
Lobster Mushroom Crusted Walleye, Winter Wild Rice

Serves 2 as an entree
Prep time: About 1.5 hours to clean walleye, dice roots, cook rice, grind mushrooms and make broth
Lobster Mushroom Crusted Walleye
2 whole skinless walleye filets
1/2 ounce dried lobster mushrooms
Kosher salt and freshly ground pepper
Sauteing oil as needed, as well as a tbsp of unsalted butter
Method
In the bowl of a vita mix blender spice grinder, mortar and pestle or molcajete, grind the lobster mushrooms to a powder. You can sift the mushrooms to get them really fine, but I kind of like leaving chunks in it, since the butter rehydrates them a little at the end of cooking.
If desired, de-bone the walleye filets and cut into even, rectangular filets. Heat a saute pan with searing oil like grapeseed or canola, as well as a tsbp of unsalted butter, the milk solids in the butter help the mushrooms not burn. Season the walleye filets lightly with salt and pepper, then dredge each one in ground lobster mushrooms and put them immediately in the pan. Cook until the lobster mushroom crust is golden brown and aromatic on each side, adding some more unsalted butter at the end of cooking if needed to ensure the crust doesn't burn. When the walleye is cooked through, it is done.
Winter Wild Rice
The wild rice I used here is harvested and processed on a reservation, it cooks much quicker than commercial wild rice. Your cook time may be a bit longer if you are using store bought.
Yield: about 2 cups
1 cup wild rice (uncooked)
1 cup mixed root vegetables, such as turnips, rutabagas, and winter radishes, diced 1/4 inch
1/2 cup sweet onions diced 1/4 inch
Water
Kosher salt
Unsalted butter, as needed for cookingn roots, a tbsp or two
1/4 cup toasted black walnuts (optional)
1 Tbsp flat leaf pasley, roughly chopped
Method
Spread the wild rice on a cookie sheet and inspect for rocks or foreign particles. Rinse the wild rice under running water. Cook the wild rice in 3 times it's volume of lightly salted, gently simmering water. When the rice is done, about 20 minutes, drain it and spread it on a cookie sheet to cool.
Saute the onion first in some butter and a pinch of salt until translucent, then add the roots and cook, covering the pan and adding a little water to make sure the pan doesn't dry out. When the roots are tender, but not mushy, about 5 minutes, remove them and add to the wild rice. Finally add the toasted black walnuts, season the mixture to taste with salt and pepper, and reserve until needed.
Dried Lobster Mushroom Broth
Yield: two cups, which is a little more than you will need
Ingredients
1 qt fish stock, preferably homemade, you could also substitute chicken stock
Kosher salt
1/4 ounce (about 1/4 cup) dried lobster mushrooms. 
Champagne vinegar or another acid, to taste.
Method
Bring the dried lobster mushrooms and stock to a simmer in a small sauce pot. Allow the mixture to simmer slowly until reduced by about 25%, this should take about 20 minutes. Remove the lobster mushrooms, then strain the stock to remove any dirt that came off of the mushrooms.
Add the lobster mushrooms back to the broth and season it to taste with kosher salt. Adjust the seasoning with a bit of vinegar to round out the flavor. Reserve the broth until needed.
Finishing and plating the dish
Heat the wild rice and root vegetable mixture, in a separate pot, heat the lobster mushroom broth.
 Saute the lobster mushrooms crusted walleye.
Add the parsley to the wild rice, then place a serving of the wild rice in a wide bowl, ladle 1/2 cup of the lobster mushroom broth around the rice, garnishing with some of the dried lobster mushooms in the broth. Place a piece of walleye on top and serve immediately.