Dead man's fingers. Just saying the name makes your mouth water.
Story goes that last year my friend Sam, who eats all sorts of mushrooms told me about these, he said he tasted some of the young mushrooms, and enjoyed them. Since I'd never heard of them, I made sure to keep my eyes peeled.
Coincidentally, a week or so later one of my friends saw some in his yard and wanted to know what they were, so he dug up the whole clump of dirt and brought them to me. They were the same mushrooms my friend Sam had described, their real name being Xylaria polymorpha.
In the following years, I started to recognize them more and more on my hikes. I generally see them growing around the base of dying trees, sometimes in impressive numbers.
Some research showed what I expected: they're a mushroom thought of as a novelty, definitely not thought to be edible.
The little mushrooms on the little clump of dirt my friend brought to me definitely weren't something I'd pop into a frying pan whole. They were young and fresh. The upper two-thirds were tender, and gave off a nice smell when I cut them with a knife.
Since they're pretty small, frying them up would make them lose too much weight to really be of use for anything, so I sliced them up thinly and ate small amounts for a few days, to make sure I didn't have an allergic reaction. They tasted…good and mushroomy.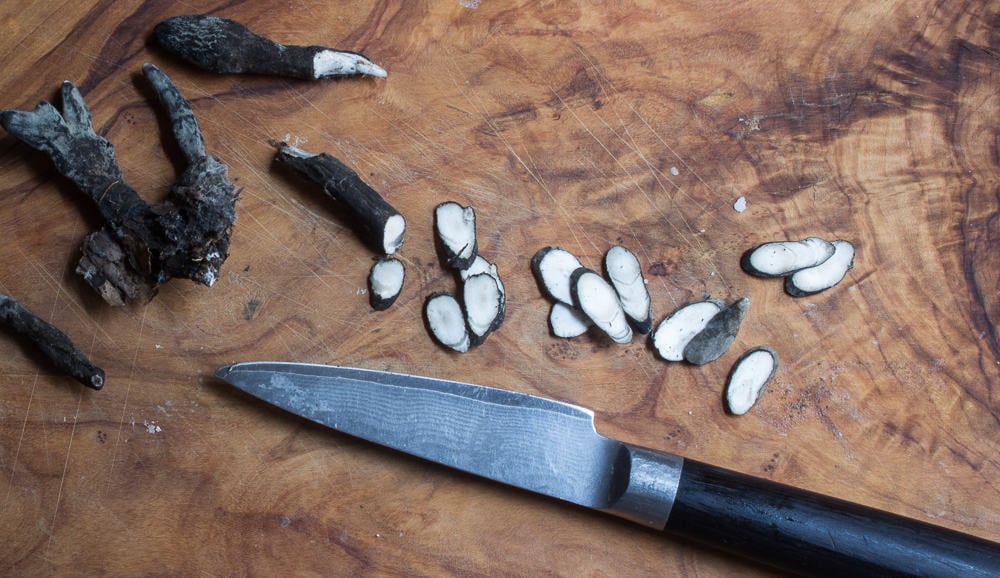 Cooking
I know I'll catch a little flak for illustrating them eaten raw. Plenty of mushroomers poo-poo eating wild mushrooms raw. This is partly since mushrooms are composed of chitin, which is difficult to digest, and partly because no one wants to get sick or poisoned.
Cooking helps break things down, as well as making many mushrooms (like morels and Leccinums) safer to eat. There are few mushrooms I'll eat raw, but I do like the occasional porcini sliced thin with salt and olive oil if I find a clean, bug-less button-a fun way to celebrate a rare find.
I'm not here to enter the raw vs. cooked mushroom debate. It's indisputable that cooking mushrooms makes them easier to digest, and safer to consume. I will say though, that I've eaten at least half a pound of these myself over the past two years raw, sliced thin in salads, on toast, on pasta, and plenty of other ways, and had no ill effects.
Of course, the possibility of them doing something weird like concentrating chemicals in your body over years and years like Gyromitra species exists, I suppose, but you could also argue juniper berries, and bay leaves are toxic too, if you consume enough. All things in moderation.
That being said, here's a few things worth mentioning about these:
You want young specimens, older mushrooms will be covered in spores, and will get limp as they age.
Dead mans fingers that are completely black will probably be too old to enjoy-look for those that have the small white coloration on the tip.
If you look close, you'll probably start seeing these all over, I've found the most growing with other mushrooms on decaying wood. where I hunt in Minnesota, this has been mostly dying elms, often in the company of other mushrooms, especially dryad's saddles.
I've been enjoying them shaved raw over things. Sprinkling them over something warm, like a bowl of pasta will release their flavor a bit as they warm, a bit like cheese blooming when it comes to room temperature.
Less is more with these, like many mushrooms, combining them with too many ingredients will obscure their flavor completely.