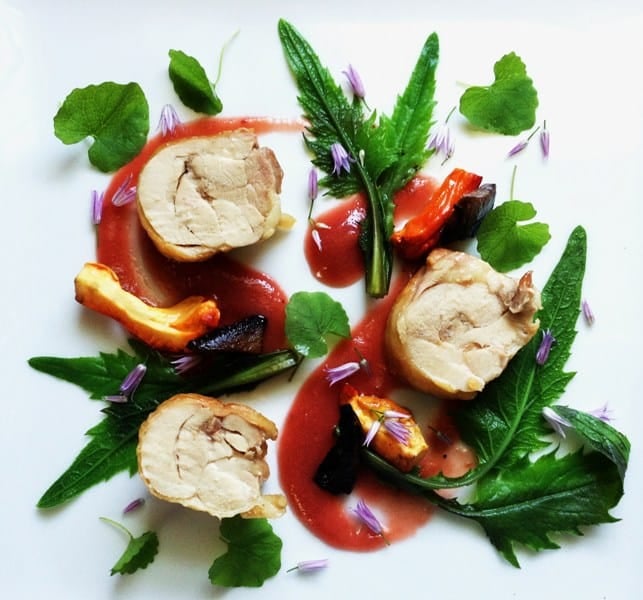 This is a dish that was inspired by the young greens of spring. One of my favorite parts of greens are the clouche, or budding top, they are the most tender and flavorful, as well as beautiful. While I was out picking the greens I also ran into some chicken of the woods and a meadow mushroom, so they were used as well.
At first look the dish seems fixated around the chicken thigh, but it is really all about the vegetables and mushrooms. The rhubarb sauce here is a fun one, it is simply a puree made from a rhubarb ramp jam, heated with some stock and thickened with a touch of butter, it's a bright, acidic compliment to the meat, mushrooms and chicken. A playful spring dish.
Chicken Thighs With Pigweed And Rhubarb-Ramp Sauce
Serves 4 as a light main course
Ingredients
4 chicken thighs, thigh bone removed and tied with butchers twine
1/2 cup rhubarb sauce recipe (follows)
16~4 inch tiny tops of pigweed or another wild green
Small sprigs of young garlic mustard, dandelions would be fine too
2 ounces, mixed fresh wild mushrooms, like chicken of the woods
Chive blossoms to garnish (optional)
Kosher salt and fresh ground pepper
Flavorless oil for sauteing, like grapeseed or canola
unsalted butter, 1 tbsp
Method(s)
To prepare the Chicken thighs, place them skin down on a cutting board, make an incision in the skin where the bone is, and work around with a paring knife to remove until you have removed the bone, then, season with salt and pepper, then tie up like a jelly roll. reserve until needed
Blanch the clouches of lamb's quarter in boiling salted water until just wilted, immediately placing them in an ice bath, then draining and reserving until ready to use, you may do this hours ahead of time.
Wash the mushrooms if needed and remove any visible debris, cut into 1/2 inch pieces and reserve until needed.
Finishing and plating
First, heat a pan with oil large enough to accommodate the tied thighs. Season the thighs with salt and pepper and sear until the skin is golden brown. Keep the thighs warm in a preheated oven set to 250, until they are just cooked through.
Heat a bit of oil in a pan and saute the mushrooms lightly until cooked through and browned, season with a bit of salt and pepper. Turn off the heat and add the clouches of lamb's quarter as well as a tbsp of butter to help the pan cool and not over cook the greens.
Remove the chicken thighs from the oven, allow to rest for a few minutes, then slice into 3, 1 in coins each.
Spoon some of the sauce onto each of four preheated dinner plates, arrange the chicken thigh slices, then garnish with the pigweed and mushrooms.
Finish by garnishing with the raw garlic mustard, chive blossoms, and a sprinkle of kosher salt on the chicken. Serve immediately
Rhubarb-Ramp Sauce
Ingredients
1 cup rhubarb-ramp jam recipe

here

1/4 cup chicken stock
Kosher salt to taste
1 tbsp unsalted butter
Method
Heat stock and jam, then puree in a blender. Heat the jam with 1/2 cup of chicken stock, whisking occasionally.
When the sauce is warm, whisk in the butter, season to taste with salt and reserve.