Even if you're new to mushroom hunting, you've probably seen these, they're chicken of the woods and they're one of the safest, widely available mushrooms out there, and if you catch them at the right time they're some of the best mushrooms I've eaten.
Habitat
In order to find these it's helpful to know how they grow. Chicken of the woods are parasites, decomposing or infecting living trees, eating them from the inside out. They begin fruiting in the beginning of the summer, and will continue into the fall. From my experience, each tree hosting a chicken mushroom will tend to have it's own "clock", meaning that you could go somewhere and cut one, then come back two months later and find another on a different tree a mile away.
Tips on Harvesting

Chicken mushrooms get a bad rap from many mushroom hunters. They say they're tough, or bland, or that they "don't pick chickens" as some type of personal prejudice, which is a shame. Here's my angle: finding chicken mushrooms is very easy as far as mushrooms go, but finding chicken mushrooms in prime eating condition is not. You wouldn't eat an old dried up potato, so don't eat an old, dry, or wormy chicken.
Age and texture is an issue, but personally, I inspect them more for bugs than anything else. More often than not, most of the chickens you find will be infested. It's difficult too, since I've found chickens in prime eating condition, but, due to nature's whim, are riddled with larvae. To compound the issue, even if the mushroom has only a hole or two that you can see, if it sits in your fridge for a day or two, or worse, at room temperature (think a coop market).
To inspect them for bugs, to cut into the mushroom where it connects to the tree and see if you can see any sort of tunneling like an ant hill, if you can, keep cutting into the mushroom, moving farther and farther up to the tip until you can't see any tunnels. This should prevent any little worms from continuing their work and feeding themselves in your refrigerator, they will actually crawl out into your fridge if you're not careful.
Different Species
There are two species of chickens that I've eaten, they should be: yellow pored laetiporus sulphureus, and white pored Laetiporus cincinnatus. They're both great to eat, but there is just something about the white pored variety that I like more, they seem even more tender, even as they age then the yellow variety.
The white pored chicken seems to prefer growing from the roots of trees as opposed to directly from the sides of trees like the sulphur shelf, but I've found them growing in both situations, as you can see in pictures above and below. They're also more rare than yellow chickens, which seem to be just about everywhere in the summer. If you find one, lucky you.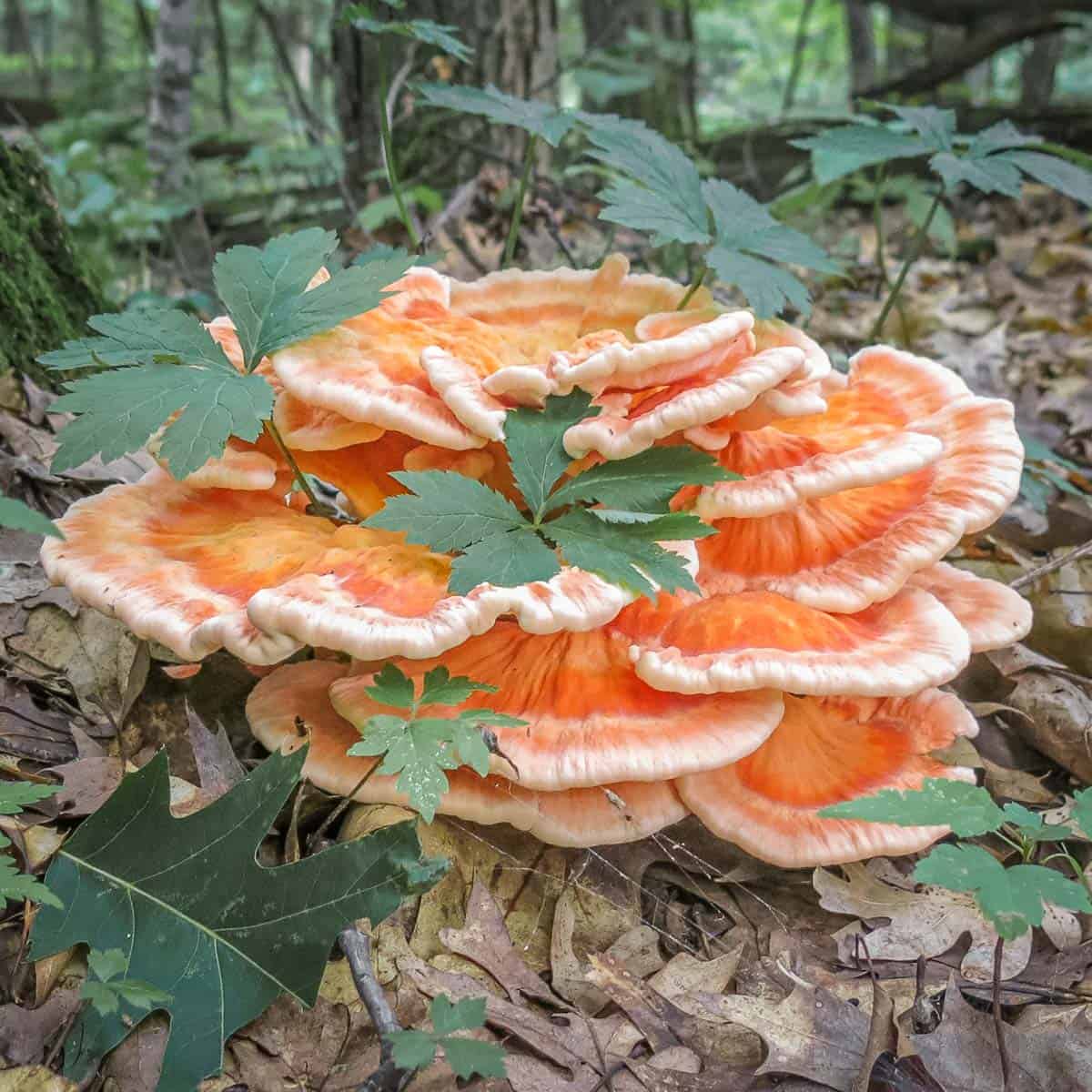 Preservation
As far as preserving your chicken mushrooms, In my opinion you have two options: Pickling and freezing. I prefer pickling to freezing, since even if the mushrooms are cooked before freezing they seem to develop a kind of off texture. Pickling preserves the texture of mushrooms better than any method I've found. The acid you add to a pickling liquid too makes them a natural addition to a vinaigrette, or as a way to cut the fat of a rich sauce.
Die hard mushroom fans may disagree with me, but freezing alters the texture of these, and makes it a bit strange. The same goes for hen of the woods, and many other mushrooms, especially if they are frozen raw.
If you really want to freeze them, saute them in plenty of butter with some herbs like thyme, make sure to season them with salt too. When putting them in the freezer, make sure to add plenty of butter or fat to the plastic bag, tupper-ware, or whatever container you're going to keep them in, since it will help ward off freezer burn.
Recipes