Cardoons. An giant thistle related to artichokes Darwin classified as a pest species. Every since I read about these in a book by Lorenza de Medici I wanted to eat them. It took until I was on the email list of a kooky Eastern European farmer that I got my chance to cook some.
I tried to dig up a copy of the original email from the farmer, but no dice. Basically, he wrote a couple pages comparing his excitement working with crops to a drug addict's high and saying that a man he knew from Geneva Switzerland has sent him home with seeds. The last paragraph ended by saying: "Behold, Cardoon!"-followed by a painting he had made of the plant (he's also an accomplished painter). We ordered some from him.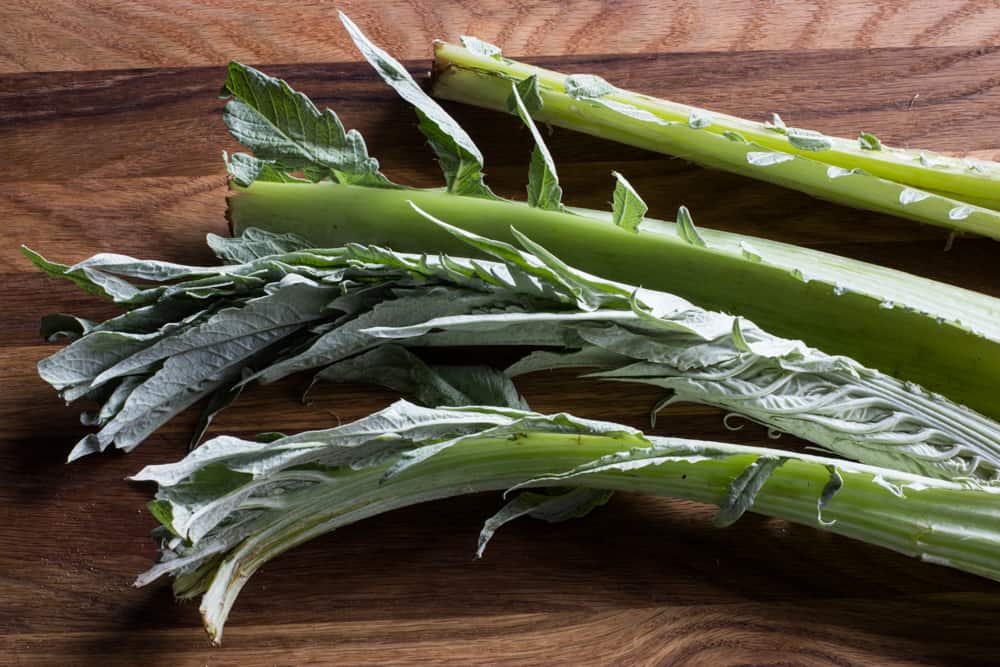 When they showed up they were just like I imagined, giant stalks of celery, there was a catch. The stalks are covered in long spines (remember it's a thistle), as well as painful barbed hairs, called glochids or trichomes, which are about the same as you'll find on a cactus.
The glochids are pretty nasty since you won't notice them until they're dug in deep, hours later. I remember waking up at night after cleaning cardoons, hands covered in bloody pin pricks, splotches here and there on my sheets. Next time I cleaned them, I used a towel to hold them while I trimmed with my paring knife.
Speaking of cleaning them, I made a video for you, since it's easier to understand with a visual example.

So why would you want to cook a plant that is covered in nasty spines? Because cooking them is a lost art, and an interesting process. Oh, and they taste like artichokes, but with a much higher yield, really useful if you want to sell dishes including them to guests.
What can you do with them?
Lots of things, and I'm not going to go into all of them here. Here's one technique and a sample recipe of what you can make with the finished preserves, an example of how I might use them in a kitchen.I do with them in restaurant scenarios. Without sharing complete recipes, after trimming the cardoons, here are some things guests and myself have enjoyed over the years, and a few other ideas:
Braised with tomato until tender and tossed with pasta, chili and olive oil (see above, make homer simpson noise)
One Italian classic is braising them in 3 inch or so pieces, then breading and frying, with some sort of dipping sauce, like a spicy tomato
At one restaurant, I served an alfredo style pasta with a cardoon infused cream, butter and parmigiano. The flavor transfers to cream very well, ending up tasting like artichoke alfredo.
Confit, covered with oil, garlic and herbs and cooked very slow until tender
Added to slow cooked meat braises, especially lamb
Havent tried it, but my friend Hank's cardoon risotto looks great
Cardoons a la Greque
It's important not to leave the cardoons in water overnight after peeling. The water reacts with them and makes them curl, and after having their structure altered from peeling they'll twist and curl into a pile of useless fibers, although they could still be cooked with cream. 
Yield: 4 cups of preserved cardoons
Ingredients
1 cardoon, about 2 lbs
3 large cloves garlic, sliced
1 cup flavorless oil
3 cups dry white wine
2 teaspoons sea salt or kosher salt
Bouquet garni of 2 fresh bay leaves and a small handful of fresh thyme, wrapped in cheesecloth and tied together
3 cups water
Water seasoned to taste with lemon juice, as needed for holding the cardoons
Method
Peel the cardoon stalks of their spines and thorns on the side of each stalk using a paring knife, then gently remove the tough outer portion of the stalk, as you would peel celery. Cut the cardoons into ½ inch pieces and place them in the lemon water to prevent browning.
In a large, wide pan, heat the garlic on medium heat until lightly browned and aromatic, then add the cardoons, salt, wine, water, and herbs. Cover and cook for anywhere for 30 min to an hour, or until the cardoons are just tender. Transfer the cardoons to a labeled container, cover with their cooking liquid and weight down with a plate to hold them under the liquid and preserve them. Under their liquid the cardoons will keep for a couple weeks, they can also be frozen.
To serve the cardoons, reheat them with a bit of their juice and use as you would artichokes.
Monkfish Piccata with Cardoons, Chard, and Dandelion Capers
After you make the preserved cardoons, you can use them to make something like this, they're excellent with fish. Serve with roasted potatoes on the side.
Serves 2 as an entree
Ingredients
1/4 cup preserved cardoons, see recipe above
Fresh squeezed lemon juice, to taste
1 tablespoon dandelion capers or 2 teaspoons non-parielle capers
All purpose flour, as needed for dredging
1/4 cup dry white wine
1/2 cup chicken stock, preferably homemade
4 large leaves of chard
Kosher salt and pepper, to taste
8 ounces of monkfish, swordfish, sturgeon, or another firm-fleshed fish
1/4 cup flavorless oil for sauteing, like grapeseed
2 tablespoon unsalted butter
Method
Wash and dry the chard. Remove the stems from the chard, then cut on the bias into 1 inch slices, tear the chard leaves into 2 inch pieces.
Slice the monkfish into 2 ounce medallions, then put between two layers of plastic wrap and pound lightly to flatten them out like you would scallopine.
Heat the oil in a large saute pan, then season the monkfish slices with salt and pepper to taste. Dredge the monkfish in the flour, tap off any excess, then fry until golden, turning only once. Remove the monkfish from the pan and keep warm. Deglaze the pan with the wine, add the cardoons, capers and the chicken stock and reduce by half. Whisk in the butter and season the sauce to taste with lemon juice, then put the monkfish back in the pan to refresh.
Meanwhile, sweat the chard stems in the tablespoon of butter for a minute or two, then add the leaves and cook, stirring until they wilt, season lightly with salt since chard is naturally salty. Before plating, briefly blot the chard on a paper towel to absorb any excess liquid that could dilute the sauce.
On the middle of two pre-heated plates, arrange a bed of chard, then put two monkfish filets on top. Spoon the cardoons, capers and sauce on and around the monkfish and serve immediately.