Spruce (and cedar) have tons of untapped possibilities. A green ice cream we make from young spruce tips never ceases to get oohs and ahs at the restaurant and I remember one guest I brought a scoop of it to ran back to the kitchen looking for me and asked my staff where "god" had gone, which was a bit awkward.
This past year, I ended up picking way more spruce tips than I could go through all at once, even with the relatively long shelf life they have under refrigeration (they'll be good for about a month) I knew I needed to do something with them.
Making a syrup out of the tips ensures I have enough spruce flavor to last into the summer, if not longer. Spruce syrup is no secret though, bartenders make drinks from it and people are using it for all sorts of things. Basic spruce simple syrup is, ok, but there's a way to transform it into something very special, a concentrate with a deeper flavor than the original.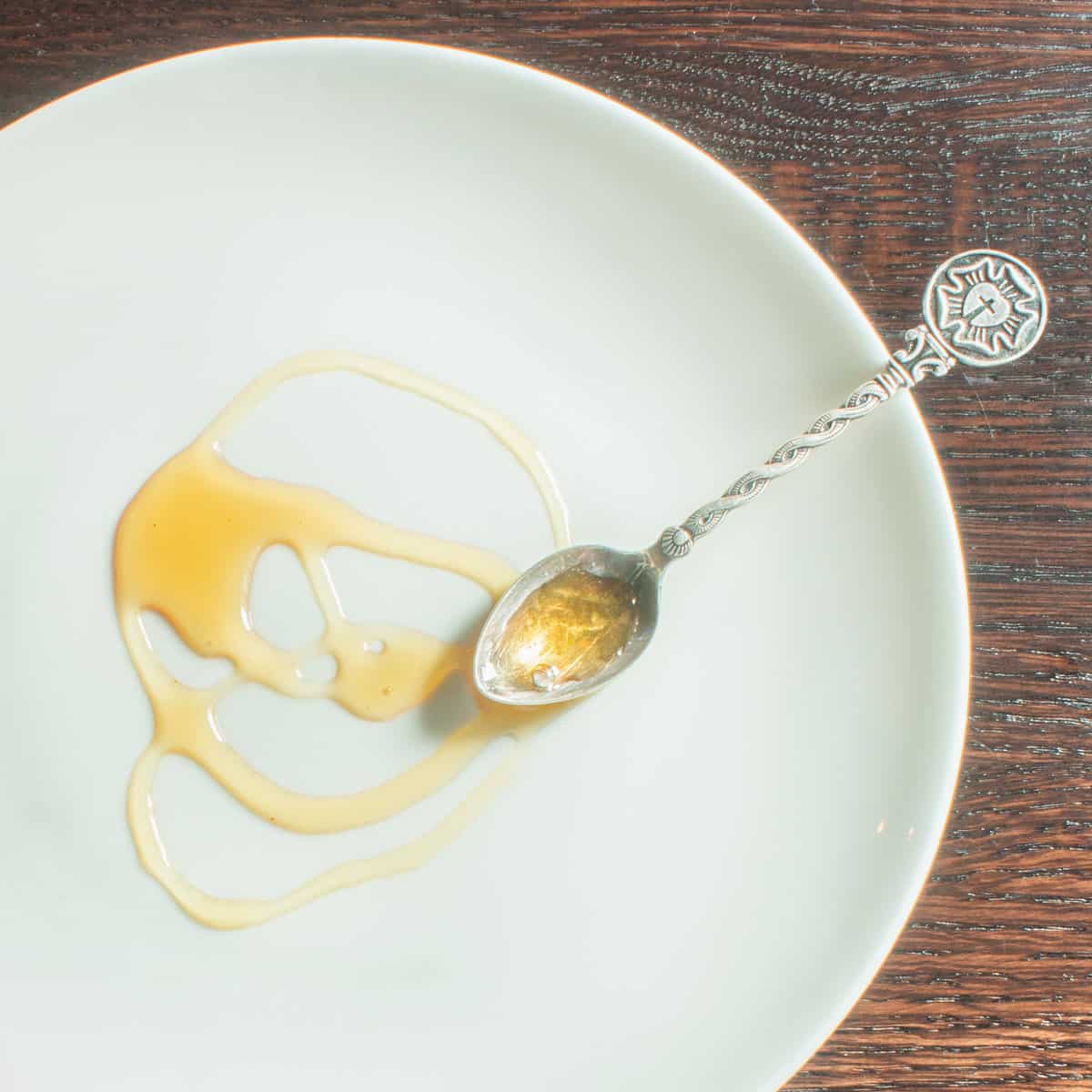 The idea came after a conversation I had with my friend Dan, a friend of mine and a local hunter of things. He told me about a syrup Italians make from the buds of Mugo pine, called mugolio. It's available online, but the price is ridiculous. Most vendors want to charge 10$ an ounce for the stuff, which is crazy when you consider how easy it is to make something similar yourself.
For the traditional syrup, you take some spruce tips and toss them with equal parts sugar, then pack them in a jar and put them in a sunny place for a couple months. The sugar gradually extracts water from the spruce and creates a syrup, which can be strained and used to flavor drinks, desserts, or what have you.
I've done a bunch of experimenting with this, and there's a couple ways of going about it. The easiest way is to just drain off the natural syrup and use as is. But that takes a long time, and I can be impatient. Needless to say, you can make a good version cooking spruce tips with simple syrup without aging in a sunny place, although aging something in a sunny place is more romantic.
The real secret is in the final process. After you extract the syrup, you cook it down slowly until the color changes to amber, which deepens the flavor. It's really fool-proof too, since if you cook the syrup down too far and it crystalizes or gets too thick, you can just loosen it with a little cool water to return it to the consistency you want, as long as it hasn't scorched.
You can use the spruce syrup like honey or maple, but how does it work with other things? I've come up with a couple different ideas, but my favorite happened when I noticed a large, unused block of bitter, unsweetened chocolate at the restaurant. Since the spruce syrup is sweet, you need to add it in place of sugar in a dessert. Chocolate-spruce mousse turned out really good, but you need to make sure you use unsweetened chocolate.
2016 update:
After doing some more experiments, I've found that you can make a decent version of this using mature spruce needles. Puree some spruce needles and water in a high-speed blender, than cook with sugar to make syrup, strain out the solids, then continue cooking the syrup down per the below recipe.
Caramelized Spruce Tip Syrup
Use it to flavor ice cream, panna cotta, cheesecake, a mousse, Italian meringue, there's plenty of possibilities. One of my favorites is the way the French serve their fresh cheese-with a little drizzle on top.
Yield: 2 cups of caramelized syrup
Ingredients
4 packed cups spruce tips
2 cups sugar
2 cups water
Method
Combine all ingredients and bring to a simmer, then cool and allow to infuse overnight. The next day, strain the syrup, then return it to the pan, cooking until it takes on a light amber color and the consistency resembles warm honey. Transfer the syrup to labeled, dated container and refrigerate until needed. If the syrup becomes very thick when it's cold, thin it with a bit of cold water until it reaches your desired consistency.
Bitter Chocolate-Spruce Mousse
Tastes like chocolate mousse, and spruce.
Yield: roughly 4 cups, enough to serve 8-10 people a small scoop

Ingredients
5 ounces unsweetened chocolate, chopped
1 ounce unsalted butter
3 large eggs, separated
8 ounces heavy cream
¼ cup plus 2 tablespoons caramelized spruce syrup
1/8 teaspoon salt
Method
Whisk the egg yolks and ¼ cup of the spruce syrup over a double boiler until doubled in volume, then reserve. Combine the whites with the 2 tablespoons of syrup and whisk in a double boiler until soft peaks form, then remove from the heat and whisk to full volume by hand.
Whip the cream to soft peaks and reserve.
Melt the chocolate and butter in a double boiler, then mix with the egg yolk mixture.
Fold ¼ of the beaten egg whites into the egg yolk mixture until combined, then mix in the rest.
Fold the chocolate-butter mixture into the egg mixture, then finally fold in the cream.
Put the mixture into a piping bag with a fluted tip, then pipe into dishes and chill until ready to serve.