A while ago at the restaurant I got a wild hair and was craving candy cap mushrooms in some kind of dessert. I'd made ice cream, bread pudding, marshmallow, custard, all the usual things, but I wanted something a little different. I also know that they're a hard sell in Minneapolis since most people have no idea what they are, so the dessert needed to have a solid shelf life too. A solid shelf life, for me, usually means it's some sort of pre-cooked something like a custard that won't out, or even better, something that comes out of the freezer during service. Don't get me wrong, too much time in the freezer is definitely a bad thing too, but you'll definitely get more miles out of frozen desserts than fresh ones.
I try to pay homage to the gods of food cost when I can, and I try to make sure the product mix I'm running is balanced. For example, I'm not going to run two different types of desserts made from cookies layered with whipped cream at the same time, besides the obvious redundancy, they both have short shelf lives, and need to be made daily, if not a-la-minute during service.
Enter the semifreddo, (Italian for "half-cold"). Basically it's a type of custard you put in the freezer, then you take it out and eat it straight from the freezer like ice cream. It's a dreamy mix of whipped up eggs and a little dairy, and it's super versatile. Want to cut slices to decorate on a plate? Put it in a loaf pan. Want to un-mold individual semifreddi? Put them in ramekins, and dip the side in warm water, use a torch or a paring knife to get them out. If there is a container or dish you can put in the freezer, you can fill it with semifreddo. The make-ahead aspect is so nice too, just pull it out after dinner, slice it up, add a little garnish and, viola.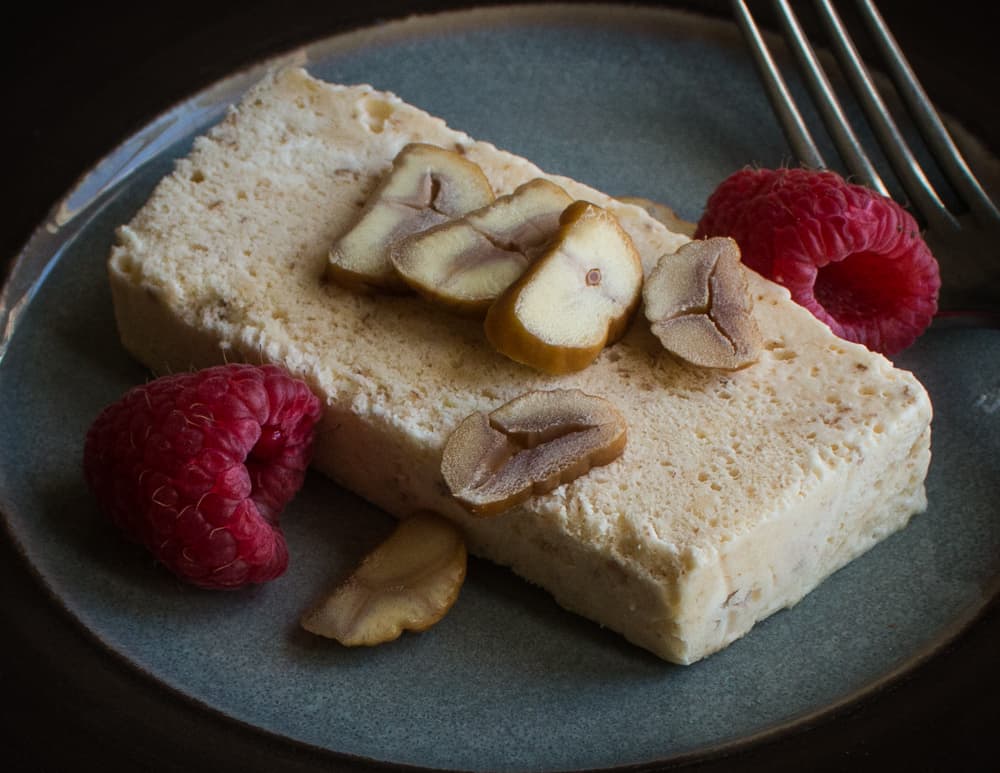 A few berries and a roasted chestnut were some of my favorite partners. Truthfully it's just as good by itself on the plate alone, or maybe with a little caramel.
I should add too, there are a lot of different ways to make this, some add extra yolks, some only yolks, there's lots of different ways to do it that you can find with a quick google. I use this recipe since it's a modification I made of another recipe I have I was experimenting with one day that worked well.
Candy Cap Semifreddo
Yield: At least 8-10 portions, enough to fill a traditional loaf pan.

Ingredients
1 cup plus ½ cup heavy cream
½ cup of sugar, divided into two ¼ cups
5 egg yolks
3 egg whites
1 tablespoon ground candy cap mushrooms
Method
Whip the cream to stiff peaks, then refrigerate and reserve while you prepare the rest. Whisk the egg yolks with ¼ cup of the sugar, the ground candy caps, and reserve. Heat the cream until steaming, then whisk half into the egg yolks thoroughly, then add the other half. Return the egg mixture to the pan and cook on low heat, whisking gently, until the mixture thickens slightly and lightly coats the back of a spoon, do not over heat or the mixture will curdle. Transfer the mixture to a bowl to cool, whisking occasionally to help chill it, then whisk the egg whites with the remaining ¼ cup sugar until stiff peaks form. Fold the egg whites and cream into the yolk mixture, then spoon into a loaf pan lined with plastic or individual ramekins, cover with plastic, and freeze overnight to set.
To serve. Remove the semmifreddo from the freezer, and un-mold onto a cutting board, cut off slices (you can make it super easy by dipping the knife in boiling water, or running under a flame of a burner). Put the slices on chilled plates, garnish and serve immediately.