By far, my favorite way to have the dead man's fingers/Xylaria mushrooms has been thinly sliced over some fresh beef tartare. Think of it as a raw version of the classic steak and mushroom combo.
Of course, you wouldn't have to use only Xylaria here, one of my favorite ways to have tartare is with a little bit of mushroom conserve, which can be made with a mix of species or just one-it's how I serve it at the Salt Cellar.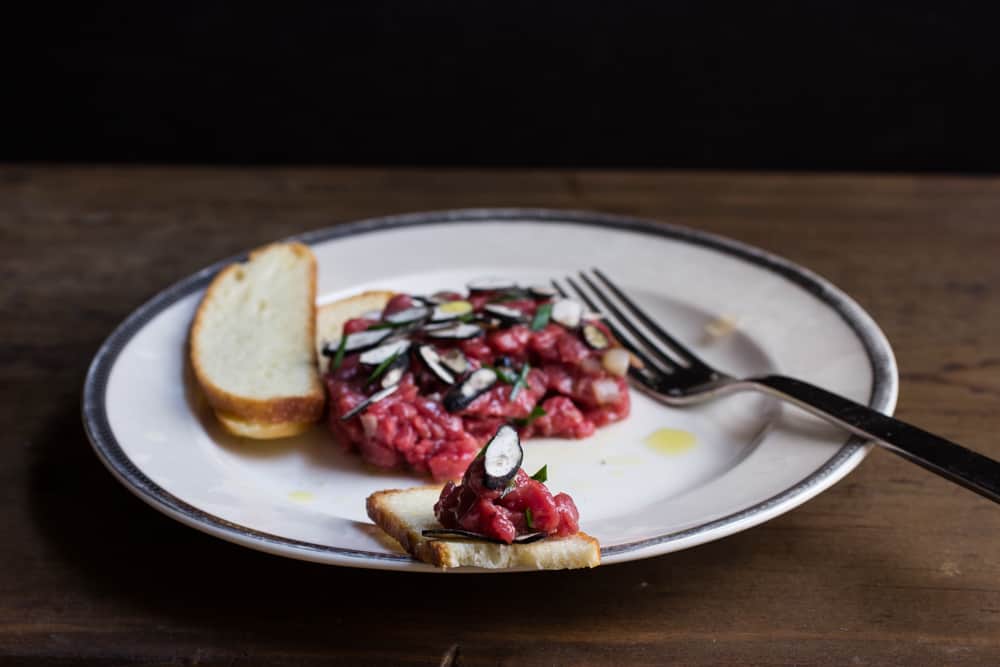 Beef Tartare with Dead Man's Fingers And Ramp Vinaigrette

Strip lion is the cut I like the most for tartare, but you can also use top round, tenderloin or sirloin-any cut that's nice and lean. To make the beef easier to dice into perfect cubes, put it in the freezer for an hour before slicing.

I used ramps in the vinaigrette, but shallots or green garlic would be great substitutes/variations.
At the Salt Cellar, I serve 4 ounces of beef per serving as an appetizer, so this recipe makes 4 generous servings.
Ingredients
1 lb chilled beef strip loin, diced 1/4 in
Fresh cut chives, to garnish
Kosher salt and fresh ground black pepper, to taste
Toast, crackers, or another vehicle for serving.
1 oz dead man's fingers, thinly sliced on the bias
For the vinaigrette
2 tablespoons fresh ramp bulbs, diced 1/4 in
2 tablespoons virgin sunflower oil (extra virgin olive oil could be substituted)
1 teaspoon chopped fresh thyme
2 tablespoons champagne vinegar
Method
For the vinaigrette, combine the vinegar, ramps, oil and thyme in a bowl. Season the mixture to taste with salt and pepper and reserve until needed. This should be done at least 1/2 an hour in advance to mellow the taste of the ramps.
In a small mixing bowl, combine the diced beef and two tablespoons of the vinaigrette, or more if you like extra zip. Taste the mixture for salt, pepper, and vinegar, and adjust if needed.
To plate the tartare, pack 1/4 cups of the mixture into ring molds on chilled plates. Garnish the tartare with the sliced xylaria and the chives and serve immediately with the toast or crackers.